Free Goal Setting Printable
This post may contain affiliate links. Please see my disclosure and privacy policy for more information. As an Amazon associate I earn from qualifying purchases.
It sure has been a crazy year, hasn't it! When I set my home management binder last year and made my goals, I had no idea that we would end up in a global pandemic, nor did I have an inkling we would welcome another baby! Life is just like that sometimes. This year I'm using this simple goal setting worksheet to help me map out all of my goals in one place!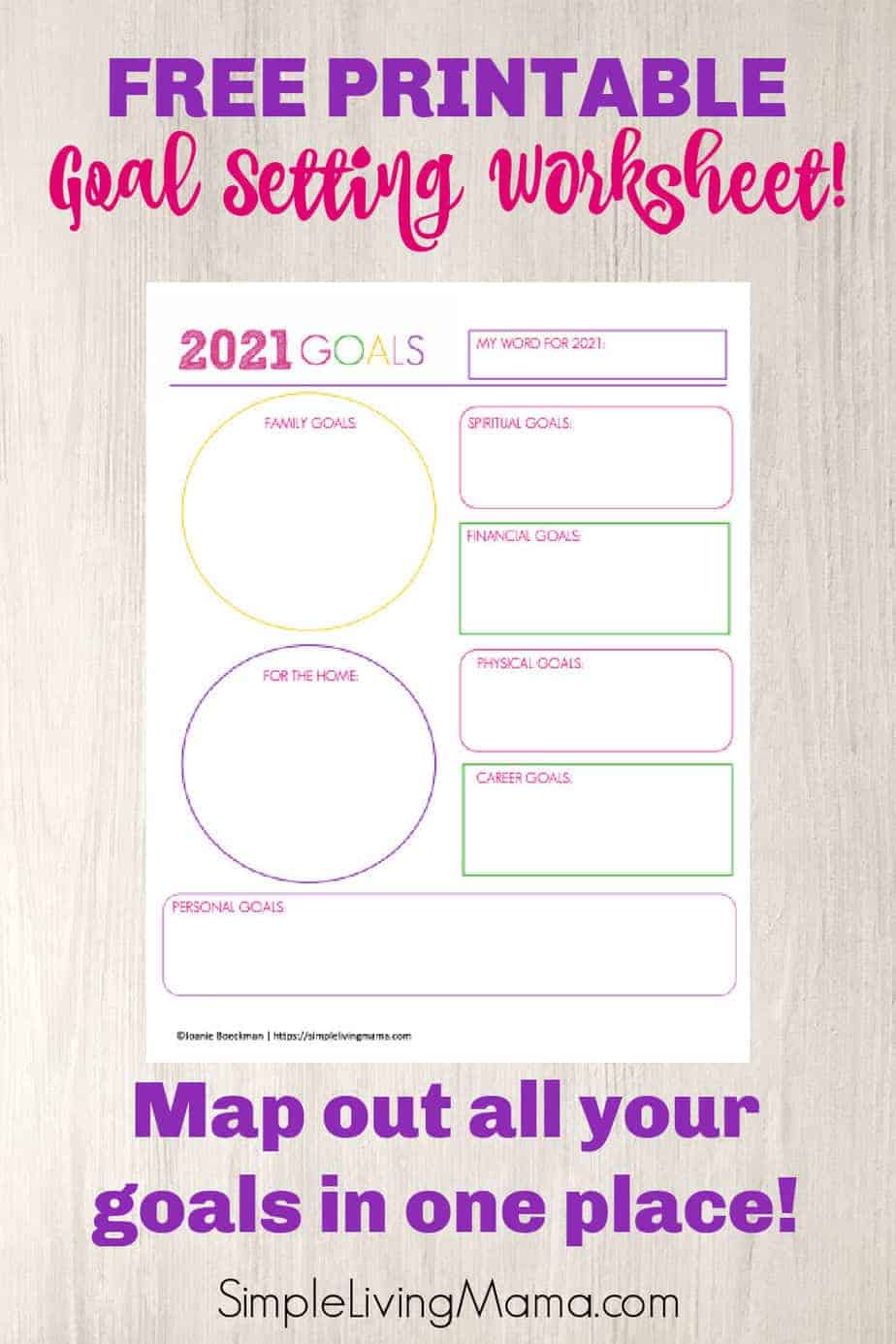 Personal Goal Setting Worksheet
I created this personal goal setting worksheet to help me and women like you write down all of our big picture goals in one place. I think having this goal setting template in the front of your home management binder will be a helpful reminder of all of the goals you have for the year.
Here are the sections included on the goal planning sheet:
My Word for the Year
Family Goals
Home Goals
Spiritual Goals
Financial Goals
Physical Goals
Career Goals
Personal Goals
Many of my goals are the same as last year, but I'm going to share them here, too.
Family Goals – Be consistent with read alouds, family adventures, and puzzle/game nights.
Home Goals – Stick to my cleaning routine from my monthly cleaning calendar.
Spiritual Goals – Do my morning devotion regularly and begin attending Mass once the coronavirus stuff settles down.
Financial Goals – Pay off credit cards and build a sizable emergency fund.
Physical Goals – Cut down on sugar intake and workout three times per week.
Career Goals – Reach 100,000 page views per month here on the blog.
Personal Goals – Read 1 book per month for enjoyment/enrichment, work on practicing mindful kindness, and make sure I spend quality time with my husband.
How To Set Personal Goals
It's definitely not enough to write down your big picture goals. In order to actually achieve those big goals, you need to break them down into small, actionable tasks.
For example, when it comes to my career goals, I'm already ahead of the game by joining the Influencer Society from Learn to Blog and learning how to break my page view goal down. I know that in order to reach 100,000 page views per month, I need to average 3,333 page views per day. How do I get to those page views? I'm working on creating new content regularly for you, sending out newsletters to my subscribers when I have new content published, and working on my SEO and Pinterest strategies.
In order to achieve my spiritual goals, I'm starting a new Bible study and scheduling a time to do it every morning.
I've broken down my home cleaning goals with actionable tasks every single day by using my cleaning routine.
When you choose big goals for yourself, don't forget to write down some steps you can take to actually achieve those goals. Those steps are going to give you actionable tasks that you can use to make your dreams a reality!
My Word for the Year
I've also decided to create a word for the year. Peace. The reason I chose the word Peace is that I want to create peace in my home and in my life. I want our home to be a refuge from the world. I want the kids to feel like this is their safe place. (I think they already do.) I want peace in my personal life, with my thoughts, and to give my worry to God. Anytime I feel overwhelmed, I'm going to remember my word this year.
Free Printable Goal Setting Worksheet
If you're ready to put together your own goals, you can download our pretty goal setting worksheet page below! I can't wait to see what your goals are this year!