What I've Learned About Having a "Large" Family
This post may contain affiliate links. Please see my disclosure and privacy policy for more information. As an Amazon associate I earn from qualifying purchases.
Where I come from, if you have four or five kids you are considered a large family. I know that some people may not consider a family with that many kids large, but we definitely solicit the funny stares from strangers and the not so funny jokes from people we meet. I always wanted to have at least four kids, but of course, like everything else in life I had no idea what it was like having a large family until I actually had one. In case you wanted to know what it's like, here's my experience so far with large family living:
What I've Learned About Having a Large Family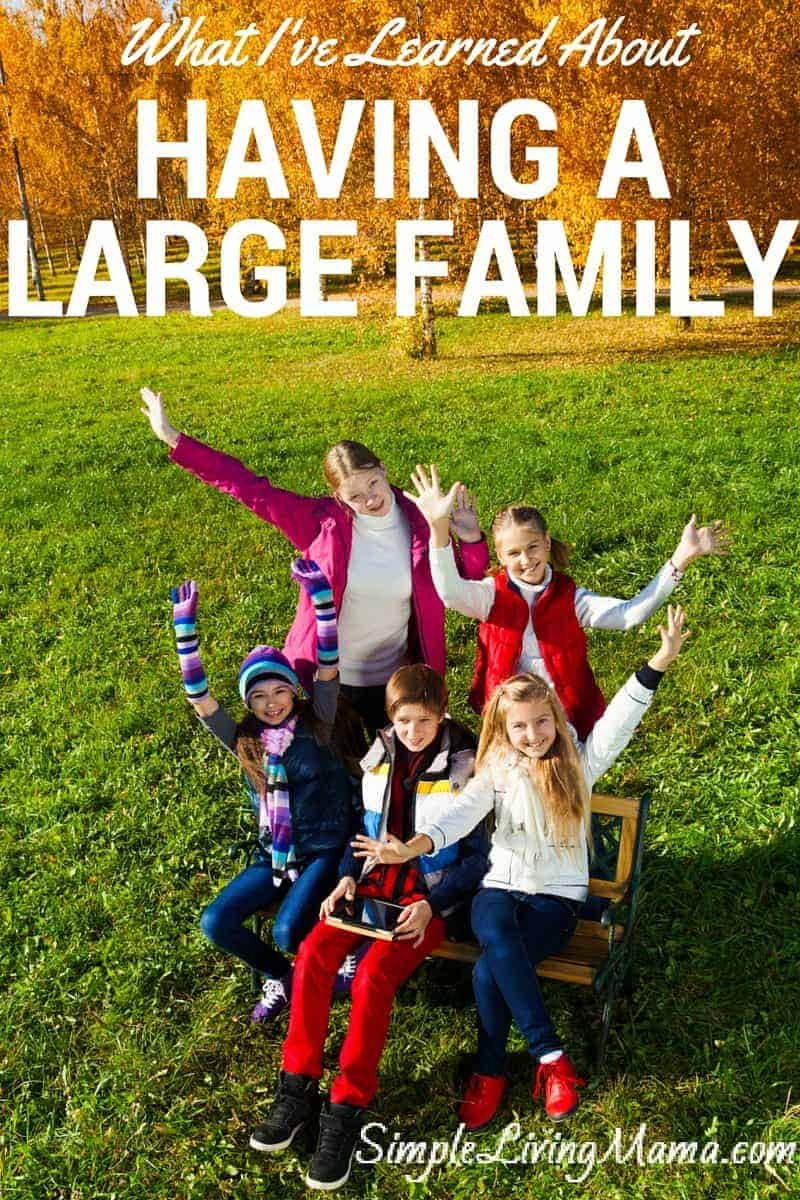 People will stare, some will even count your children.
We went with my grandparents to Cracker Barrel for one of my kids' birthdays. As we walked to our table, I saw an older man sitting at a different table with wide eyes. We filed past his table and I could actually hear him counting my children. I currently have four kids (number 5 is on the way). I swear this guy was counting my kids as if I was marching in an entire day care.
That was the first time someone audibly made a not-so-great remark about the number of children we have. We get stares almost everywhere we go. This is with only four kids, so I'm sure it won't be any different with five.
Older people love large families.
On the flip side, I can't tell you how many time we have been stopped by older people because seeing us with all of our children makes them happy. Apparently we bring back memories of the days when it was normal to have more than two or three children. I honestly love listening to their stories about how they had x amount of children and how much fun it was to raise them.
Leaving the house is a huge ordeal.
I'm in the trenches of motherhood right now. All of my children are age 7 and under. It takes longer to get everyone ready and loaded in the van than it does to actually run errands most days. My third child is just coming out of the "I'm going to try my best to run away from you in public" phase. I avoided taking him out unless I had my husband's help for a long time. My youngest hates his car seat and will scream for an entire car trip if he isn't tired enough to fall asleep. Going anywhere takes planning and a bit of bravery on my part. 🙂
People think you're crazy if you homeschool, too.
This one shocks a lot of people. "You homeschool, too? I bet you're busy. You have to be superwoman!" Busy, yes, superwoman, far from it. Homeschooling my large family is probably the most difficult thing I have ever taken on in my life. I'm still convinced I have been called by God to educate my children, or I'd give it up. Even though it is very hard, it's also beautiful and amazing. We have some really great days and we are making some really great memories. I started with homeschool preschool and have just continued from there.
If you're homeschooling your own brood an need some help figuring it all out, managing your home, you know, all the mom stuff, I suggest you check out Large Family Homeschooling by Amy Roberts. She knows her stuff.
The grocery bill will continue to rise.
I recently shared in my 2016 one income family budget that we currently budget $700 a month for groceries and household items. Right now all of my children are still fairly young, and only my oldest eats about as much as an adult. I told my husband there will come a day when our grocery budget exceeds our rent, I'm sure of it.
As the mother of a large family, I've had to learn how to create frugal meals that feed a crowd. I definitely struggled with that! Baking our own treats is another favorite way to save on snacks. I have also done once a month grocery shopping to save both my sanity and my budget.
My house is loud, but full of love.
As someone who is naturally an introvert, the noise level in my home can really get to me. Sometimes I have to leave my husband in charge and just go to my room to regroup. Even though the noise gets to me occasionally, when my kids aren't with me I miss them terribly. Sure there is a lot of arguing, crying, and random toddler screaming, but there's also lots of laughter, playing, creating, and growing. Nothing makes me happier than to see my children playing together nicely, or working to build a house of out wooden blocks. I wouldn't trade my life for anything!
Do you have a large family? What are some things you've learned?