Frugal Food Friday is back! Today I am sharing a simple, easy recipe for homemade white bread. My kids come running every time I pull this out of the oven. The aroma wafts throughout the house and makes our mouths water. This recipe is a simple staple. The bread is slightly sweet and accompanies dinner perfectly. Add this to your list of simple living recipes.
You can substitute whole wheat flour for white flour in this recipe. You really just have to play around with it. I have found my family really does not enjoy whole wheat, so I usually just use white bread flour. I specifically buy King Arthur's bread flour. It is the best I have found.
I buy Fleischmann's Yeast in jars and keep them in the fridge. All of the other ingredients are staples you should have in your pantry.
Bread-making takes some practice, but once you get it down it's not so hard. I use a Kitchenaid mixer with a dough hook to do the most of my kneading. I used to use a breadmaker. I simply let it mix up the dough and do its first rise. Then I transferred the dough to loaf pans and baked in the oven. I like bread baked in an oven better than the breadmaker.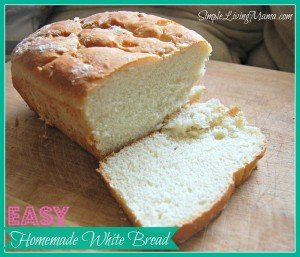 Easy Homemade White Bread
2014-01-31 15:26:22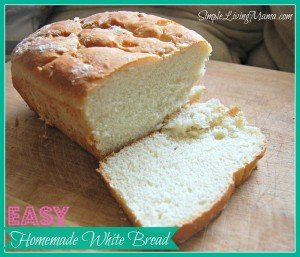 A slightly sweet white bread.
Ingredients
2 cups warm water
2/3 cup white sugar
1 1/2 tablespoons active dry yeast
1 1/2 teaspoons salt
1/4 cup oil (vegetable, coconut)
6 cups bread flour
Instructions
In a mixing bowl, combine warm water, sugar and yeast. Allow yeast to proof. It will foam.
Mix salt and oil into yeast mixture.
Using a mixer with a dough hook, add one cup of flour at a time. Continue mixing on low to medium speed until dough is smooth. If dough is too wet, add a little more flour.
Cover bowl with a damp cloth and allow to rise until doubled. Usually 1 hour.
Turn dough onto flour surface and divide in half. Knead for a few minutes and shape into loaves.
Place each loaf into a well-oiled loaf pan.
Allow bread to rise for 30 minutes. It should rise about 1 inch above loaf pan.
Bake in 350 degree F oven for 30 minutes.
Allow to cool before slicing.
Simple Living Mama https://simplelivingmama.com/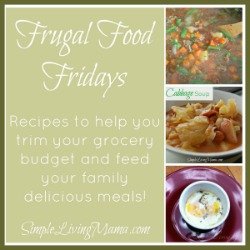 Linking to:
Follow Our Thrift