Bug is now three years old and we have started slowly easing into homeschool preschool activities. While I do have a preschool curriculum for him, I have not started it and probably will not officially start it until the fall.
Homeschool Preschool: Our Current Approach
You may be wondering why I'm talking about homeschooling at all. It is totally the norm where I live to send your three and four year old children to a preschool at least two days a week. We have no public preschool option here except for Headstart, so most people put their kids in a preschool setting in a church.
It's not uncommon for parents to start sending kids to "Mother's Day Out" as early as 18 months. Mother's Day Out is really just a service provided by churches to give stay at home moms a break two days a week. I was very close to enrolling Bug in a program like this, but decided not to for financial and personal reasons. I think I felt like I should do it because everyone else was doing it and he would "need" the socialization.
When Mr.Simple encouraged me not to enroll Bug I began looking into homeschool preschool options. Mr. Simple really gave me a boost by telling me I could teach Bug all of the preschool things he needed to know. He is right; I am perfectly capable of doing it myself.
Since then I have felt that God keeps leading me to explore homeschool more and more. I am not impressed at all with the public school system in my state. Private school is out of our reach right now, and I don't know that private school is best anyway. I could get into the reasons why I'm really looking into homeschooling beyond preschool, but I will save that for another post.
Technically, Bug won't start Kindergarten until 2014 because he is an October baby. That is why I plan to start our actual Christian preschool curriculum with him this fall.
In the meantime, we do a lot of playing and learning while playing. I will point out colors and shapes. His favorite shape is the octagon. Just showing him things and interacting with him on a daily basis really helps him learn. He knows most of his letters and numbers. We work on cutting, pasting, and tracing as he is interested. We are also big fans of puzzles. We have a shape puzzle, a number puzzle, an ABC puzzle, and several others that I really feel help him pick up the basics. Arts and crafts are fun, too!
Occasionally I will make a sensory tub for him to play with. He absolutely loves this activity, but it can be tricky to find a good time for him to play with the tub since Sis is still mouthing objects.
I think the two biggest things I can do for him right now as we really start getting into a homeschool preschool groove is to read to him and let him explore and play on his own. Reading is probably the single greatest thing that can lay a foundation for a lifetime of learning. I still use reading as my primary means of learning new things and I want to instill that love in my children, too.
We are currently working our way through The Complete Tales of Beatrix Potter. For our Bible study we are working our way through the Little Boys Bible Storybook for Mothers and Sons.

I love this study Bible. It allows me to read the Bible to Bug in a way that he understands and it provides a lot of great discussion questions and ideas of things I can share with him that will help him become a man who loves God. It's a great book. I also have the
Little Girls Bible Storybook for Mothers and Daughters
that I will go through with Sis when she is older.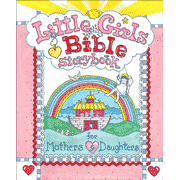 As far as playing, well, you don't have to do much to get a child to do that. We provide blocks for Bug and his new favorite thing to play with is his Lincoln Logs. It's also really fun to play alongside him, too! He has several other toys, as well.
We also love to provide opportunities to allow Bug to help us. These are learning opportunities, too. He helps take out the trash, load and unload the laundry, fold the laundry, and his favorite, prepare meals. When we're cooking together we talk about measurements and the colors of the food. Yes, sometimes it's very messy and a bit unorganized, but I enjoy letting him help me in the kitchen.
Please note: This post contains affiliate links.