This post may contain affiliate links. Please see my disclosure and privacy policy for more information. As an Amazon associate I earn from qualifying purchases.
Let me tell you what I'm most excited to give my kids for Christmas. It's not the cool bike we are giving Bug (it's his first) and it's not the Let's Rock Elmo we're giving Sis. It's the two classic children's books you see below. I love books. I'm talking real books with hard covers and crisp pages. I even love the smell of books. It shouldn't be a surprise, my degree is in English literature. These books are must-have's on any child's preschool book list and were some of the first in our homeschool preschool.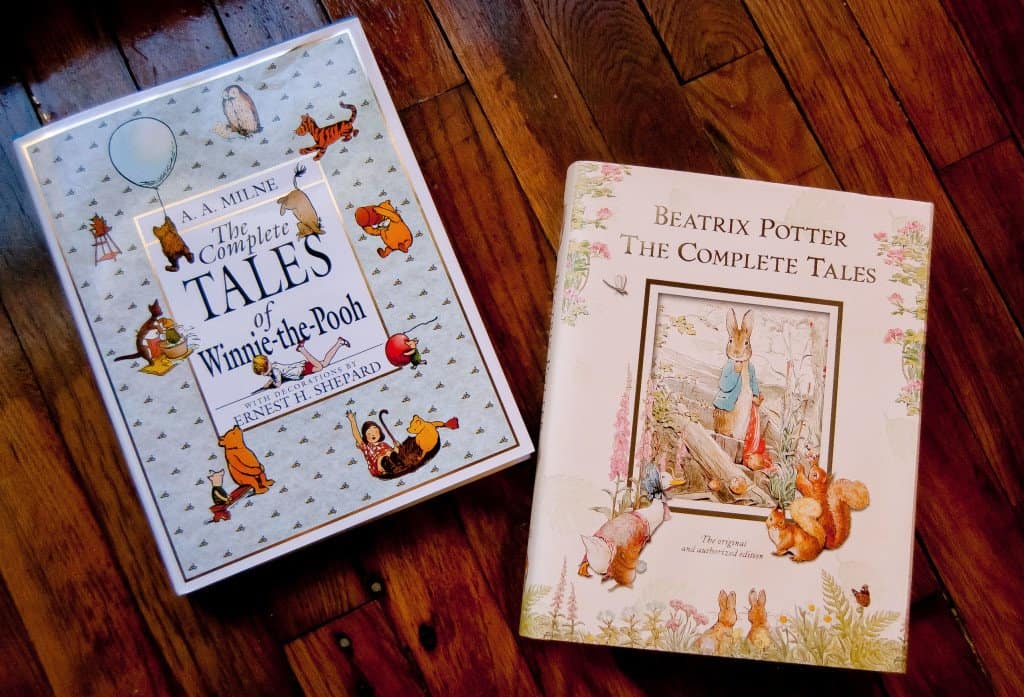 Classic Children's Books
Buying these books for my kids was so much fun and I cannot wait to read the stories to them. For Bug I bought A.A. Milne's The Complete Tales of Winnie the Pooh. These are the classic tales of the lovable Pooh Bear. You will find two stories – Winnie-the-Pooh and The House at Pooh Corner in this gorgeous book. My hope is to sit down with the kids at story time and read a little bit of the book each day.
I honestly have never read the classic tales of Winnie the Pooh, so I'm excited to sort of relive childhood with my kids. The illustrations in this edition are beautiful and I am a very firm believer that books help the imagination grow.
Sis is getting a gorgeous hardcover copy of Beatrix Potter The Complete Tales. I'm extremely excited about this one because it contains stories I read and loved as a child. Who doesn't love The Tale of Peter Rabbit? That's just one story you'll find. All of Beatrix Potter's Tales are in here along with all of the beautiful illustrations.
I know these two presents will probably be the least appreciated on Christmas morning. My kids are going to go crazy for the toys and the treats we have planned for them, but I also know something else. When all the treats are gone and the toys have been outgrown my kids will still have these books. They will have the memories of sitting down with their Mama and reading classic stories that have entertained children for generations.
They will hold onto these books their whole lives, I hope. Maybe one day they will read these same stories to their own children. That's the power of classic children's books. They often are not easily outdated and the best will last. They bring generations together and they can be loved by people of all ages. Buy your children at least a few real books.
I know everyone is reading on their Kindles and Nooks, but honestly, there is nothing like the feel of a real book. Plus, I think real books will outlast any techno gadget. Note – This post does contain affiliate links which means if you purchase one of these books after clicking my link I will receive a small commission. I only recommend products I have used and truly love.
Find Other Great Preschool Book Lists