Ah, summer has arrived! Just because it's summertime doesn't mean the learning stops here. In fact, we won't actually finish our curriculum until July 15th, but we are still getting into the summer read-alouds. So far, I only have a few chapter books planned to read with the kids. We are participating in our library's summer reading program, so the kids are picking out lots of fun picture books for us to read together. I'm letting them choose whatever they want for those. I did want to go ahead and share with you my short chapter book list, though! These can also be added to your preschool book list as great read-alouds!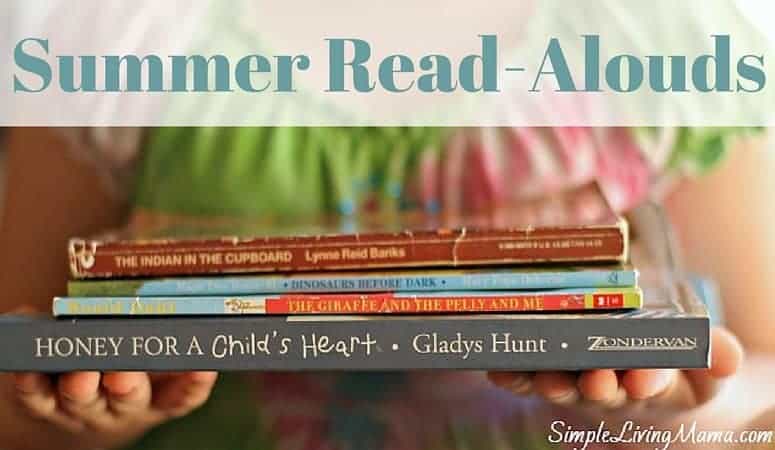 Our Summer Read-Alouds
If you want to hear me ramble on about this topic, I did a video. I'm obviously still trying to figure out this video thing, but it's kind of fun!
Let's get into it.
First, I have my very favorite resource for book lists. Honey for a Child's Heart by Gladys Hunt is packed full with advice for finding books for your kids as well as an extensive book list for children from 0-14.
My next suggestion for encouragement for reading aloud is the Read Aloud Revival podcast. Sarah Mackenzie interviews lots of people who know the topic of books. She also has tips and tricks for getting your kids to love reading, as well as several book lists and ideas to get you reading aloud.
The Indian in the Cupboard is a book that we are reading right now. It is recommended for ages 8 and up, but I am reading it with a seven year old and a five year old. They love this story. Some people have asked me what age this book is appropriate for, and I will say that "scalping" is mentioned in the book, and the phrase, "shut up," is also used. I'm just throwing that out there if it makes you uncomfortable.
We have loved this book. My kids always want me to read more than I have time to read at one time. It's been great!
The Giraffe and the Pelly and Me
This is a book I have not read before, but since we loved Charlie and the Chocolate Factory by Roald Dahl, I figured we would give this one a try! The kids really like the illustrations and it looks like a quick read at only 79 pages.
Dinosaurs Before Dark
This is the first book in the Magic Tree House series. My hope is that if I read this one aloud, my oldest will fall in love with the series and may try reading the other books on his own. This technique was actually suggested in the Read Aloud Revival Podcast, so I'm hoping it works!
Mrs. Piggle Wiggle
Now, this is a novel I have actually never read before. I saw that it was mentioned by Lydia Senn of Frugal Debt Free Life and Sarah Mackenzie actually suggests it as a great first novel to read to your kids, so we are going to give it a go!
What are you reading this summer? Drop me a comment. I'd love more suggestions!
My Booklists!
Charlotte Mason Preschool Booklist