30 Five Senses Preschool Books
This post may contain affiliate links. Please see my disclosure and privacy policy for more information. As an Amazon associate I earn from qualifying purchases.
Are you planning a preschool theme about the five senses? One of my very favorite things to do when I am putting together a five senses preschool unit, or any preschool unit for that matter, is to choose lots of great preschool books! Today I am sharing several five senses preschool books. So, if you're looking for a fun book for young children to add to your study, read on!
Five Senses Books
Are you ready to explore the five senses! Check out this awesome list of books!
My Five Senses – The first book in our list is a nonfiction book that explores all five senses in a fun and engaging way. We just love all of the Let's Read and Find Out books, and this one by Margaret Miller is great to add to your book basket during your unit study.
Curious George Discovers the Senses – My kids adore all of the Curious George books and we have also really enjoyed all of their science story books. George always has a quirky way of discovering things, so when there's a hole in the roof in his bedroom and he and the Man with the Yellow Hat have to sleep in the living room, George must use all of his senses to find his way to the refrigerator in the dark without bothering his friend!
Look, Listen, Taste, Touch, and Smell – Learn about the different senses with this educational book by Pamela Hill Nettleton. The colorful illustrations and story line will help kids understand how their senses help them understand the world around them.
The Five Senses – This cute book celebrates the five senses using illustrations.
The Listening Walk – This book is so cute! Take your child on a listening walk. No rushing, no talking, just listening! A young girl and her father go on a walk and listen to all of the wonderful sounds around them.
I Hear a Pickle (and Smell, See, Touch, and Taste It, Too!) – This book is just perfect for the littlest learners! The delightful illustrations are a great way to explain how we use our five senses to experience the world around us!
The Magic School Bus Explores the Senses – The Magic School Bus books always make it to our shelves for every unit we do. Explore the senses as the Magic School Bus takes a trip inside the human body!
You Can't Smell a Flower with Your Ear – Here's another great non-fiction book that will help you understand how you can taste, smell, and more!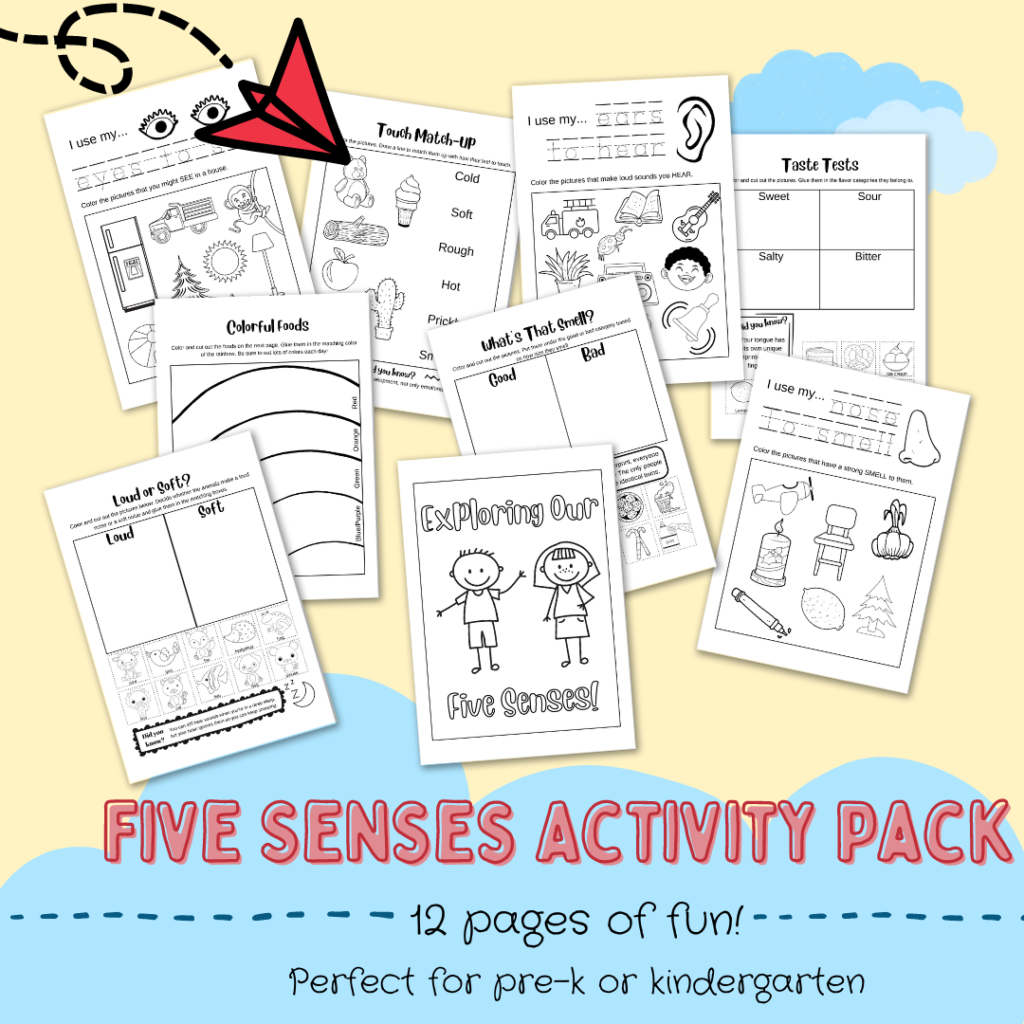 Check out our five senses printables and five senses activities to go along with all of these great books!
Can You Smell Breakfast? – In this adorable book a little girl and her mother use their sense of smell to try to guess what Dad is cooking for breakfast. This books is a fun way to explain the sense of smell.
Using Your Senses -This is a book set of five different books, with each great book representing a different sense. Have fun teaching children about the five senses with colorful photographs.
Our Skin Can Touch (Amazing Senses series) – Learn all about how our skin helps us feel things and we use our sense of touch in the world around us with this simple text.
My Five Senses and Me! – Teach your child all about the five senses with this cute book.
Polar Bear, Polar Bear, What Do You Hear? – Of course I couldn't leave out the Eric Carle books! Learn about different animal sounds to explain the sense of hearing with this classic.
Brown Bear, Brown Bear What Do You See? – By far, this is my favorite book on the list! You have to read this classic children's book to teach your child the different colors.
How Do Animals Use Their Five Senses? – Humans aren't the only species who uses the five senses to navigate the world. In this interesting book, kids will learn how various animals use their senses to interact with their environment.
I Wonder Why Lemons Taste Sour and Other Questions About Senses – Children love to ask the question, "Why?" This nonfiction book attempts to answer all of those why questions in relation to the senses, especially how we use our taste buds for our sense of taste.
Bumposaurus – Want a book that teaches your child about the sense of sight? If you have a dinosaur loving child, try this one. Bumpy the Dinosaur keeps bumping into everything! He learns that he needs glasses so he'll stop being so silly and bumping into different things.
Whose Eyes Are These? – Young readers get to guess whose eyes they are looking at on each spread of this fun and delightful book!
Our Eyes Can See – Here you'll find another fun nonfiction book from Our Amazing Senses. This time you'll get to explore how vision works!
Whose Nose Is This? – In this fun and engaging book young learners can get a look at the snouts of different animals and learn how they use their sense of smell to live in this world!
Big Smelly Bear – How cute is this book? Kids can learn about the importance of keeping clean, so their sense of smell doesn't tell them that they are dirty!
Smelling Things – Learn about the sense of smell with this simple introduction as children explore how different things smell.
Smelling (The Five Senses Series) – Simple text and vivid photographs bring the sense of smell to life for children.
More Good Books To Teach the Five Senses
More Resources for a Five Senses Unit