Homeschool Room Organization – Life: Simplified
This post may contain affiliate links. Please see my disclosure and privacy policy for more information. As an Amazon associate I earn from qualifying purchases.
Well, this is a few days late, but I finally got my laptop back! I was looking over my goals and discovered that I have actually accomplished more than I thought! I have tackled my kids' bedrooms, my master bedroom, my linen closet, I've made sure to have at least one date night with my husband, and I have started improving our diets and exercising. My latest project in my quest to learn how to live simply was homeschool room organization.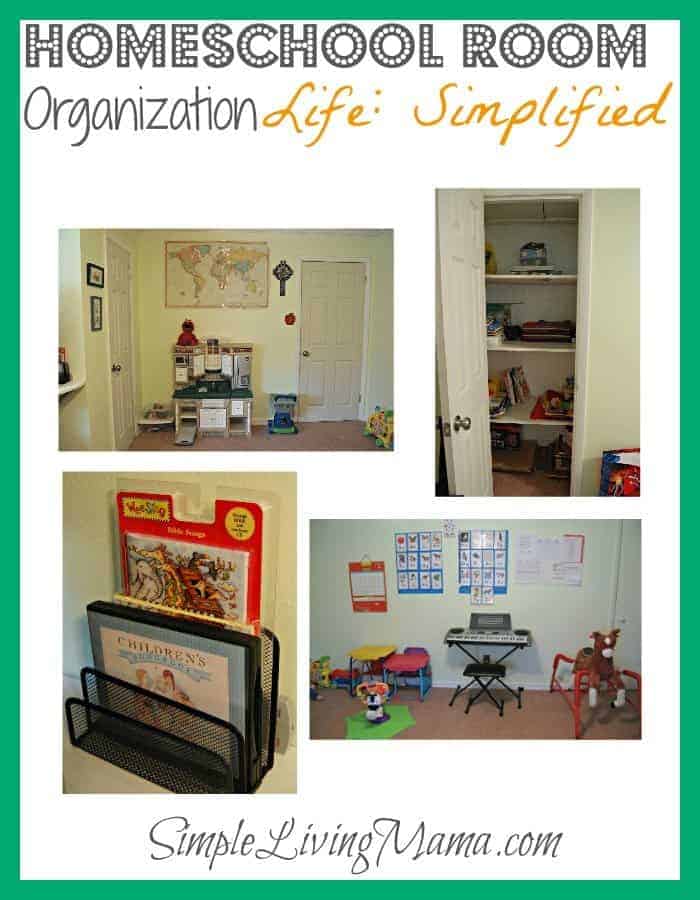 I'm not going to do an official homeschool room tour until August. There are still things I want to purchase for the room and stuff I need to move around. I'd also like to create a reading center, so the official tour will happen in August!
I did go through and get rid of a lot of junk papers and pieces of trash that were lingering.
I organized our closet and got rid of a lot of junk in there.
I'm using an old bill holder to keep some of our music CDs. We use the TV in this room mostly to listen to music and sometimes to watch a DVD.
Each child has their own caddy. It holds age appropriate supplies.
This is Mama's caddy. It holds supplies that the kids aren't allowed to get into until Mama gives them to the kids.
I organized my desk. I still need my own chair.
Colored pencils and markers are stored in either a glass jar or old candle jars.
This is our little nature area. We will fill this area with items we find during nature study.
The only thing I did not get around to organizing is our books. We currently have shelves of books all around the house. I will get around to organizing them sometime soon!
How are you doing on your goals?