Who is ready for June? I am so ready for a bit of a slow down in our homeschool schedule and lots of lazy days just doing what we please. We all need that sometimes. Since I will have a little more extra time on my hands, it'll definitely be easier to follow my monthly cleaning calendars and keep my house clean. I'll especially need it with the kids tracking in sand from the sandbox and dirt from playing in the water outside! Today I am sharing my June 2019 cleaning calendar if you need some direction!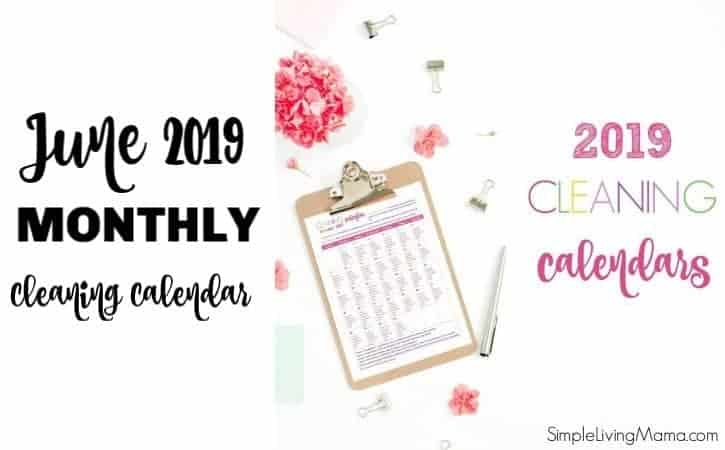 Easy House Cleaning Routine
Our monthly calendars are based on a daily, weekly, monthly cleaning schedule template to give you specific tasks each day. You'll find that our weekly cleaning schedule stays the same and daily tasks are repeated. Deep cleaning tasks are done on a rotating basis with small tasks to do each day so no day is completely devoted to cleaning.
I love how easy my house cleaning schedule is because I am able to keep my entire house mostly clean even with a lot of small kids living here! Busy moms should give it a try!
Cleaning Supplies for an Easy House Cleaning Schedule

I get most of my cleaning products from Grove Collaboartive. I love when I get my monthly order from Grove.
I use their wool dryer balls with every load of laundry and love how they help keep my clothes static free! They are great with some lavender essential oil. I get dish soap, hand soap, and multi-purpose cleaner from Mrs. Meyer's and shower cleaner and wood floor cleaner from Method. Love their products!
More Printable Monthly Cleaning Calendars
Missed a month? See all of the past free monthly cleaning calendars.Want the full year's set? I have two options: 2019 Pre-filled Cleaning Calendars and 2019 Blank Cleaning Calendars.
Get Your Free Calendar by joining our community and getting access to our Homemaker's Resource Library!