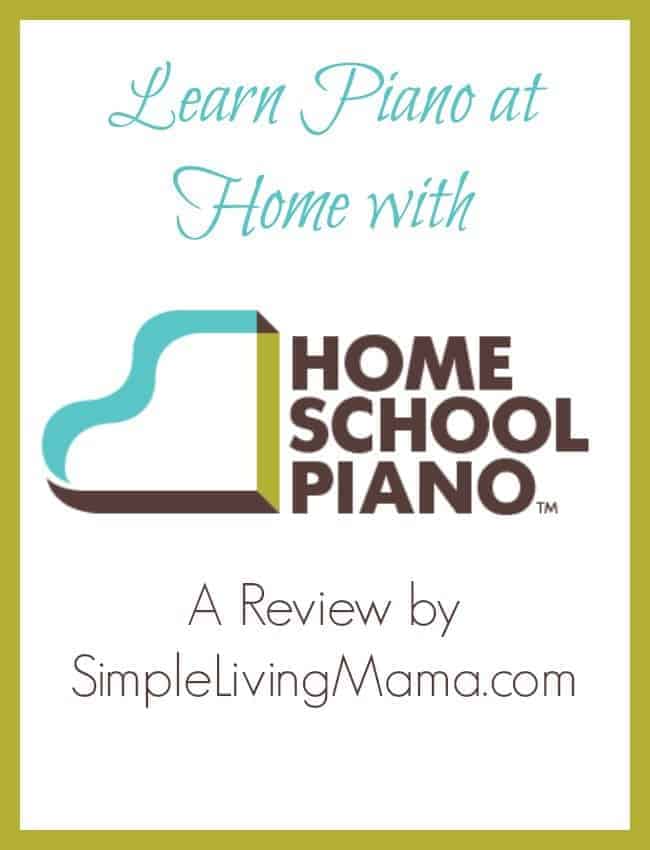 My oldest child loves music and I love giving him opportunities to discover his musical abilities. Unfortunately, traditional piano lessons are out of our price range. We own a keyboard and I thought it would be great if he could learn piano at home on his own time. That is when we got the opportunity to review
HomeSchoolPiano
, an online program that allows us to do just what I want!
About HomeSchoolPiano
We were given a lifetime subscription to HomeSchoolPiano – Complete Set of Books. HomeSchoolPiano was created by Willie Myette and can be used with people of all ages! From the youngest member in your family to your great grandmother, everyone can benefit from the program.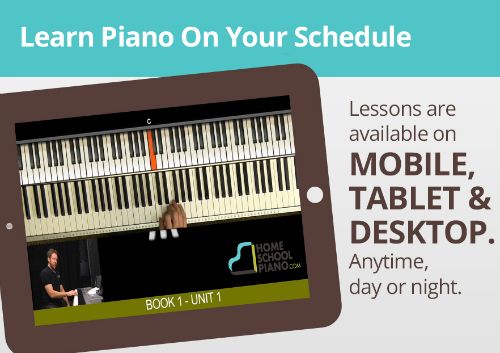 All lessons are provided online and can be viewed from any Internet-capable device. HomeSchoolPiano follows a 6-step cycle that helps students gain success with the piano quickly. Students first learn proper technique and eventually learn to read music and actually create music of their own.
This 6-step cycle actually works with the National Standards for Music Education so know that you will be investing in a well-rounded curriculum.
HomeSchoolPiano is broken into four books:
CorePiano – This is for absolute beginners. Teaches piano fundamentals.
Book 1 – For those just beginning. Students will learn to read music and create their own!
Book 2 – Builds on Book 1.
Book 3 – Builds on Book 2.
Each book comes with a downloadable PDF to print and use with the lessons, as well as downloadable Jam Tracks.
How We Used HomeSchoolPiano
I intended this review for my five year old, but up to five members of a family get access on one account. I would set our computer up next to the keyboard and play the lessons for my son. He is a five-year-old boy, so we are going very slow through this program. We began in CorePiano, and we are still in CorePiano. We are currently learning the very basics of the piano:
Notes of the Piano
The difference between low and high notes.
The musical alphabet.
Finger numbers.
How to sit at the piano.
The grab technique.
Five finger scale.
It is summer and my son's attention span is limited, so we have spent time reviewing these lessons. I do want him to grasp this information before we move on to anything more complex. That is the beauty of this program. We can move as slowly as needed and repeat lessons as often as we want!
Our Opinion of HomeSchoolPiano
I am enjoying this review. Willie is engaging and the lessons are short and easy to follow. I love how the very basics are broken down in CorePiano for those of us with very limited experience with the piano. I am so thankful for the lifetime subscription that allows us to move as slowly as we need to get through the program. If my son is just not feeling the lessons on a particular day, we can stop and come back later. I do not feel pressured to force him to do anything because of a limited time frame.
The fact that we can access lessons on any device makes the use of this program even easier. I can set up a tablet on the music sheet stand of our keyboard if I need to.
I never learned how to play the piano, and it is something I have always wanted to do, so I am happy to say that I am learning alongside my son! If my son were old enough to go through the program without my help, I would set up my own account and complete the program on my own!
We absolutely recommend HomeSchoolPiano to any homeschool family who wants to learn the piano!
Guess what? HomeSchoolPiano is affordable! You have two options for payment:
Success Package – One payment of $299 gives you unlimited lifetime access to all of the lessons, pdfs, jam tracks, and sheet music for up to 5 students.
Payment Plan – Payments of $99.97 per month for three months which also gives you the same access as the Success Package.
Find HomeSchoolPiano on: