20 Weeks Pregnant – It's A….
This post may contain affiliate links. Please see my disclosure and privacy policy for more information. As an Amazon associate I earn from qualifying purchases.
We are officially halfway through this pregnancy! Wow! I can't believe it. Now that I'm past the horrible morning (all day) sickness it's really flying by.
So, Monday we had our ultrasound appointment. I was very shocked to find out we are expecting a little BOY!
Here is a picture of his little face. The way he was positioned made it impossible to get a profile shot of him. He was being very shy and keeping his hands over his face, so it took the tech a long time just to get this shot!
My intuition was totally wrong. This is the first time I have been wrong! I thought for sure the baby was a little girl because of how sick I have been. The ultrasound tech was fairly positive this little one is a boy. I'm happy, although I'm pretty sure I sold off a majority of our boy clothes!
And now for answering the questions posted by Sarah at My Joy-Filled Life: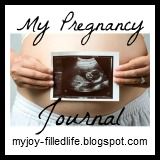 How far along are you?  20 weeks, 5 days
Prayer requests?  I've been really struggling here lately. I miss my husband. Both his civilian job and military job take him away from us a lot. I'm worried about possible deployments and such.
Baby's growth? Baby weighed 15 ounces at my ultrasound!
Symptoms?  Exhausted, slightly swollen.
Medical Stuff?  I found out at my regular check-up with my OB that the ultrasound found my placenta is lower than normal in my uterus and part of it may be touching my cervix. I have to go for another ultrasound in about 6-8 weeks to make sure it moves up as my uterus grows. I'm definitely praying it moves and I can have a regular, vaginal delivery.
  
Weight gain (or loss)?  Gain. That's never a question with me. We won't talk about how much. 🙂
Cravings?  Chinese food, sushi, chocolate.
Sleep?
  I'm sleeping a bit better than I was. My daughter is sleeping longer at night, too, so that definitely helps.
Movement?
  Lots of little kicks and wiggles.
What I miss….  Mmmm. Not feeling so huge.
What I'm looking forward to….  Finally picking the right name for this little man. Mr. Simple and I just can't agree!
Discussion Question: 
So, this question is about nursing while pregnant and nursing a toddler and newborn together. I wrote about n
ursing while pregnant
not too long ago, but some things have changed for me. I am even more anxious to wean because I'm experiencing a lot of pain when nursing my toddler. I have no milk left at all. My milk dried up several weeks ago, actually, and my daughter is currently 20 months old. I knew for sure the milk was gone when she began requesting a cup at 3 a.m. Anyway, she still likes to nurse for comfort and it's killing me. I distract her as much as possible during the day, but still let her latch at night. I have no desire whatsoever to nurse a toddler and a newborn. That's just how I feel right now. We'll see if I can get her weaned soon!