Chore Systems for Large Families – Zone Cleaning
This post may contain affiliate links. Please see my disclosure and privacy policy for more information. As an Amazon associate I earn from qualifying purchases.
When it comes to large family living, one thing is for certain, there will be messes. The more people you have, the messier your home can become. As our family grew, I knew I needed to do something if I ever wanted to live sanely. That's when I found zone cleaning. You may know about my zone cleaning system for deep cleaning, but I haven't blogged much about my kids' zone cleaning system. There are lots of different chore systems for large families, and I believe you probably have to try a few different ones before you find your match. Today, I'm going to talk about the family chore system that seems to be working for us in this season of life.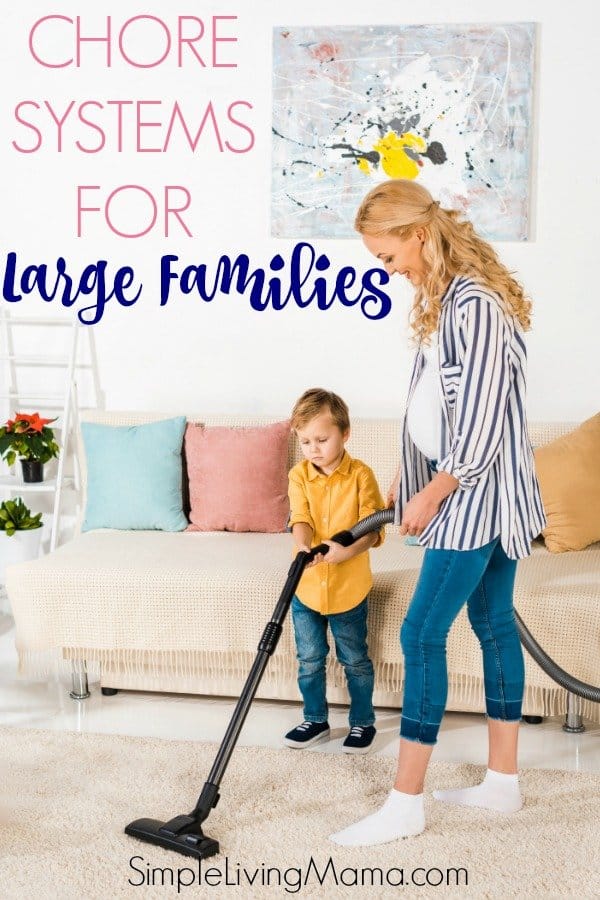 Chore System for Large Families – Kids Zone Cleaning
I have found the easiest way to keep my home mostly clean with the kids in the house is to give each child who is old enough and able to clean a zone. Now, these zones look different than my weekly zone cleaning zones. These are more daily zones that keep our home running on a day to day basis. When you have a house full of people, things can pile up quick, so some structure needs to be in place.
Family Chore Chart
I have seen families set up a family chore chart. We have a command station in our mud room that serves as the hub of our home. I have a large cork board in that room with a calendar. I like to hang my kids' chore charts there, as well as any flyers or important paper for upcoming events for our family.
You could easily set up a family chore chart with a cork board like this one at RobbyGurl's Creations.
I have used chore routine cards in the past for my youngest children to help them learn what needed to be done at the beginning and the end of each day.
Personally, a family chore chart doesn't last too long around here, so once I decide how I want to divide up the chores, I just verbally tell the kids what they need to do.
Cleaning Zones for Kids
Currently, my three oldest children have zones they are in charge of on a daily basis. Aside from their daily routines of making their beds and making sure their room is picked up, here is what they do:
Oldest, 9 years old: Unload dishwasher, sweep floor after meals (I usually have to help with the sweeping)
Middle, 7 years old: Load dishwasher
Youngest, 5 years old: Clear table, wipe down
They are also in charge of putting away their folded, clean laundry. When we clean the bathrooms on Fridays, they are responsible for taking out the trash and helping me clean it.
As they get older, they will gain more responsibilities. Right now, I often have to help them with most of these chores to make sure they are done properly, but they are learning by working with me.
Zone Cleaning Printable for Large Families
A few years ago, I created a zone cleaning printable that helped me map out a plan for daily chores for my kids and myself. Each child would get a zone, and of course, I would have to help them with the chores.
I have since modified that system as you can see above. The kitchen chores are way too much for one person to handle on their own, the living room chores are done on a daily basis by everyone including the two and three year olds, and the laundry is something I tend to handle on my own right now except for the putting away of the clean clothes.
Of course, I still keep up with my own daily cleaning routine, weekly cleaning routine, and zone cleaning routine for deep cleaning.
As our children get older, they gain more responsibilities. Our oldest feeds our cats and waters plants. Our middle child often helps me with cooking and if I need a hand with one of the younger kids. We will talk about age appropriate chores and how we handle allowance in the future!
More Resources on Chore Systems for Large Families
Develop a Daily Routine for Large Families from Large Family Table
Large Family Chore List from Raising Olives
Large Family Living from Raising Arrows – Amy has so much information on her blog that has been such an inspiration to me. I want to be like Amy when I grow up!
How do you handle large family chores?