Y'all, I have loved the farmhouse look since before it was cool. I've wanted to live in an actual farmhouse since even before Chip and Jo came into the world and changed the look of modern day decor. I just feel so lucky that there are so many "farmhousey" decorations available right now! Since spring is our first official season in our new house, I decided to go ahead and add some new pieces to our decor. I've really changed up how I'm decorating in this new house, and I thought it would be fun to take you on a little farmhouse spring home decor tour for Easter! I hope you find some inspiration in these Easter ideas!
Farmhouse Easter and Spring Home Decor Tour
Well, we don't live in an actual farmhouse, and the style of this house isn't quite farmhouse, either, but my decorations are! Come take a peek!
On our front door you will find this cute Happy Easter wreath that I got from Walmart. I just thought it was adorable! And, yes, I know Easter is super early this year. I'm probably going to leave my Easter decorations up through April.
Inside the front door is my blue bookshelf. My husband built me this shelf before we even got married and I decided to paint it this blue color back in 2015. It does have another shelf, but I took it out.
On top of the shelf I have a basket with a bunny in it, this adorable "Welcome" sign with all these cute bunnies from Hobby Lobby, and behind that is a glass rose topiary that my husband gave me several years ago. I love these farmhouse spring decor ideas!
I have this cute bunny jar on top of an antique book.
On the bottom of the shelf I have a framed farmhouse printable, a bunny basket, and a coral pillow.
On my coat closet door I hung this moss bunny wreath that I purchased from Hobby Lobby, as well. I spend too much money at that store, but their farmhouse Easter decor is adorable!
On the mirror above the bookshelf is this cross with eggs that I purchased from Walmart a few years ago.
I have two end tables that my Nana and Papa gave me that were painted by another person. I adore the natural top and white bottom.
My kids saw this lighted bunny at Walmart and I decided to go ahead and get it. This faux plant was purchased from Hobby Lobby. I just wanted to add some greenery to the space.
Here's a look at our fireplace. That basket down in the far right holds seasonal kids' books.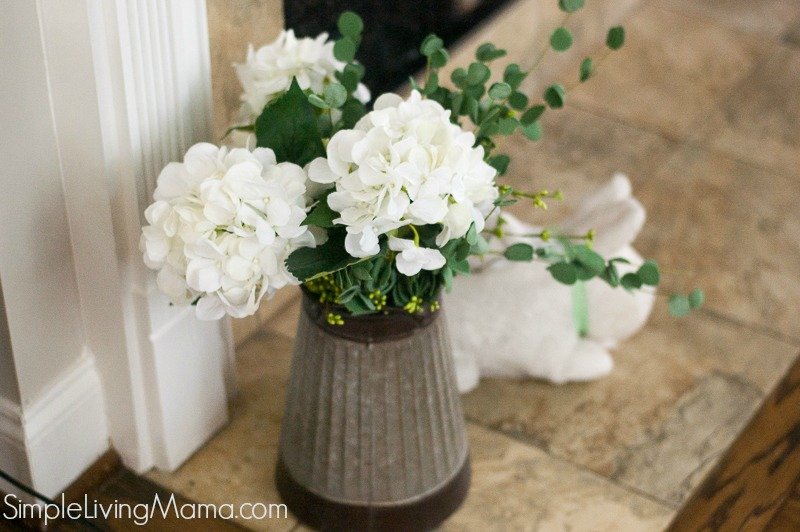 I love this galvanized pitcher from Hobby Lobby and my pretty white hydrangeas and eucalyptus. Another little bunny basket sits beside it.
I love this Happy Easter banner from Hobby Lobby. I think it adds a nice touch of color to my living room.
On my end table I have a copy of this Nature Journal book from Wild + Free and the latest copy of the Magnolia Journal.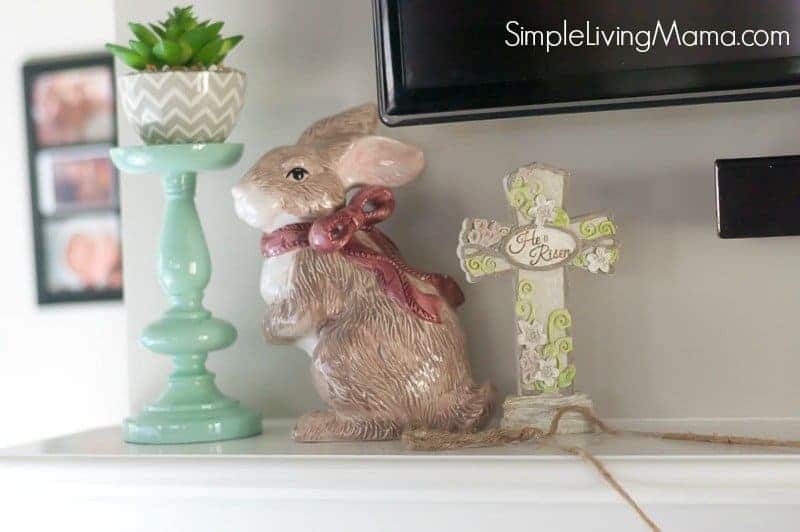 This side of the mantle holds an aqua candlestick. The succulent isn't staying on the candlestick, but it's there for now. There's also a cute bunny from my Grandmother, and a cross from Walmart.
This "blessed" sign is also from Hobby Lobby and stays in the center of my mantle through the seasons.
I got this little basket from Walmart and one of the eggs actually fell on my cross in my entryway, so I put it in the basket.
In my kitchen I added this bunny plate that's from, you guessed it, Hobby Lobby.
And on the center of my island I placed this cake stand and added a chalkboard bunny from Walmart.
This cute nest and egg decoration from Hobby Lobby.
A cute little girl bunny from Hobby Lobby.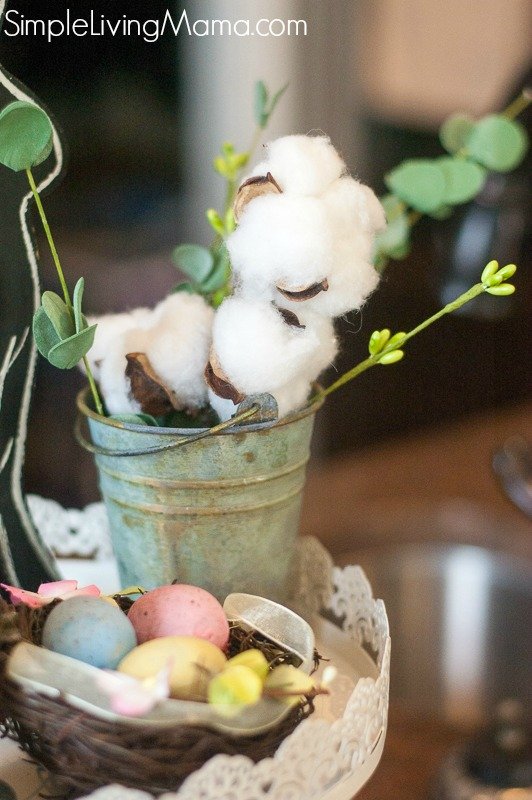 And a small galvanized pail that I added eucalyptus and cotton.
That's it for this year. Seasonal farmhouse decorating can be so fun!
Need more Easter inspiration?