My kids love Minecraft. What can I say? It's a thing. As much as I'd love to be a screen free house, my husband loves technology and so do my kids. Minecraft is one of two video games they are allowed to play, and it has spurned a lot of great learning opportunities for them. When my oldest son turned 10 this month and I was brainstorming kids' birthday party ideas, a DIY Minecraft birthday party was no brainer!
DIY Minecraft Birthday Party Ideas
Most of these birthday party ideas came from this incredible blog post from Southern Revivals. I got all of the printables and pretty much all of the ideas from her. This post is just my take on her awesome party.
Here is our Minecraft table set up. We used a purple table cloth from the Dollar General. A black table cloth went over the table where the kids sat to eat. I bought a Minecraft poster from Walmart, printed the birthday banner at home on card stock, as well as all of the other printables. Simple and a hit with the kids!
Everything for this party was under $100 and my kids still LOVED it. It was probably one of the most fun birthday parties we've done. Now, my party wasn't quite as Pinterest perfect, but my kids still had a blast.
Here's a look at our Minecraft cake. It was super easy! Two chocolate cakes stacked on top of each other. They were iced with whipped frosting and then I used red fondant.
The party food was super simple. Chicken nuggets.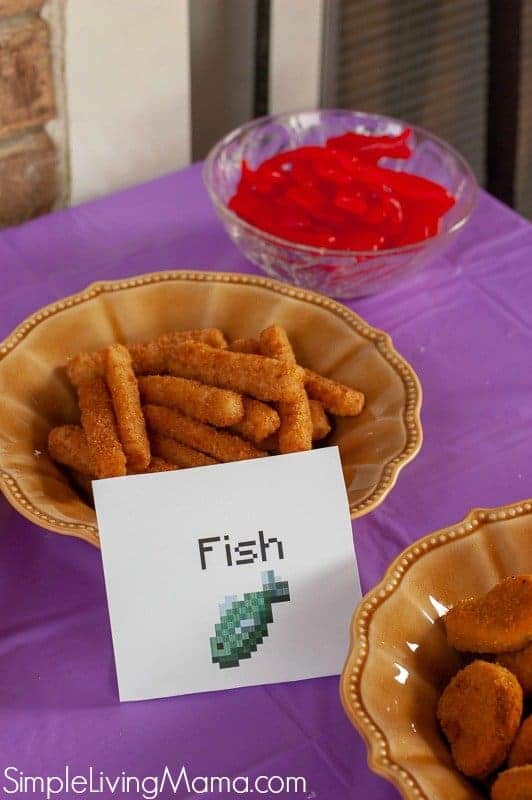 Fish sticks and Swedish fish gummies.
Cheese cubes.
Lava punch. It was strawberry soda, orange sherbert, and vanilla ice cream.
Giant campfire marshmallows dipped in red candy melts made our mushrooms. This cupcake stand is perfect for all kinds of treats!
Pretzels were our "sticks."
Here's a look at some of the food.
Pigs in a blanket made great "pork chops!"
We set up an Enchantment table for the kids to make slimes and exploding creeper potion.
We attempted to do the Diet Coke and Mentos experiment for our Exploding Creeper potion. My advice here, watch a couple of YouTube videos because letting the kids drop the Mentos in one by one doesn't work too well!
Here the kids are mixing up slime!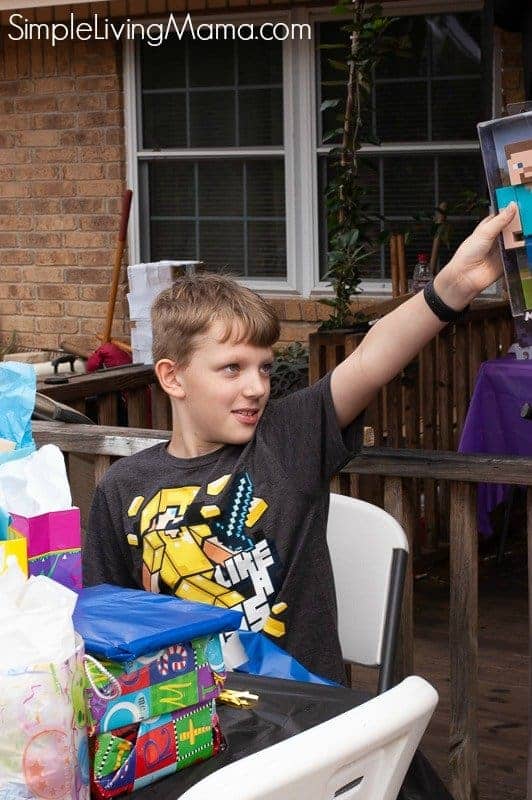 That's a happy kid wracking up his birthday loot!
For the favors, we had goodie bags with candy. We also had a ghast pinata filled with candy, so the kids had their slime and plenty of candy for favors.
Here we have one happy Minecraft loving kid. He was so excited about his little Minecraft party, and I think it turned out great!


More Kids' Birthday Party Ideas