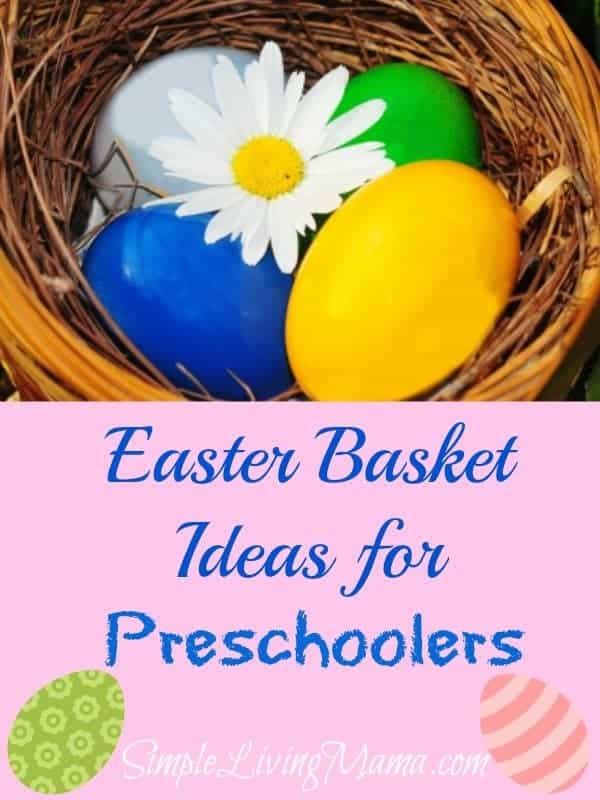 It's almost time for Easter! I love assembling Easter baskets for my preschoolers! While I do always add a chocolate bunny and a few eggs full of candy, I do like to go beyond that and add some other goodies that won't rot teeth! Here are my Easter basket ideas for preschoolers!
Sidewalk Chalk
Bubbles
Jump rope
Crayons/Coloring Books
A Classic Storybook – I like to give each of my children a classic storybook to add to our home library. I have given them Curious George, Madeline, Where the Wild Things Are, and just any good books I think we would love in our library!
Affiliate links are included.
Christianbook.com has some really awesome ideas for your child's Easter basket.
The Good News Easter Puzzle looks adorable and fun!
Don't forget a Bible for your child if you don't already have one. The Jesus Storybook Bible is lovely.
I love this Jesus Love Me lamb.
We love Veggie Tales. An Easter Carol is only $5.99.
I personally do not go overboard on Easter. A few nice things arranged in the basket to bring a little joy to my kids' faces is all we need. It's also great to include something to remind them of the real reason we celebrate Easter! Keep it simple!
Image Credit – Freedigitialphotos.net