I have just packed my hospital bag for labor and delivery. Y'all, at this point I am all about practicality. I don't go overboard with the things we bring. Here's my thinking; if all goes well the longest I will be there is two nights. If something should happen, hubby can always go home and get more things for us. I also take full advantage of the things the hospital provides. We are paying for it all anyway, so we might as well use it.
That said, obviously there are must have items for your hospital bag during labor and delivery that you just need to have. I've put together this handy guide and free printable for all the other practical mamas out there in need of pregnancy tips!
I'm a planner. My hospital bag is usually ready to go at least a month before the big due date. Maybe I'm crazy, but I actually love getting all of my things together and having them ready to go. Something about it just comforts me.
All of my things fit neatly into a medium sized duffel bag. With this being my third baby, I have pretty much figured out what things I actually need and what things are just going to take up space in my bag. Without further ado, here is my list of things to pack in my hospital bag ahead of time.
What to Pack in Your Hospital Bag
I usually wear one pair of sweats the day after I give birth, and I wear the other pair on the day we go home. The last time I gave birth, I had the option to stay in the hospital gowns while I was there. I was hesitant at first, but I had a lot of bleeding after my birth and I was going through those gowns like crazy. I'd much rather mess up their gowns than have to deal with that all over my clothes. Also, I'm not unrealistic. I know I'm not going to comfortably wear a pair of jeans home. You'll still be swollen. A cute pair of sweats and flat shoes will be comfortable for going home.
I wear nursing tanks under all of my shirts. All you have to do is lift up your regular shirt and your tummy stays covered because of the tanks. Bravado are my favorite bras.
Socks or Slippers (or both)
You don't want your feet hitting that cold floor. Socks and slippers just make you feel a little more cozy!
If you are wearing the hospital gown, you will probably feel more comfortable with the bathrobe over it when get up and walk around.
Buy yourself some cotton granny panties. You want something comfortable. I wear the mesh hospital panties while I'm in the hospital, but I put on the cotton panties before we head home.
I buy travel size toiletries of my favorite products and pack them ahead of time so they are ready to go when we leave.
I am always starving after labor and delivery. I pack juices, granola bars, and other goodies in a big Ziplock bag so I can have a snack whenever I want after the baby is born.
We give our baby book to the nurse after the baby is born so she can stamp those tiny footprints in it for us.
You may want a few things for your own entertainment while you are waiting on the arrival of your little one.
I've never packed this before, but as long as Mr. Simple gets to be here for this baby's birth, I think I may put him to work during labor!
I don't usually wear much make-up during my hospital stay. I like to have some face powder and lip balm. Earth Mama Angel Baby makes lip balm that I really want to try. If you usually wear make-up, you may want to have it.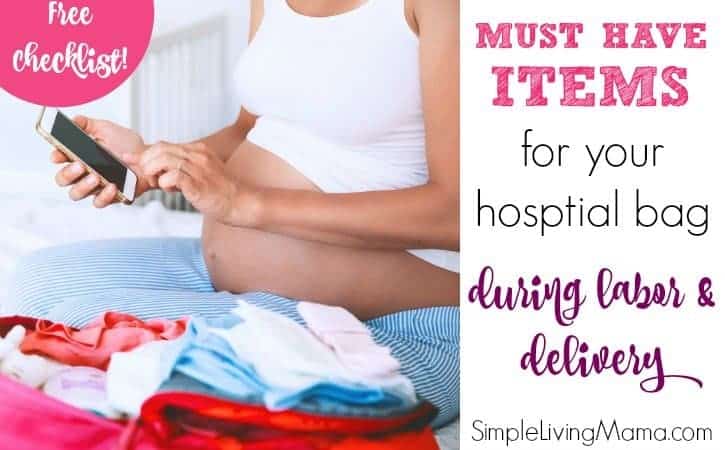 Things to grab while heading out the door:
Video Camera and Digital Camera
You want to record these moments!
Do not forget your cell phone!
Take advantage of the things the hospital gives you. I use the sanitary napkins and the hot/cold packs from the hospital and I take some home with me to use for the first few days. Last time I also got a Sitz bath, which was wonderful. You can usually request Tucks pads, anesthetic spray, and a peri bottle to take home, too! These things will help you while you heal. When the lactation consultant comes to visit you, she will most likely give you some lanolin and breast pads if you are nursing.


Of course, you will need to pack a diaper bag for your baby, but we will talk about that in another post! What are your must-have hospital bag items?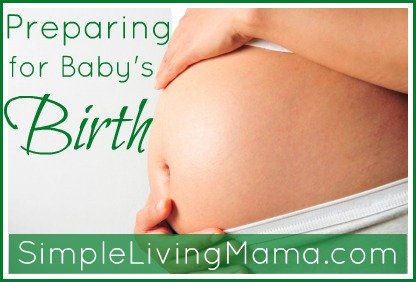 Other posts in this series: