Easy Apple Pie Recipe in a Cast Iron Skillet
This post may contain affiliate links. Please see my disclosure and privacy policy for more information. As an Amazon associate I earn from qualifying purchases.
My husband loves apple pie. I mean, is there anything more American than a slice of apple pie? Maybe even make it a 'la mode with a bit of vanilla ice cream on top. Wanna know how to make apple pie even better? Bake it in a cast iron skillet. My cast iron skillet recipes are some of my favorites, and this easy apple pie recipe in a cast iron skillet is no exception!
Rustic Apple Pie in Cast Iron Skillet
I decided to make this apple pie with a homemade pie crust. I've always defaulted to store bought crusts just because they are cheap and easy, but using a homemade pie crust for this particular apple pie definitely gives it a more rustic feel.
Can I use a cast iron skillet to bake a pie?
Absolutely! The cast iron skillet is such a versatile piece of kitchen equipment. It can go from stovetop to oven, so it's perfect for starting pies on the stove and then transferring to the oven to finish baking. Plus, I think the cast iron skillet gives the pie such a nice, homey feel!
What are the best apples for apple pie?
You can use pretty much whatever apples you have access to to bake your apple pie, but one of the best apple varieties you can use is the Granny Smith apple. Granny Smiths are naturally tart, so they go great when paired with the sweetness of the brown sugar and spices when mixing up your apple pie. You can also pair the classic green-skinned Granny Smith apple with other varieties in apple pie.
Skillet Apple Pie
My perfect Sunday afternoon consists of homemade apple pie topped with vanilla ice cream with my whole family! Apple pie just tastes like home to me.
My particular skillet apple pie recipe combines Granny Smith apples and Honeycrisp for the perfect marriage of crisp, tart apples and sweet, juicy apples. The bottom pie crust is a delicious combination of brown sugar and butter topped with a homemade crust, topped with a delicious combo of apples, sugar, and cinnamon, then topped with another homemade pie crust and baked to perfection!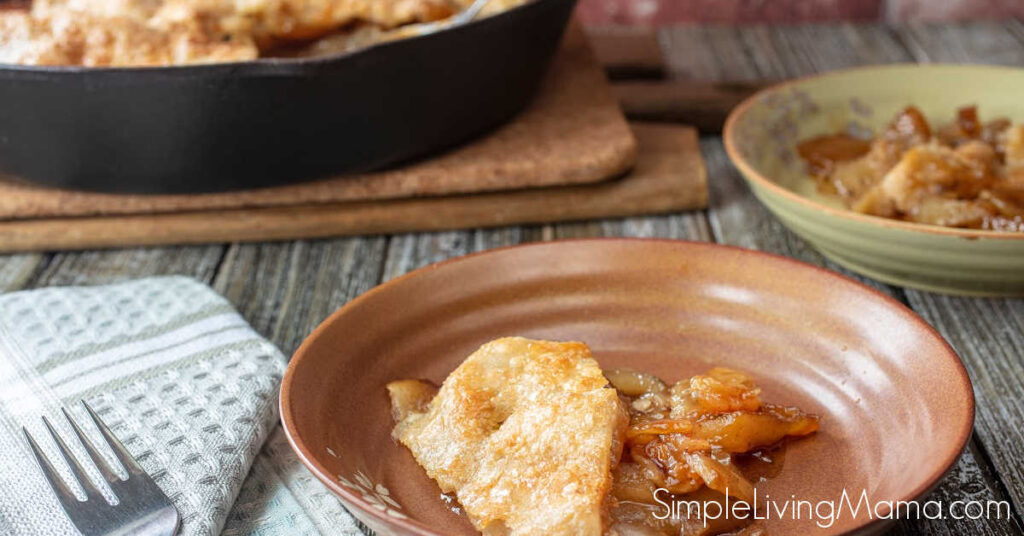 Yield: 6-8 servings
Easy Apple Pie Recipe in a Cast Iron Skillet
This delicious skillet apple pie recipe is created with two varieties of apples, combined with sugar and cinnamon, and sandwiched in between two flaky, homemade pie crusts.
Prep Time
1 hour
30 minutes
Cook Time
1 hour
10 minutes
Total Time
2 hours
40 minutes
Ingredients
For the Pie Crust (Makes Double Crust for 9 inch pie):
2 1/2 cups all-purpose flour
1 teaspoon salt
1 tablespoon sugar
1 cup very cold butter cut into 1/2 inch cubes
4-8 tablespoons ice water
For the Apple Pie:
2 cups Granny Smith Apples, peeled and sliced
2 cups Honeycrisp Apples, peeled and sliced
1 teaspoon cinnamon
3/4 cup granulated sugar
1/2 cup butter
1 cup firmly packed light brown sugar
1 egg white
2 Tablespoons sugar
Instructions
To Prepare the Pie Crust
Add 1 1/2 cups flour, salt, and sugar to a medium sized bowl and stir until combined.
Scatter butter cubes over flour mixture and, using a fork, stir to coat all cubes with butter.
Cut the butter into the flour mixture using a pastry cutter. Work the butter and dough with the pastry cutter for about 20 seconds until the mixture is crumbly in pea-sized bits.
Sprinkle ice water over flour mixture beginning with 4 tablespoons and move up from there. Use a rubber spatula to press the dough together. When you can pinch the dough together and it holds, it's ready.
Remove the dough from the bowl and turn onto a clean surface. Work the dough into a ball, cut in half, and form discs. Wrap each disc in plastic wrap and refrigerate for at least 1 hour, up to two days. Dough can be frozen for three months.
To Prepare the Apple Pie
Heat the 10 inch cast iron skillet over low-medium heat on the stovetop and preheat the oven to 350 degrees F.
Add butter and brown sugar to the hot 10 inch cast iron skillet and cook until combined.
Turn the heat off of the stove. Roll out 1 pie crust and place on top of butter/sugar mixture.
In a separate bowl combine sliced apples, with sugar and cinnamon.
Pour apples over the pie crust in the cast iron skillet.
Roll out second pie crust and top the apple mixture. Slit the pie crust 4 or 5 times and brush egg white on top of the pie crust. Sprinkle white sugar over the crust and bake for 1 hour up to 1 hour and 10 minutes. Use aluminum foil to shield pie crust during the last 10 minutes of baking to prevent over-baking.



Notes
You can use pre-made pie crust to make the pie easier.
Recommended Products
As an Amazon Associate and member of other affiliate programs, I earn from qualifying purchases.
More Cast Iron Skillet Desserts
More delicious cast iron skillet pies, crisps, and cobblers!
A delicious and rustic cast iron skillet blueberry crisp perfect for a summer dessert!