In Freedom's Cause Audio Drama -Review
This post may contain affiliate links. Please see my disclosure and privacy policy for more information. As an Amazon associate I earn from qualifying purchases.
One way I like to change up our homeschool is by adding in audio. My oldest is finishing up kindergarten, and while I haven't introduced much history to him, I love the opportunity to do so. We recently got the chance to review In Freedom's Cause, an exciting audio drama from Heirloom Audio Productions.
About In Freedom's Cause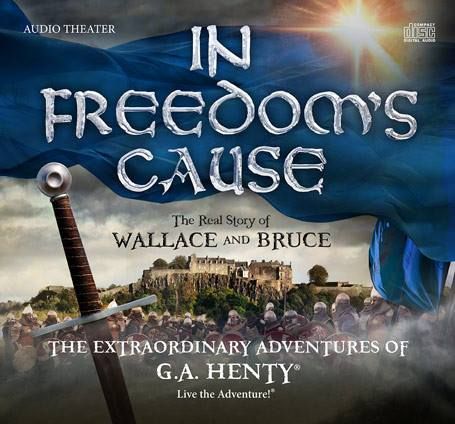 In Freedom's Cause is an audio drama. This means that it is more than an audio book. You get several different characters, you get sound effects, you get background music, and you get adventure!
In Freedom's Cause
is based on GA Henty's novel of the same name. We got to learn all about Scotland's fight for freedom from England. The story follows a fictional character, Ned, who wants to avenge his father's death in the fight for Scotland. Ned gets to interact with real characters from history (William Wallace and Robert the Bruce) and learn what it takes to become a true man. This story is not only about war, but it's about godly men doing the work of heroes. Your kids will learn about bravery, chivalry, and what it takes to be a man.
We received In Freedom's Cause Single Package which includes:
CD
downloadable study guide
a downloadable MP3 sountrack
printable copy of William Wallace's prayer
character road map
How We Used In Freedom's Cause
I just recently had a baby, so while I intended to listen to the CD in our van, we ended up playing it in our living room during quiet times. We spent some time folding laundry and being riveted by this tale. When I first began playing the CD, my daughter asked me if we were listening to a story about dragon training. Nope, but this story is just as exciting!
You definitely need to make sure you aren't trying to multi-task while listening to this CD. It takes just as much attention to listen to this audio drama as it would to watch a movie. The study guide is a wonderful resource to use to make sure your kids are really listening to the story and understanding what is happening.
How We Liked In Freedom's Cause
I am realizing just how much I need to ease my children into getting used to listening rather than watching. My oldest is 6, and he did enjoy the sound effects and the story for the most part. I think he was hoping for a movie to watch, but I explained to him that this is an audio drama that we listen to and imagine the stories in our minds. We have listened to other audio dramas, and it does take him a bit to really get into them.
I personally loved listening to In Freedom's Cause. It is so nice to be able to sit back and use your imagination a bit. The way this audio drama is designed, you actually feel like you're in the story. I think children a little bit older than mine would really appreciate the CD.
In Freedom's Cause is recommended for everyone over the age of six. I think it is great for the whole family, but do be aware that this is a story about war and use caution if you or your child are particularly sensitive to that subject.
Facebook: https://www.facebook.com/InFreedomsCause
Twitter: https://twitter.com/InFreedomsCause
Google+: > https://plus.google.com/u/0/b/112701427096792421838/112701427096792421838/posts
Pinterest: http://www.pinterest.com/jointhecause