How To Choose the Best Homeschool Math Curriculum for Your Child
This post may contain affiliate links. Please see my disclosure and privacy policy for more information. As an Amazon associate I earn from qualifying purchases.
Thank you to Teaching Textbooks for sponsoring this post. As always, all opinions are my own.
Most homeschool moms love choosing homeschool curriculum. In fact, homeschool planning is really half the fun of homeschooling to me! One of the more difficult aspects of choosing a curriculum for me has always been trying to decide on the right math curriculum to use. I'm an English major, so my brain just naturally does not do well with math. I have several factors I take into consideration when choosing a math curriculum that will work for my children. Today, I'm going to share those factors with you in order to help you choose the best homeschool math curriculum for your child!
How To Choose a Homeschool Math Curriculum
There are LOTS of different math curriculum options available to suit a wide range of learning styles. Today I'm going to share with you some different ways that math curricula are structured, so you can get an idea of what you are looking for and what will be the best fit for your child.
How do I choose a homeschool math curriculum?
With so many homeschool math programs available, you may be struggling to decide which one is best for your child. There are several things you'll want to consider such as your child's grade level, whether you want an online math curriculum or a book-based program, and your particular teaching style.
First, decide what you are looking for in a math program. I'll break down the different types of curricula in the next section to help you decide what you're looking for.
Pick a couple of programs to look at more closely, try a free trial, or print samples.
Buy your curriculum and start teaching!
At the end of the day, what matters is what you think will work best for your child. Occasionally, you may have to try more than one curriculum, but above all, you make the best choices for your child.
Let's break down the types of different math curricula available on the market.
Conceptual or Procedural
Math is typically taught in one of two ways. First, we have conceptual math lessons. These math lessons focus on the "why" behind the math. A conceptual math program will explain why you need common denominators when adding fractions or why you need to borrow when subtracting.
Conceptual math problems will often start with the big picture, and often a child will use manipulatives. Once that is mastered, the problems will be translated to paper. If you have a child who wants to know the "why" behind things, a conceptual math program may work best.
Procedural math lessons focus more on how to do the math problems to get the right answers. They are procedure based. Math problems are taught in a very direct way. While manipulatives may be used occasionally, math is taught more often with a paper and pencil approach.
Procedural math curricula work best for kids who are concrete thinkers and just want to get the work done. This type of math program is often taught with lots of specific examples.
Spiral or Mastery
You will find most math curricula takes either a spiral or mastery approach. Let's breakdown what each of these mean.
A spiral math curriculum will introduce new concepts during a lesson, while also reviewing concepts that were previously taught. Students work on a mixed review of problems during a lesson.
A mastery math curriculum introduces one concept at a time and students presumably work on that concept until it is mastered. There may be some review, but students are generally expected to master one concept at a time.
Christian or Secular
You may find that most math curricula are secular in nature, but there are a few programs with a Christian perspective. If that is important to you, you may want to find a math program that aligns with your beliefs.
Book-Based or Virtual
Do you want a math curriculum that is strictly book-based and uses paper and pencil? Many book based curricula will require you, as the teacher, to help students check their work, and they may require you to teach the entire curriculum. Of course, some book-based curricula do offer virtual explanations for some concepts.
A virtual program may require very little teaching on the parent's part, and often students' work is checked on the spot. A virtual program may need access to an Internet connection, and you will certainly need a device to access the program.
Colorful or Basic
Do you want a basic curriculum, or do you want something that is colorful and full of bells and whistles? Have a look at several different programs and decide which will appeal the most to your child.
Cost Consideration
Cost is always a big consideration when it comes to purchasing a curriculum. You'll want to invest in a curriculum that works, but you also want to get the most bang for your buck. Weigh the costs vs. what each program you are considering offers.
How To Get Started Teaching a New Math Curriculum
Once you have decided which curriculum you want to use, it's time to get started! Read over any introductory materials and then dive in!
Our family uses Teaching Textbooks beginning in 2nd grade all the way through high school. I chose Teaching Textbooks because I wanted a virtual curriculum that would explain math concepts much better than I ever could. I also wanted a curriculum that would show my children how to work problems, and then tell them immediately if they got a problem right or wrong.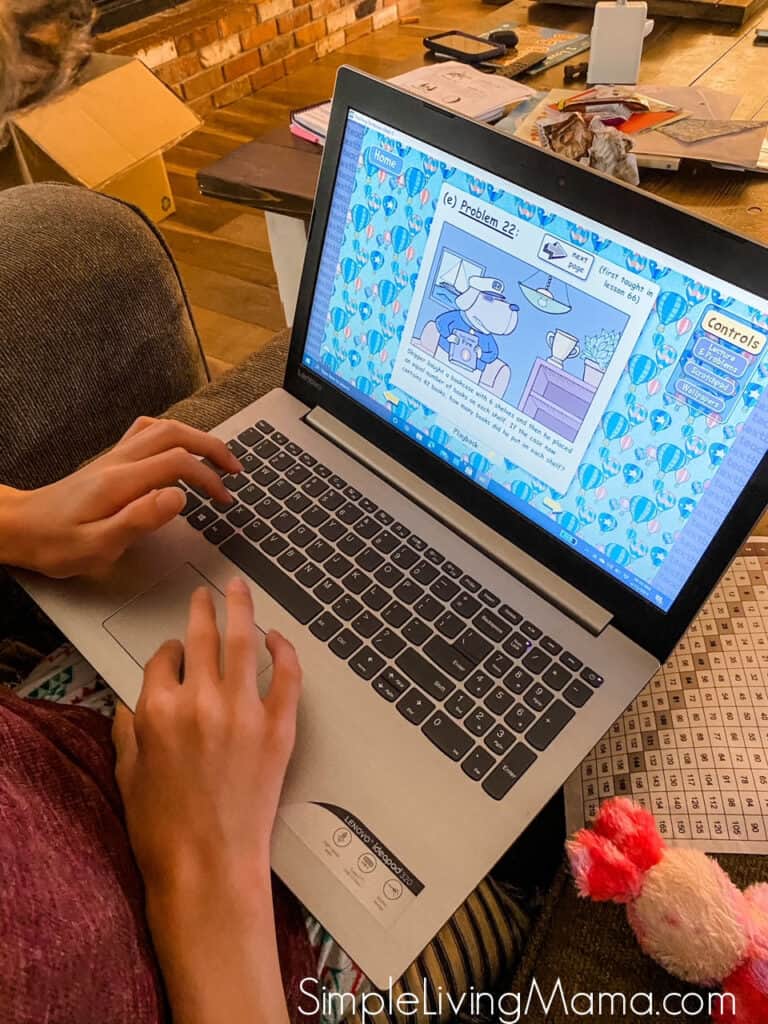 We have access to the digital courses offered by Teaching Textbooks, and my kids are able to do their coursework on either the laptop or the iPad. I now have three children successfully using Teaching Textbooks.
My kids enjoy the colorful buddies and virtual stickers included in the program, and I like that I can sit down and work on concepts along with my kids when they are having trouble, but for the most part they are able to do their math work independently.
You can read our full Teaching Textbooks review to find out all about the program and get your free trial here!
More Homeschool Math Resources
Here you'll find even more homeschool math tips and tricks!