I've been working on my January menu plan. Right now at 25 weeks pregnant, I am slowly implementing the Trim Healthy Mama diet. I may never be totally "on plan," but it feels good to finally decide to get rid of the sugary foods that I've been eating and craving. For this month's menu you will see some of my favorite stand-bys plus some new Trim Healthy Mama approved dinners that we will be trying out this month. I'll be doing some careful substitutions for myself such as using spaghetti squash or zucchini instead of pasta, or making cauli rice when my family eats regular rice. Since I am pregnant, I will continue eating what is known as S-helpers and Crossovers. In other words, I will mix good fats and good carbs together.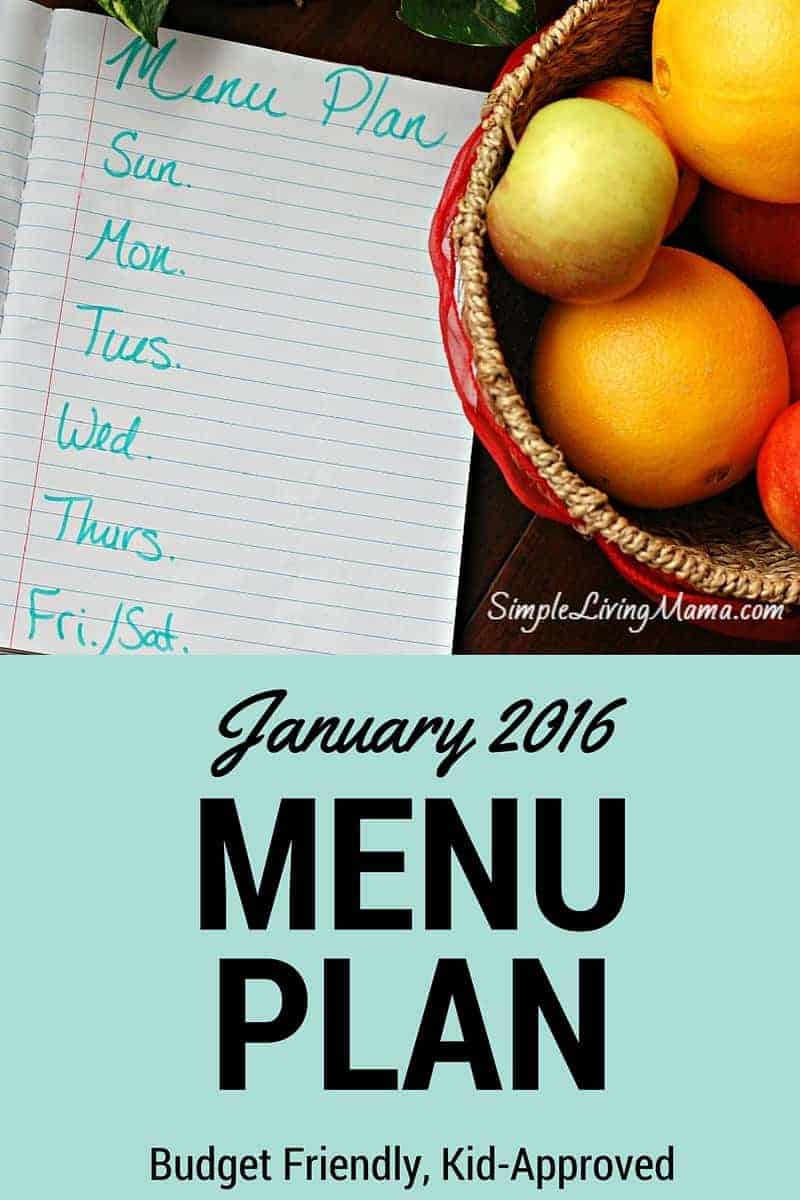 If you have no idea what I'm talking about and you're curious, you can check out the Trim Healthy Mama book yourself! It may take me a few months to get totally "on plan."
January Menu Plan
January 1-9
Corned Beef and Cabbage, corn bread, purple hull peas & rice
Leftovers
Tacos, refried beans, chips and salsa
Beef stew, rolls
Lasagna, salad, bread sticks
Leftovers
Pinto beans and sausage over rice
Creamy ranch chicken over egg noodles, green beans
January 10-16
Chicken packets, broccoli
Hamburger vegetable soup, rolls
Meatloaf, mashed cauliflower
Pizza
Easy baked drumsticks, mashed potatoes, green beans
Baked potato bar (sweet potato for me)
January 17-23
Crispy Salmon over salad, quinoa
Mexican chicken, rice
Balsamic chicken, sweet potatoes, rolls
Citrus fish, steamed veggies, breadsticks
Chicken parmesan, salad
Pizza
Roast, carrots, potatoes
January 24-31
Sub sandwiches, chips (This is something easy, peasy. I can use Joseph's pitas for my bread).
Salmon patties, broccoli, brown rice
Lasagna, salad, bread sticks
Pizza
Chili, corn bread
Chicken tortilla soup
Roast, veggies, mashed potatoes
We will have our usual breakfast stand-bys. Oatmeal, cereal, fruit, pancakes. I am making some egg muffins to have in the fridge for quick grab and go meal.
Lunches always consist of either leftovers, egg salad, tuna salad, or just regular salad. The kids enjoy PB&J, yogurt, and fruit.