One of my goals last year to learn how to live simply was to organize a baking day on a regular basis. I do bake a lot more now than I did before. I find that it is something that I get better at the more I do. I've definitely had my share of flops: bread that didn't rise, undercooked bread, overcooked bread, old baking powder (ugh), old flour (gag), but with time I am getting better!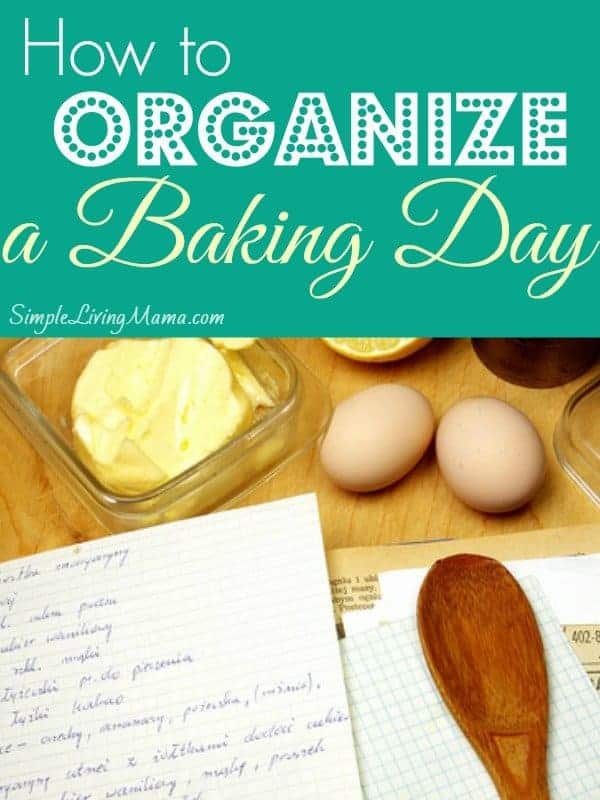 The reason I decided to begin regularly baking is because we all love fresh bread and I find that I can make treats for us a lot less expensively than if I buy them pre-made, or even if I buy pre-made mixes. So far, I bake a few loaves of bread and stash some in the freezer, and everything else I bake gets eaten within a few days. I do eventually want to start baking even bigger batches of things like muffins and sweet breads to stash in the freezer for quick snacks later on down the road.
So, how can you organize a baking day?
Decide what you want to bake.
This is obvious, but this is where you start. What do you want to bake? Do you want to bake bread, muffins, or cookies? Do you want to have extras for the freezer, or just make enough to get you through the week? Some people also like to make English muffins, bagels, or tortillas.
Gather all of your ingredients.
Do this right before you go on a grocery shopping trip. What kinds of things do you need to have on hand to do some baking? I purchase bread flour in bulk and I always have all purpose flour on hand.
Other items I keep on hand include: oil, butter, salt, yeast, sugar (brown, white, and confectioner's), baking powder, baking soda, eggs, and vanilla. You also need to consider what specialty items you might need.
If you're making cookies you will need extra ingredients like chocolate chips or peanut butter. You may also consider keeping oatmeal and cocoa powder on hand if you're making treats. For muffins you may need berries or lemons and poppy seeds. I also like to make banana bread or pumpkin bread, so I keep a few cans of pumpkins in the pantry and we always have bananas. We don't eat nuts, but if you like them you'll need those, too.
Make a game plan.
I have three very young children who love to help. Flour usually ends up all over the kitchen, pudgy, little hands help me knead dough, and I get exhausted quickly! As much as I would love to just knock all of my baking out at once, it's probably not going to happen.
I choose a day that we are going to be home all day and start with the breads that need time to rise. I begin preheating my oven while I'm mixing up the dough for the yeast bread that needs to rise. Then, while the bread is rising I prepare either muffins or banana bread and pop that in the oven. Usually by the time the muffins or banana bread is done, it's time for the bread to go into it's second rise. If I have time, I will make some cookies, if not, I will just come back later, bake the yeast bread, and then prepare my cookies.
Clean as you go.
This is so important! You will be so much less overwhelmed if you clean as you go. I hate a sink full of dishes, so when I finish one project, I will go ahead and wash those dishes and put them away.
Remember you can bake another day if you don't bake everything you wanted.
A lot of times I don't get all my baking accomplished. When that happens, I just plan to make sure I have all of my ingredients on hand so I can bake whatever I want another day! It really is amazing what you can make with just a few ingredients!
Do you enjoy baking? Do you plan a regular baking day?
I'm always collecting ideas for new baked goods on my Bread board on Pinterest!
Follow Joanie Boeckman (Simple Living Mama)'s board Breads on Pinterest.
Linking to: HomeAcre Hop, LWSL