Our Favorite Educational Apps for Kindergarten on the Kindle Fire
This post may contain affiliate links. Please see my disclosure and privacy policy for more information. As an Amazon associate I earn from qualifying purchases.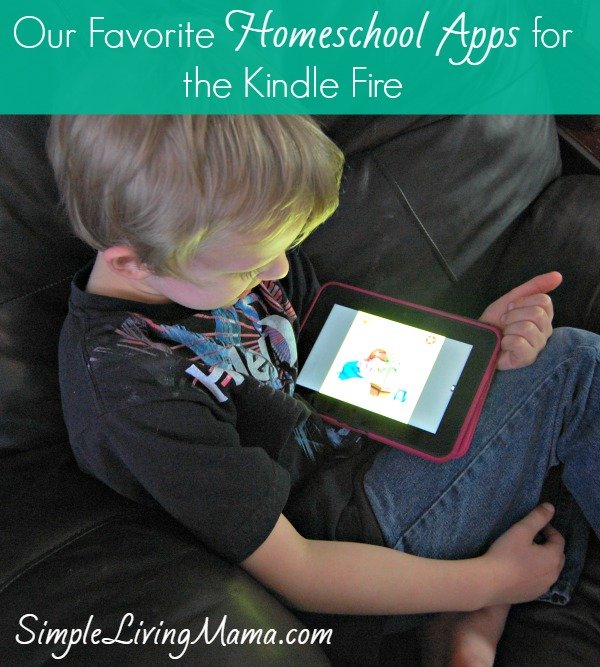 My husband got a Kindle Fire for me last year. While I absolutely love it, I must say our kids have gotten the most use out of it. They use a lot of homeschool apps. My oldest is six and we are homeschooling kindergarten, so he is learning to read, so we mainly use phonics and reading apps for him. I want to share with you a few of our favorite educational apps for kindergarten.
Educational Apps for Kindergarten on Kindle
All of these educational apps are super fun for kids to use on the Kindle. My kids have especially enjoyed using most of them, especially coloring apps! We also really enjoy using apps to help with tracing letters and numbers, as well as beginning reading.
We currently use the free version of Starfall on our Kindle Fire. They are currently expanding the content, so there is not as much available as there is on the website, but there is enough that the kids stay entertained for a bit.
Abby Monkey ABCs First Phonics

This app only cost 1.99 and I think it is well worth it. My kids adore this little monkey and they are learning to pair beginning sounds to words.
iStoryBooks
This is a free app that reads storybooks to your kids. It's cute and fun when we are in a place where the kids need to sit and be quiet for a bit.
This is another free app that we use to help with handwriting practice.
My First Tangrams
This app is really fun for kids to work on solving Tangram puzzles.
This app is so fun. It includes coloring, memory games, and it also helps to introduce letter and number writing.
Kids learn sight words with this fun app. It works by using flash cards in which kids can match the words to the pictures.
We have used and loved ABCmouse for years! I'm excited to see an app for the Kindle.
My kids love to do coloring pages on the Kindle. This one includes lots of pictures to choose from and several colors. This is great for helping kids develop fine motor skills.
Animal Math Games for Kids with Skills

Kids go on adventures with math explorer Emma! There are over 100 math games to choose from. Kids love the characters and voices.
More Kindergarten Resources!
More kindergarten resources for your homeschool!