If you missed part 1 of our soldier's homecoming, be sure to check it out.
So, we were standing at the airport anxiously scanning the faces of every man in uniform. Finally, I saw his face as he was walking toward us.
"There's Daddy!" I said to the kids who were jumping up and down.
Baby O was in my arms while I briskly walked to my husband. We hugged and it was the tightest hug I had felt in months. Applause could be heard all around us. I kissed him just as the baby started screaming. Bug and Sis were around our legs. I quickly moved aside to comfort my screaming baby. I guess the combination of me hugging a strange man and the noise of clapping scared him.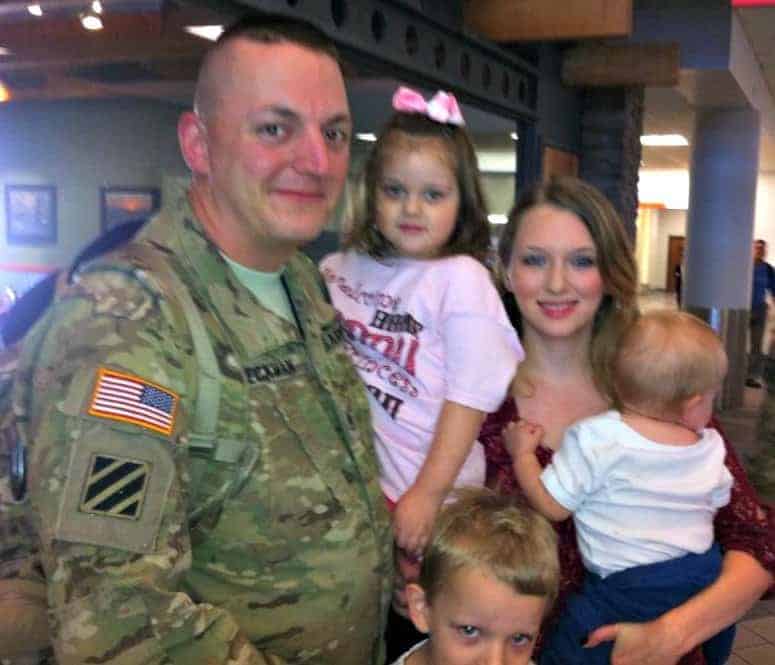 There aren't many pictures of me! I was either the one taking the pictures, or I was comforting a very frightened 11 month old. He really had no idea what was going on, so I understand why it was so scary for him.
Luke picked up our older children and just held onto them. I had not seen my kids so happy since he left. It was an amazing feeling to finally have him home.
We all loaded up in the minivan and headed to Chili's to eat lunch with Luke's family. Luke got right back into his Daddy duties, buckling the kids into the car seats. He was surprised to find that Bug buckles himself now.
Lunch was interesting. My husband worked nights in Afghanistan and had developed photosensitivity, so he wears dark sunglasses a lot to avoid headaches. The kids had to sit by Daddy. Baby O kept checking him out, I'm sure still wondering what was going on.
We finally made it home!
Bug gave Luke the grand tour of our new house and we started settling into life again.
Luke has been home for almost two weeks now. Life is back to normal. He has been deployed before, and while I'm sure war does affect him in some way, he doesn't really act any different than he did before. The first week was definitely a "honeymoon" period for us. Lots of fun. We played a lot, went to our favorite restaurants and celebrated Bug's 5th birthday.
Now that we are about two weeks in, things are normalizing. We are working on unpacking parts of the house and getting things done around here. I have started back with homeschooling. Luke will be going back to work again soon, and I have to reassure the kids that Daddy will come home at night now. They are so afraid he is going to leave again. We have a new budget to figure out, I have new menus to plan with a bigger appetite in mind, and things are falling back into place the way they should!
Don't forget to join our Facebook community and subscribe so you never miss a post!