Spider Unit Study Worksheets and Printables
This post may contain affiliate links. Please see my disclosure and privacy policy for more information. As an Amazon associate I earn from qualifying purchases.
October is the perfect time to study spiders! The kids and I have been observing spiders around our yard over the last month and it has been truly fascinating. One of my children also just finished reading Charlotte's Web, so I thought now would be the perfect time to plan a science unit study and learn all about spiders! We are using some spider unit study worksheets and printables as the basis of our study, but we are adding in a few extras, too!
Spider Unit Study
I decided to put together a spider unit study for my kids since we were having so much fun observing a garden spider on our back porch. We watched her sit in her web and observed her egg sac. We also found lots of spiny orb weavers all over our yard. Those guys look really cool!
This particular unit study works well for kids in kindergarten through second grade, but could definitely be expanded for older children, as well. Use your best judgment and make things more difficult for older kids!
Spider Unit Study Worksheets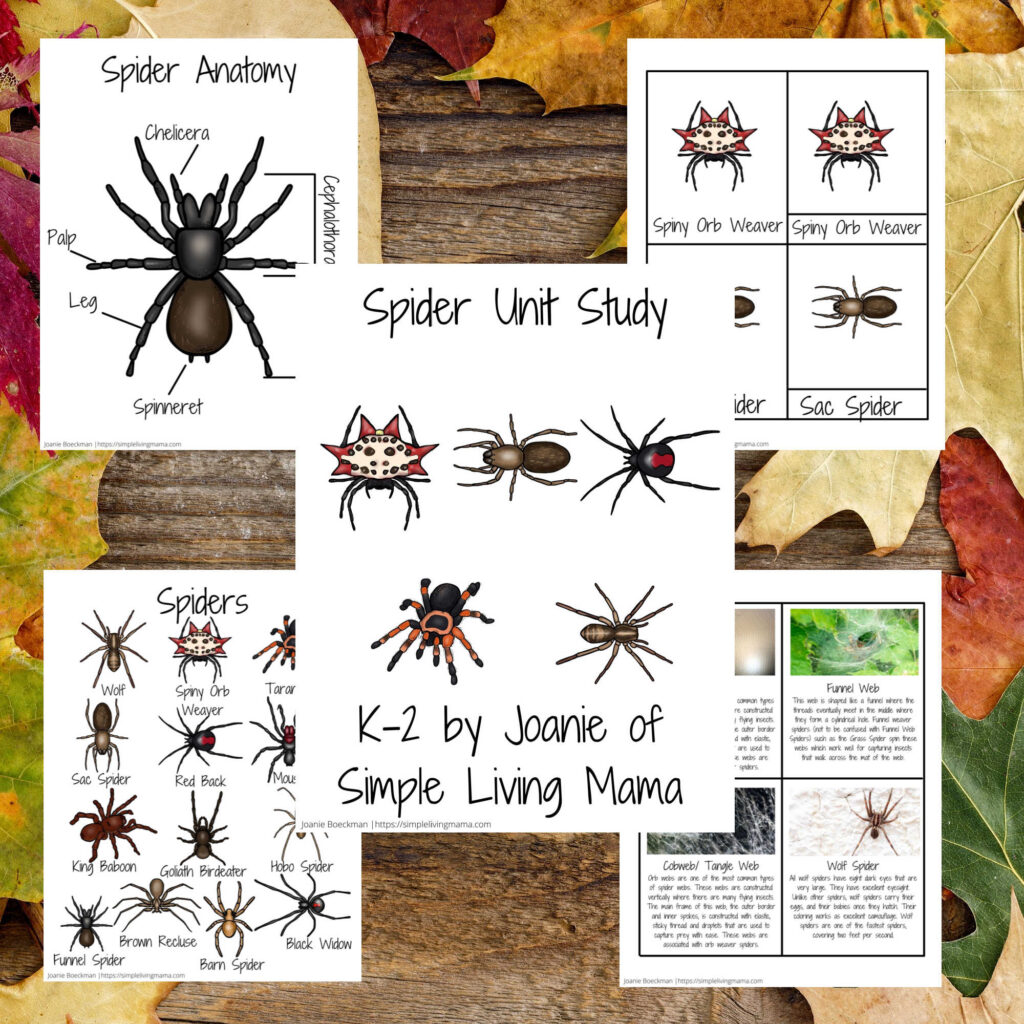 I created these spider printables to help kids who are learning about spiders. I like having visuals and there are so many different types of spiders in the world that it is interesting to learn how to distinguish between some of the more common types.
Whether you are doing a spider unit study for kindergarten or kids who are a bit older, these spider three part cards are an excellent way to learn the different types of spiders!
Parts of a Spider for Kindergarten and Elementary Students
Our spider unit study printable pack includes a spider poster with several different types of spiders, and a spider anatomy poster. One is already complete, and the other is a cut and paste activity for students to label the parts of the spider themselves.
My kids love learning about spiders and they want all the facts! I created some spider fact cards that include facts about three different types of spider webs and five different commonly known spiders.
A spider unit study wouldn't be complete without some spider poetry! I have included two spider poems from the public domain. You can use these poems for memorization or for copywork. Just have your child copy the poem onto his own notebook paper.
I also have a short spider book list. Don't forget the power of books! Your child can learn so much just from reading some interesting books about spiders.
Other items included in my Spider Unit Study Printable Pack are two different research/observation notebooking pages for your students to draw and write what they've learned about spiders. There are also several spider coloring pages, which make great spider worksheets for kindergarten!
Free Printable Spider Worksheets
A couple of years ago I created free spider life cycle worksheets. These worksheets are incredibly simple and a great spider worksheet for preschool or kindergarten. This particular spider life cycle worksheet examines the life cycle of the jumping spider, so it's definitely interesting!
Spider Activities for Elementary Students
For the youngest learners, teach some spider nursery rhymes! We love Little Miss Muffet.
Make some bubble painted webs!
Try some paper plate web weaving.
This Fact About Spiders documentary looks cool.