We are on our third week of the homeschool year, and I am finally getting around to writing this post. I mostly put it off because I wanted to be sure that our selections would stick. I have already switched around several things for my kindergartner. Here we are and I am fairly certain our selections will remain the same throughout the year. This is the first year it seems everyone is enjoying their work. We aren't having any tears and there isn't nearly as much complaining when I say it is time to do school. If you're interested in what we are studying together as a family, you'll want to check out our large family homeschool curriculum choices. I also post monthly homeschool morning basket posts so you can see what we are reading together each month! Without further ado, here are our elementary homeschool curriculum choices!
Fourth Grade Homeschool Curriculum Choices
Language Arts
The Good and the Beautiful Level 2 & 3
Since we started The Good and the Beautiful last winter, Bug is a little more than halfway through Level 2. He will immediately move into Level 3 when he finishes Level 2. I cannot say enough good things about this language arts curriculum. It has been amazing for him. I will do a full review of Level 2 soon. In this one curriculum he is learning grammar, spelling, he's reading amazing literature, learning geography, and being exposed to classic art work. I have every intention of sticking with TG&TB for language arts for the long haul.
Reading
Books from The Good and the Beautiful Book List
All of his assigned reading will come from his language arts curriculum and any books I choose from the Good and the Beautiful Book List. He does have freedom to read books of his choosing on his own if I approve them.
Handwriting
The Good and the Beautiful Level 5
I purchased the PDF version of the handwriting curriculum. This curriculum is helping reinforce his manuscript and cursive handwriting. He also gets to draw pictures.
Notebooking Pages
I often create my own unit studies to accompany our science studies. If I do not, I use my Notebooking Pages membership to print notebooking pages to add to our science journal.
Math
Teaching Textbooks 3.0 3 & 4
We started working with Teaching Textbooks just a few months ago and it has been an amazing change for Bug. He likes being able to use the computer and work independently. I still sit with him and pull out manipulatives when he needs help. He will move into the next level before this school year is over.
Personal Interests
Bug is a very mechanically inclined child. He loves to build models, take electronics apart, and put them back together. He has already decided he wants to work for Apple, and I can see him pursuing a computer engineering degree if his interests do not change. I love that homeschooling gives us the ability to cater to our children's interests, so that is what we are doing!
Tinker Crate
Every month Bug receives a Tinker Box from Kiwi Co. He LOVES most of the projects he has gotten. He will sit for hours until he has completed a project. So far he has made an arcade catapult, a hydraulic claw, a planetarium, and a spin art machine.
Coding with Scratch, How Computers Work, Snap Circuits
I have purchased two Usborne books. The Coding with Scratch book has helped him figure out computer coding with Scratch. He also loves playing with his Snap Circuits.
Homeschool Hangouts at the Library, Boy Scouts, AWANA
Our other activities include participating in activities at our library, Boy Scouts, and AWANA.
Second Grade Homeschool Curriculum Choices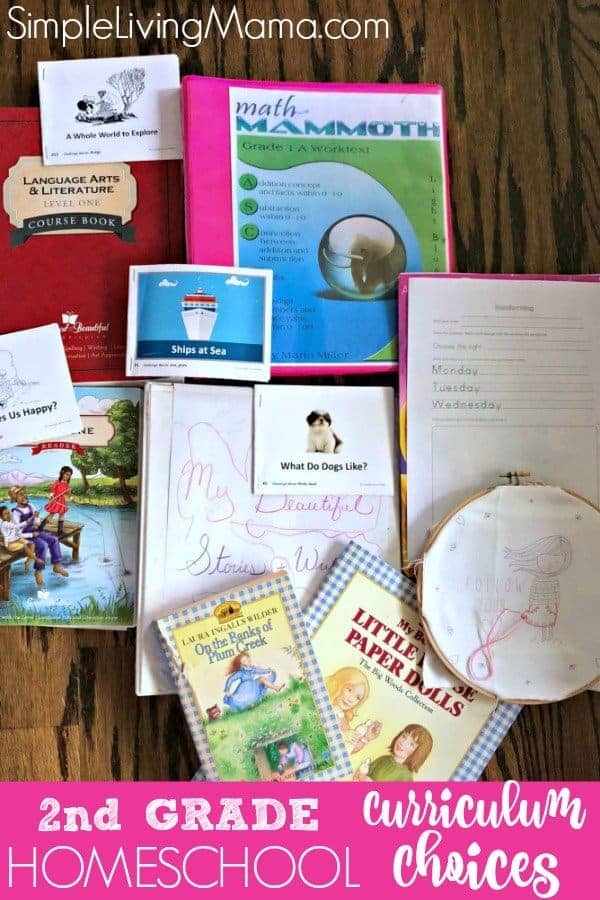 Language Arts
Sis is working through The Good and the Beautiful Language Arts Level 1. Her reading is amazing, and she is flying through that, but she needs a little more work on her spelling and grammar, so that is why she is starting with Level 1.
Reading
Sis has awesome reading skills. She is reading through her TGTB reader and all assigned books in the curriculum. We are working through the Little House on the Prairie series together.
Handwriting
Sis is using The Good and the Beautiful Handwriting Level 3. She is working on her manuscript, and I believe she will begin cursive in this level.
Math
Sis is still working through Math Mammoth Level 1. We will likely just begin Level 2 by the time she finishes second grade.
Personal Interests
Sis is an amazingly artistic child. She loves stories and drawing. She adores her Little House Paper Dolls, and we have started working on hand embroidery together. She also cooks alongside me most days.
She will be participating in the homeschool hangouts at the library and AWANA. We are considering dance again, too.
Whew! So that is what two of my children are using individually this year! I truly love my job as a homeschooling mama. Some days are HARD and they never seem to go as planned, but I wouldn't trade it for anything!