How To Arrange a Small Kitchen for Complete Functionality
This post may contain affiliate links. Please see my disclosure and privacy policy for more information. As an Amazon associate I earn from qualifying purchases.
When we moved to Alabama, I was blessed with the biggest kitchen I've ever had and probably ever will have. It was gorgeous and had so much space. I had an island and ample cabinet space to hide everything. When we moved to our rental in Arkansas, I ended up with what I believe is almost the smallest kitchen I've ever had! The only other kitchen I've had that was smaller was in our first house. Of course, there are perks to living in a small home, but as a mom of 7, I've had to get creative with the kitchen organization here. Today I'm going to show you how to arrange a small kitchen to make it functional.
How do you organize a small kitchen?
Let's jump right into the practical and let me show you how I organize my tiny kitchen! I shared practical kitchen organization ideas in my larger house last year, but this year we've had to pare it down.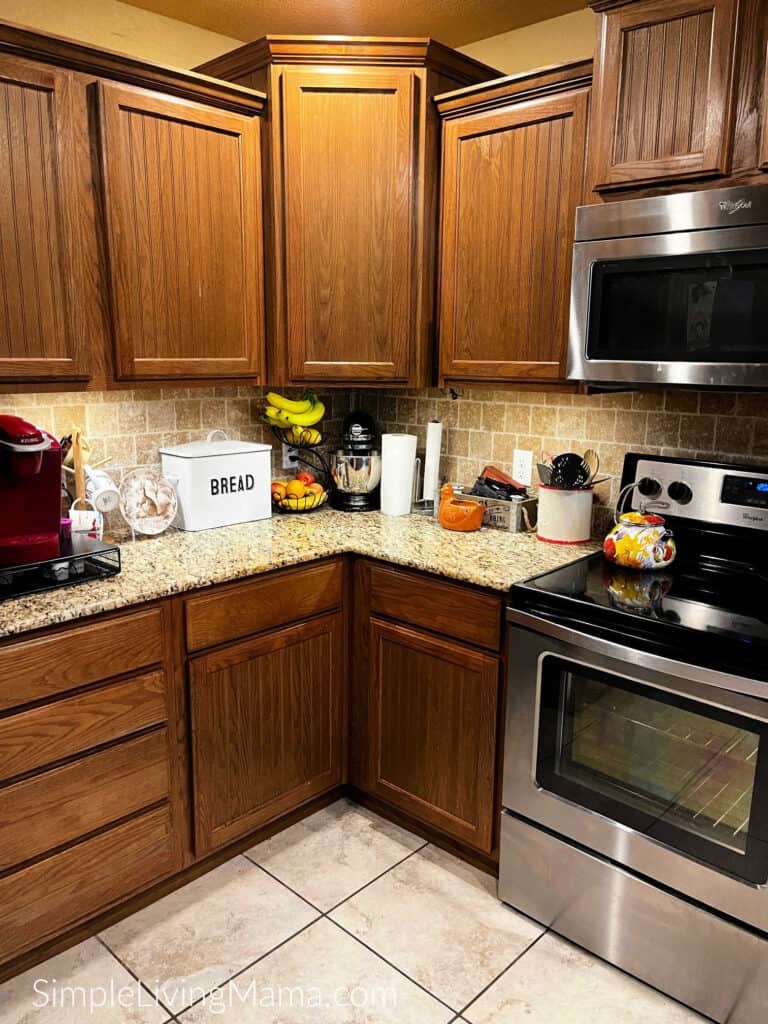 For starters, I have three cabinets dedicated to my pantry. Yep, this house has no pantry, so I had to carve a pantry out of the precious cabinet space! We have two large corner cabinets which work well to hold food and spices.
The spice cabinet holds two lazy susans. On one lazy susan I have miscellaneous spices and the other lazy susan holds small baking supplies like cornstarch, baking powder, etc. I also have a three tiered organizer which holds my most used spices.
The upper portion of that cabinet contains our cereals, extra sugar, chia seeds/almond flour and rice.
Our other food cabinet needs a bit of organizational help. I'm thinking of getting a couple of can dispensers to hold our canned goods. I also keep pasta sauces, pasta, snacks, and other pantry items in this cabinet.
In a cabinet directly beside the stove I keep oils, vinegars, and other seasonings.
Kitchen Organization Tips
Organize items in places close to where they will be used.
My biggest tip when it comes to organizing your kitchen is to place items close to where they will be used. This is why my spices and oils are kept next to the stove.
I have my Keurig on the counter and store coffee mugs directly above it. Speaking of coffee mugs, I had to seriously pare down my collection so they would fit in the one small cabinet. I placed drinking glasses in the cabinet next to the mugs.
My stack of drawers is directly below my Keurig. The top drawer holds my utensils in a utensil holder. Normally I would place our dishes next to the utensil drawer, but that was not possible in this kitchen.
Our other drawers hold all of our teas, lunchboxes, and onions and potatoes. I've kept the bottom drawers very minimal right now because I have a toddler.
I have small appliances, pots and pans, and baking dishes in the lower cabinets. In a narrow lower cabinet I have our baking sheets and cutting board sitting upright. Under the sink I keep dishwashing liquid, kitchen cleaners, and cleaning rags along with a small trash bin to hold dirty rags until wash day.
In the small cabinet beside the trashcan I keep extra trash bags and all of my vases.
Utilize your kitchen cabinet doors for storage.
There are so many handy ways you can use your kitchen cabinet doors for more storage! Here are a few ideas:
Add a spice rack to the back of your cabinet door.
Store trash bags, ziplock bags, foil/parchment paper/etc, in one of these organizers over your cabinet door.
Keep cleaners in an organizer behind your cabinet door.
Install magnetic strips to hold metal spice tins.vg
Use the top of your refrigerator for more storage.
The top of the refrigerator is prime real estate! Now, the cabinet above the refrigerator is hard to reach, so I keep extra paper plates/cups/and serving trays I don't need often in that space. On top of the refrigerator I keep my electric griddle. It literally fits no where else and I use it at least 2-3 times a week, so it needs to be accessible.
I also keep this three tiered shelf for all of my foils/papers, and baggies on top of the fridge and out of reach of little hands. The tiered shelves are a great way to maximize a small space because you get to take advantage of vertical space!
How To Organize the Kitchen Counter Space
Let't talk about kitchen counter space. My kitchen is a fully functional, well-used space. I'm not going for a special aesthetic in my kitchen. There is no minimalism here. I use my kitchen counters for items that are used on a daily or near-daily basis, as well as a little bit of decor.
So, what lives on my kitchen counter? Let's take a look.
I have three canisters on my counter. One holds sugar, another is for little candy/snacks, and the other is for chocolate chips, just because.
Next, I have my Keurig on top of this K-cup holder. Next to the Keurig is a cute mug tree, followed by my Kitchenaid mixer back in the corner. I keep my sourdough starter out on the counter next to the mixer, and beside my stove I keep a utensil holder full of cooking utensils.
On the other side of my stove I have a cute tray that holds my butter dish, salt and pepper shakers, olive oil bottle, and I often keep my garlic in this tray, as well.
In the other corner of my kitchen I keep my air fryer. It's big and doesn't fit in the cabinets, but we use it a few times a week, so it lives on the counter.
On the left side of my sink I keep a drying mat and drying rack. We do dishes at least twice a day, so these items are in constant use. I can fold up my drying rack and put in under the sink if need be. You'll also notice some "catch-all clutter" on the end of this counter. I put things here that need to be put away in places outside of the kitchen.
How can I make my small kitchen look nice?
Let's talk about how to make your small kitchen look nice. My biggest piece of advice is to choose items that you love and display them! I use my kitchen window for a cute sign and some plants. I also have a small plate rack to display a cute, seasonal plate. I keep the decor to a minimum, but still manage to add a few pieces that I enjoy.
You can also choose practical items that reflect your personality! Dish brushes, soap dispensers, canisters, and utensil holders come in many different designs. Choose the ones you love!
What about open shelving? Open shelves are a huge trend right now. They can definitely open up your space, but the problem is you have to be selective about what you put on the shelves. I'm not personally a fan. If you aren't using the items regularly they will collect dust, too.
Another way you can make your small kitchen look nice is to add some nice rugs. I have a nice kitchen mat in front of my sink that wipes off easily and feels good when you stand on it. I used to have a rug in front of my stove, but with kids constantly in and out of the kitchen, it got messy too quickly. If you don't have that issue, throw a pretty throw rug down!
I hope these kitchen organization tips have given you some ideas for organizing your smaller kitchen! A smaller space can be much easier to utilize, but you definitely have to keep it organized!
More Small House Living Inspiration
Need more ideas for living in a small house? I've got you covered!