Instant Pot Broccoli Cheese Soup
This post may contain affiliate links. Please see my disclosure and privacy policy for more information. As an Amazon associate I earn from qualifying purchases.
A delicious broccoli cheddar soup recipe made in the Instant Pot with only natural ingredients is the perfect way to warm up your family!
When it comes to easy Instant Pot recipes, nothing beats a good soup. My family enjoys a variety of soups during the winter and fall months because they are warm, filling, and perfect for feeding our large family. Today I'm going to share with you a delicious Instant Pot broccoli cheese soup recipe that I think you will just love!
Broccoli cheddar soup is one of my favorite soup recipes. While I think broccoli is a unique taste that not everyone loves, once you put some cheese on it, it becomes more appealing to more people! My kids love when I top our steamed broccoli with some shredded cheddar cheese, and they also enjoy all of those delicious flavors blended into a soup!
Healthy Instant Pot Broccoli Cheese Soup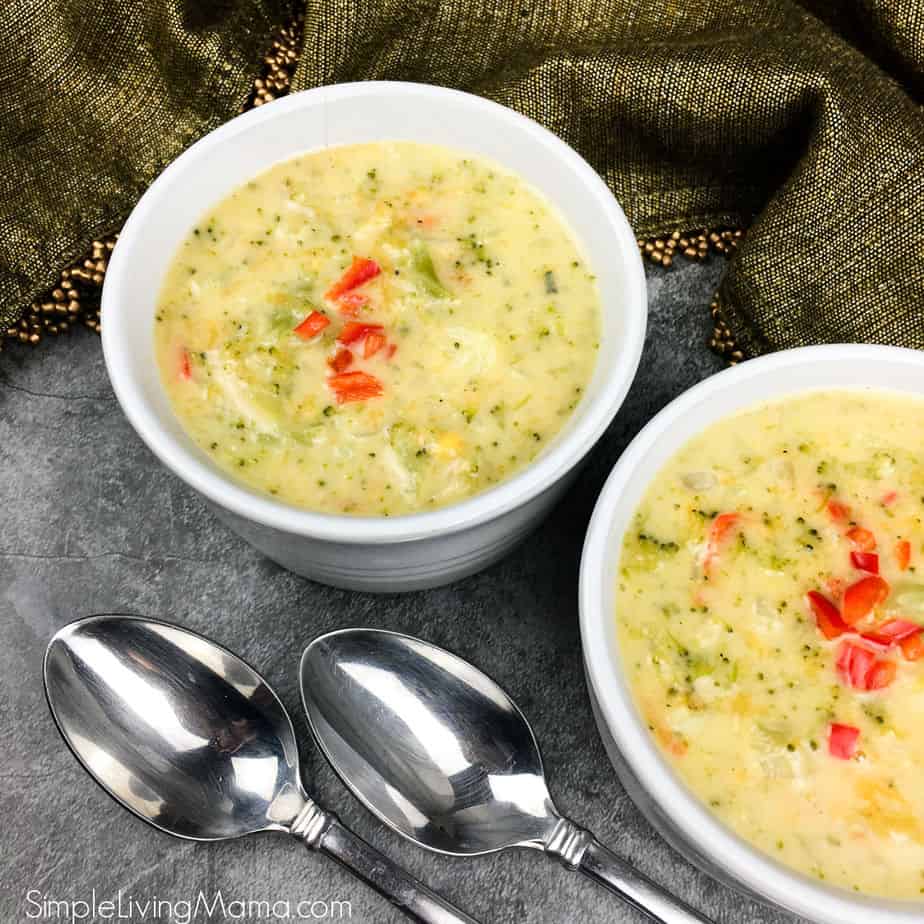 This broccoli cheese soup is healthy because it uses only natural ingredients. We will be using real Monterey Jack and sharp cheddar cheeses, real cream, and my secret ingredient, red bell pepper! It's so yummy and so easy, you're going to love it!
Is Broccoli Cheese Soup bad for you?
As long as you aren't lactose intolerant, this broccoli cheese soup is fairly healthy for you. If you're following a keto diet, it should fit really well within those parameters minus the potato. Now, if you decide to sub in Velveeta or some other processed cheese, you will be adding preservatives to the soup. It's up to you how healthy you want the soup to be.
Why is my broccoli cheese soup gritty?
If your temperature gets too high when you are melting the cheese into the soup, the proteins in the cheese will tighten up and squeeze out the fat, making your soup grainy. You'll also want to prevent your cream from curdling by tempering it. Just add a bit of the hot liquid to your cream, stir to combine, and then stir the tempered cream into the soup.
How can I thicken my broccoli cheese soup?
Our broccoli cheese soup is thickened with the addition of a potato that gets cooked with the broccoli and cooks down to where you can't even tell it's there.
Another method for thickening your soup is to use cornstarch. I combine 1 tablespoon of cornstarch with a couple tablespoons of the liquid from the soup, stir to combine, and then pour back into the soup. Let the soup simmer for a bit, and it will thicken right up.
How do you make broccoli cheese soup from scratch?
This broccoli cheddar soup recipe starts with sauteeing shallots and a bit of the red bell pepper in olive oil right in the Instant Pot. You can also use onions instead of shallots.
Next you'll add the chopped potato and continue cooking for a bit.
Then, you'll deglaze the pot with some chicken broth.
Add in the frozen broccoli and pressure cook it all together.
Once you release the pressure from the Instant Pot, you'll gradually melt your cheese into the soup.
Then, you'll add in the tempered cream, season the soup, and enjoy with a nice piece of crusty bread!
Yield: 4-6 servings
Instant Pot Broccoli Cheese Soup
A delicious broccoli cheddar soup recipe made in the Instant Pot with natural ingredients!

Prep Time 15 minutes

Cook Time 8 minutes 6 seconds

Additional Time 5 minutes

Total Time 28 minutes 6 seconds
Ingredients
2 T. extra virgin olive oil

2 medium shallots, diced

½ large red pepper, diced small, divided

1 t. garlic powder

Sea salt and black pepper, to taste

1 large yellow potato, chopped small

2 c. chicken broth, preferably organic

12-oz. bag frozen broccoli florets

1 c. Monterey Jack cheese, shredded

2 c. sharp cheddar cheese, shredded

1/3 c. heavy cream
Instructions
Add olive oil to Instant Pot® inner cooking pot and select the "Sauté' function. Use the "Adjust" button to select the "Normal" (medium) setting. 

Once hot, add the diced shallot, all but 2 tablespoons of the red pepper, and garlic powder. Season with salt and black pepper, to taste, and stir to combine. Cook for 2-3 minutes, or until the vegetables start to soften. 

Add the potatoes and continue cooking, stirring occasionally, for another 2-3 minutes or until the potatoes start to develop some color.

Deglaze the Instant Pot® inner cooking pot by pouring in the chicken broth and gently scraping the bottom with a rubber spatula to release the brown bits. Press the "Keep Warm/Cancel" button to turn off the Sauté function.
Add the frozen broccoli and cover. Lock the lid into place and make sure the vent is set to "Sealing." Select the "Manual" setting and adjust setting to "High," if necessary. Set cook time to 2 minutes. 

When cook time is complete, allow the pressure to release naturally for 5 minutes, then do a quick release for any remaining steam before carefully removing the lid. 

Add the cheese, one cup at a time, and stir until completely melted. 

To prevent curdling, temper the heavy cream by add 2-3 tablespoons of the hot liquid from the Instant Pot® to it before adding it to the soup. Stir to combine. 

Taste and adjust seasonings, as needed. Serve immediately topped with additional shredded cheese and remaining red pepper on top. Enjoy!

More Soup Recipes!
More delicious soup recipes to enjoy with your family!