This post may contain affiliate links. Please see my disclosure and privacy policy for more information. As an Amazon associate I earn from qualifying purchases.
I have come to rely on easy Instant Pot recipes to help me feed my family. Without my Instant Pot, I would definitely hit up the drive-thru a lot more often. I love that I can throw frozen chicken in my Instant Pot, or some sausage and potatoes, and have dinner in under an hour. It's life-changing! Did you know you can also use your Instant Pot to create dessert? Today, I'm going to show you how to make a classic: Instant Pot cheesecake!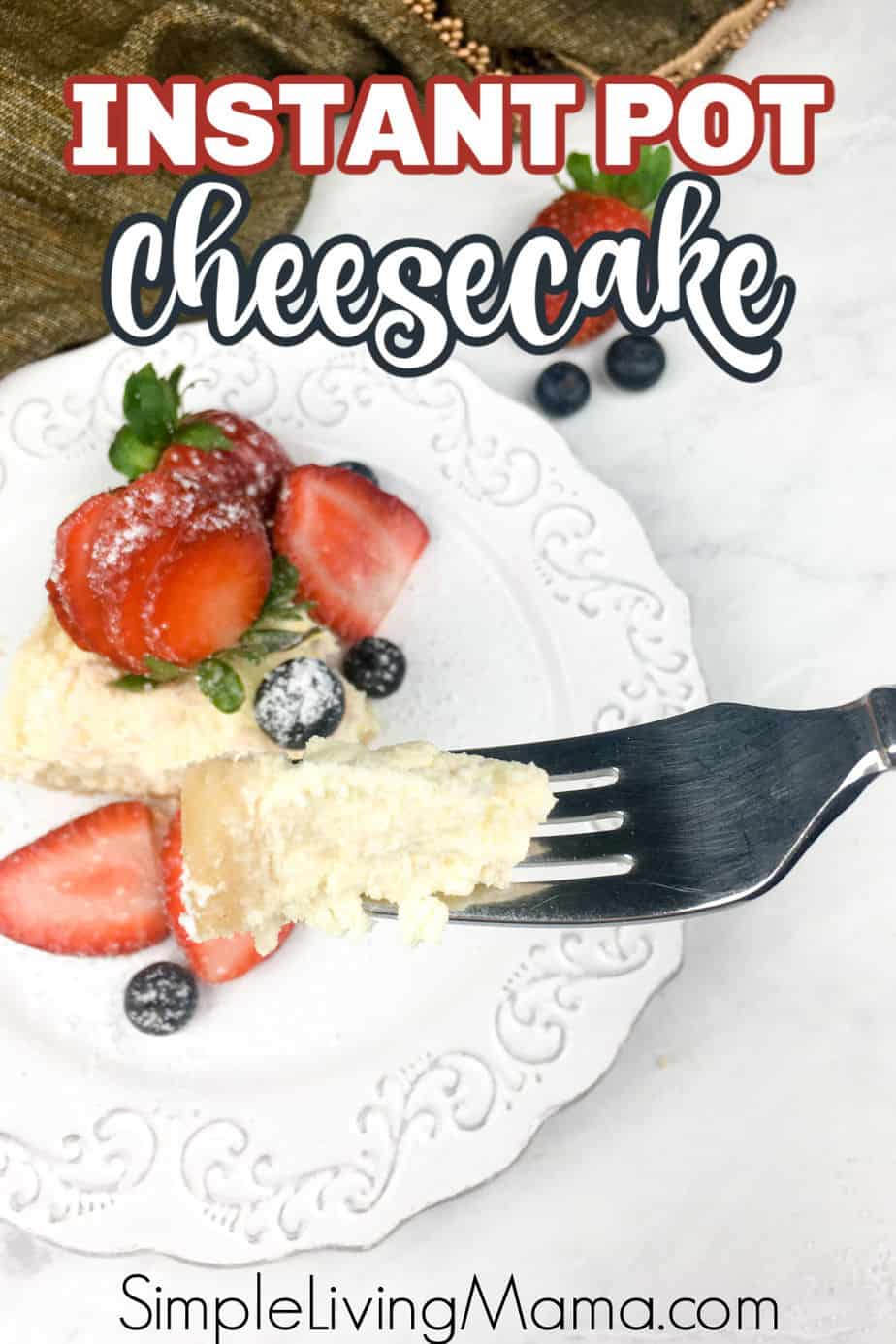 Instant Pot Cheesecake
Cheesecake has quickly become one of my favorite desserts. I love pumpkin cheesecake, raspberry cheesecake, chocolate cheesecake, and of course, classic cheesecake topped with delicious berries. I'm planning to make this dessert for our Valentine's Day party in just a few weeks. I think my husband will be wowed by the fancy strawberry design. What do you think?
Instant Pot Cheesecake Pan
If you're wondering how to pull off this cheesecake in your pressure cooker, you will definitely need a cheesecake pan. I recommend this cheesecake pan with extra seals.
You want to use separate seals for your dinner/savory recipes and your dessert recipes because the seals will soak up the flavor. You don't want your cheesecake to have the same flavor as your broccoli cheese soup. Blech!
Why is My Instant Pot Cheesecake Runny?
If you notice that your cheesecake is runny, cook it a little longer. Add three minutes to your cook time and then do a 15 minute natural release and your cheesecake should firm up enough that it is no longer runny. It will also continue to cook while it cools on the counter and should set up beautifully in the refrigerator as it chills!
How do I know when my Instant Pot cheesecake is done?
It can be difficult to tell when a pressure cooker cheesecake is done. The easiest way to tell if your cheesecake is done is to use an Instant Read thermometer. A "done" cheesecake will read between 140-150 degrees. If the cheesecake is not done, simply cook it a little longer as described above. The pressure cooker is much easier to "bake" your cheesecake in, and cooking it a little longer will not result in dried out edges.
Cheesecake turns out so beautifully in the Instant Pot. It's definitely a delicate dessert, though, so when you're mixing it up make sure you only use room temperature ingredients. You can't just pop them out of the fridge and be ready to go.
This recipe uses monk fruit sweetener as it's easier on your blood sugar, but you can replace the monk fruit with regular sugar. For every 1/3 cup of monk fruit sweetener, use 1 cup of sugar. Monk fruit is much less sweet than sugar, so keep that in mind.
Be careful when beating your cream cheese and sugar. You want to make sure you beat until the ingredients are just combined because you do not want to incorporate extra air into your batter. One way to get the air bubbles out of your bubble is to gently tap the edge of the pan after you've poured the batter. Gently pop the bubbles and smooth the top of your cheesecake.
This cheesecake recipe is made with almond flour, but you can experience with other crusts, too. We like graham cracker and Oreo crusts. Top your cheesecake with delicious berries and serve immediately after it's chilled. So delicious!
Yield: 4-6
Instant Pot Cheesecake Recipe
This classic cheesecake recipe is cooked in the Instant Pot to create a delicious cheesecake. Top with berries for a fancy dessert!

Prep Time 30 minutes

Cook Time 30 minutes

Additional Time 6 hours 4 seconds

Total Time 7 hours 4 seconds
Ingredients
Special equipment needed: 

7" springform pan (for 6-quart Instant Pot®)

Non-stick cooking spray or parchment paper


Crust Ingredients:
1 c. almond flour

1 t. real vanilla extract

3 T. granulated or powdered monk fruit sweetener

3 T. unsalted butter, melted


Batter Ingredients:


2 8-oz. blocks cream cheese, room temperature

1 t. real vanilla extract 

3 T. powdered monk fruit sweetener*

2 large eggs, room temperature

¼ c. heavy cream, room temperature


*For a sweeter cheesecake, add an additional 1-2 T. of sweetener


1¼ c. water


Toppings:


1 pint fresh strawberries, sliced lengthwise (as pictured)

½ c. fresh blueberries

2 T. powdered monk fruit sweetener, for garnish (optional)
Instructions
Coat the inside of the springform pan with the non-stick cooking spray or cut the parchment paper to fit the bottom and line the sides. Set aside.
Prepare the crust by combining all ingredients in a medium bowl. Stir until the ingredients are thoroughly combined. Press the crumbly crust into the bottom of the prepared springform pan and spread into a uniform layer covering the entire bottom of the pan. Place in the freezer until ready to use.

To prepare the batter, beat the room-temperature cream cheese on medium-low speed until just blended. (Do not overwork to avoid incorporating extra air into the batter).

Add the vanilla extract and beat for 10 seconds or until just combined.

Add the monk fruit sweetener and beat for 10-15 seconds or until just combined. Scrape the sides of the bowl with a rubber spatula to incorporate any remaining ingredients into the batter.

Add the heavy cream and beat for another 10-15 seconds to combine.
Finally, add the eggs, one at a time, and beat until just incorporated into the batter. Scrape the sides of the bowl with a rubber spatula as above.

Remove the springform pan from the freezer and pour the batter on top of the chilled crust. Smooth into a uniform layer and gently tap the pan on the counter several times to release any air bubbles in the batter.

Pour the water into the Instant Pot® cooking container and place the springform pan onto the trivet that comes with the Instant Pot®. Carefully place the trivet with the handles positioned upwards for easy removal.

Add the lid and lock into place. Select the "Manual" button and make sure it is set to "High." Adjust cook time to 30 minutes.

When cook time is complete, allow pressure to release naturally until the pin drops. Carefully remove the lid and lift the cheesecake out by the trivet handles with potholders. Set on the counter to cool for 10-15 minutes before transferring to the refrigerator to chill for at least 4 hours to overnight.

Once chilled, remove from the refrigerator and top with fresh fruit and a sprinkle of powdered monk fruit, if desired. Slice and serve immediately. Enjoy!
Notes
Batter ingredients MUST be room temperature for this recipe to work. Allow 2 hours or more to achieve the correct temperature.

Use a designated seal exclusively for baking with your Instant Pot®. Savory dishes will infuse the seal you normally use and affect the flavor of more delicate recipes like this cheesecake.

Recommended Products
As an Amazon Associate and member of other affiliate programs, I earn from qualifying purchases.

Are you looking for more delicious Instant Pot recipes? Check these out!
Instant Pot Recipes
More delicious Instant Pot recipes for you to try!