Kitchen Zone Cleaning with Free Printable Checklist
This post may contain affiliate links. Please see my disclosure and privacy policy for more information. As an Amazon associate I earn from qualifying purchases.
When I am following my housekeeping routine, I include weekly zone cleaning. Today, I'm going to break down my kitchen zone cleaning routine for you. The kitchen is one room in your home that probably gets a lot of use. It is the hub of my home. Of course, I do all of my cooking in there, but we also eat in our kitchen, do homeschool science experiments in it, and generally just gather there. With so much use, and a house full of kids, it's bound to get messy! Let me break down how to deep clean your kitchen when you're doing your zone cleaning!
Kitchen Zone Cleaning with Free Printable Checklist
<——Bathroom Zone Cleaning Weekly Zone Cleaning——>
I may have mentioned before, but there are two ways to do zone cleaning. In my monthly cleaning calendars, I try to show you how to break your zone cleaning into manageable chunks that can be done daily. So, when you are working in the kitchen zone you can do just a few tasks each day of the week.
When I'm in a really busy season, I will do all of my zone cleaning on one day, say Saturday, for example. Whether you do a little zone cleaning every day of the week, or get it all done in one day is totally up to you!
First let's gather our zone cleaning supplies! You'll need:
Glass cleaner
Oven cleaner
Dish soap
Scrub brushes
Paper towels
Rags
Duster
Mop & floor cleaner
Now let's get into the components of the zone cleaning.
Refrigerator and freezer – Take everything out, give the fridge a good rub down with some multi-surface spray or vinegar and water. I wash my glass shelves with soap and water, and do the same for my drawers.
Pantry – Throw away expired food and give the pantry a good wipe.
Hot pads and oven mitts – Wash your hot pads and oven mitts according to the instructions.
Rugs – If you have rugs in your kitchen, wash those also.
Decorative items – Dust and clean all decorative items.
Chairs and table – Use a good wood cleaner to clean your table and your chairs. If you have pets, look at the bottom of your wooden chairs. Ours always get cat hair stuck on them.
Cabinets – Wipe down the fronts of all your cabinets, and then clean out the inside of them.
Oven – Clean oven, replace drip pans if necessary, clean vent hood.
Floor behind oven and fridge – Move your oven and fridge (with help if needed) and clean the floor.
Walls and baseboards – Give your walls and baseboards a good wipe down.
Cleaning supplies – If you store cleaning supplies in the kitchen, go through those and get rid of items you do not need.
Under sink- Clean out underneath your sink.
Sanitize trash can – I take my trash can outside and clean it out with dish soap and the hose. Then I sanitize with some lysol spray.
Placemats/table linens – Wash these according to instructions.
Light fixtures – Clean light fixtures and ceiling fans.
Dishwasher – Refill the rinse aid, clean the inside of your dishwasher.
Coffeemaker – Clean your coffeemaker. Here's how I clean my Keurig.
Wipe down backsplash.
Clean windows and window tracks.
Sweep and mop the floor.
Whew! You're done! Want the free printable checklist? Just sign up below. Psst…It goes great with my Clean and Organized Home Planner. Create a cleaning binder that gets your housekeeping routines under control!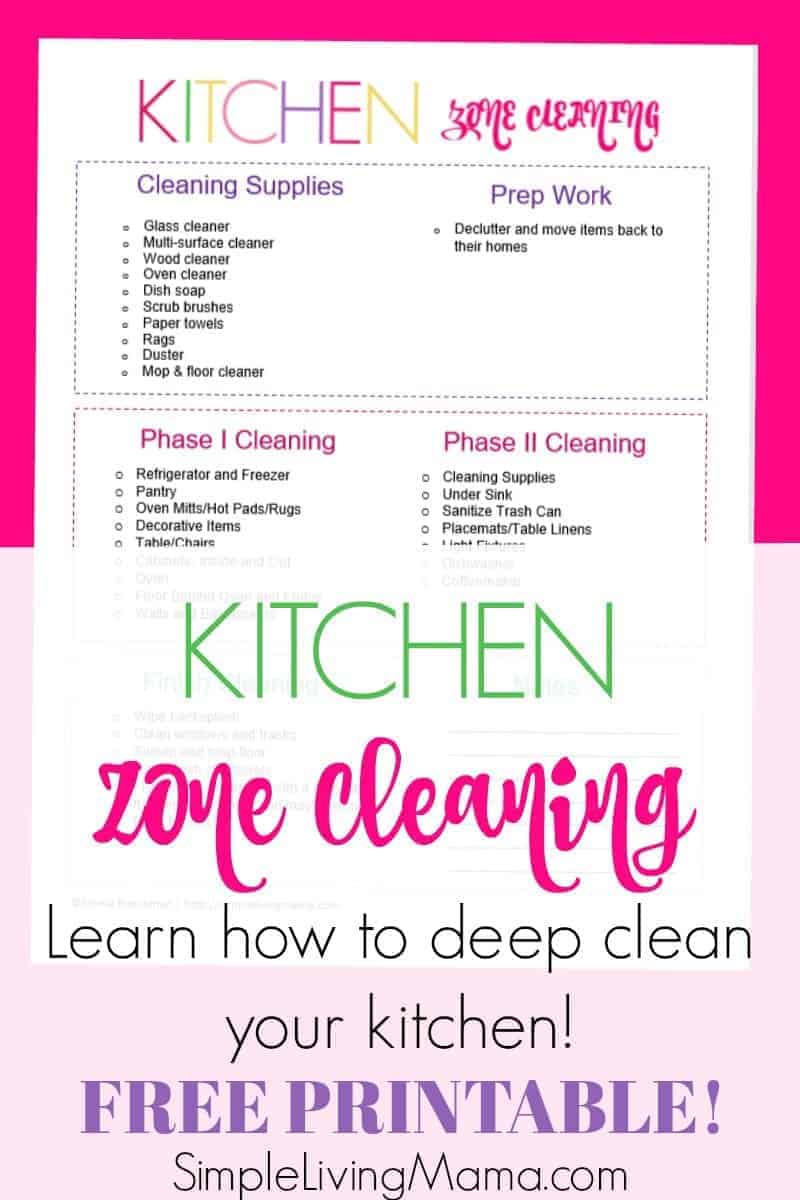 Learn more about cleaning below!