Our Charlotte Mason Homeschool Preschool Plans
This post may contain affiliate links. Please see my disclosure and privacy policy for more information. As an Amazon associate I earn from qualifying purchases.

Another homeschool year is here and I thought it would be fun to share my Charlotte Mason inspired homeschool preschool plans with you! I have several posts about how we do preschool in our home. This year I have a second grader, a kindergartner, and a preschooler. My preschooler wants to do school like his big brother and sister, so I'm planning some fun things for him.
Monthly Themes
Before I even do anything, I thought it would be great to have a planner to write down all of my ideas. My Homeschool Preschool Planner includes a place for me to map out all of our monthly themes, as well as a place to put all of our weekly plans. So, for the month of September, our preschool theme is apples. We will read books on apples and do crafts with an apple theme. This would be a good time to learn the letter A, but I do letter introduction weekly, and we have already covered letter A.
Calendar Time
We always begin our day with Calendar Time. I have created a morning board and a morning basket that we use to go over our calendar, weather, ABC's, memory work, 123's, poetry, Bible, and some read-alouds. You can see my morning board video below. Post will come soon!
We do one We Choose Virtues card per week. I keep this on my morning board. I love this program!
In my morning basket you will find a variety of books that are geared toward my preschooler, but also enjoyed by my older children. I choose nursery rhymes from The Real Mother Goose. I also like to have the kids work on memorizing one nursery rhyme per week.
I love, love, love this book for poetry. The illustrations are amazing and the kids enjoy all of the poems.
The Children's Bible in 365 Stories
This is an old Bible storybook that I've had since I was a child. We read one story per day from this book. It's quick and effective.
Another book I've added to our morning time is 13 Artists Children should know. We cover one artist about every six weeks. We talk about him or her and look at their art works. It's very informal, but so, so good to introduce children to art.
My Alphabet Interactive Notebook
This year I am having my preschooler and kindergartner keep an alphabet interactive notebook. We learn one letter per week and they do one very simple sheet per day. They get to practice cutting and pasting and they are being introduced to letters and letter sounds.
Busy Bags/Activity Boxes
One way I keep my preschooler entertained is with busy bags and activity boxes. You can see some of the activities I use in the video below. I am constantly adding to and changing these around, but you definitely need to provide these items to keep the little hands busy.

Kumon Workbooks
We don't do a lot of workbooks, but I do occasionally add Kumon books into our routine. I love My First Book of Cutting and My First Book of Tracing for fine motor practice. I also pick up cheap workbooks from the Dollar Tree and Target Dollar Spot for my preschooler to use as he pleases.
Charlotte Mason Inspired Preschool Book List
One of the most important things you can do as a parent is read to your child. My Charlotte Mason Inspired Preschool Book List is available with My Homeschool Preschool Planner. I pull lots of ideas from this book list, as well as other book lists. Honey for a Child's Heart is an amazing book for ideas from preschool on up.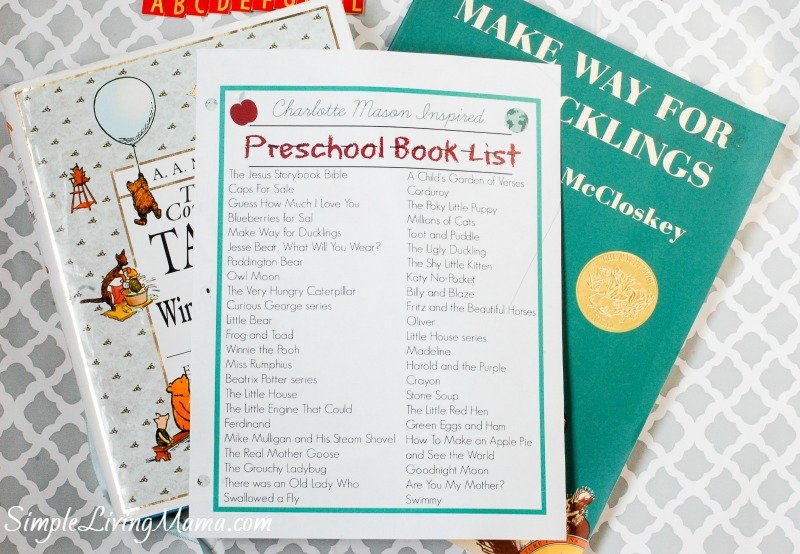 Outside Time
We can't forget the importance of outside time. Get your child outdoors. I've discussed how we do nature study with preschoolers, and that really hasn't changed.
And that's about it. I keep preschool simple, but I am adding in some routine and structure this year. See more in my video below! Happy preschool planning!