One of the scariest experiences of being a first time parent is giving a newborn his first bath. I remember being terrified! Would I make the baby too cold? Would I make the water too hot? How could I calm the baby? How can I make sure the baby doesn't slip? Oh, I was so worried. After a few babies, I'm not so scared of the first few baths anymore. Read on to learn how to bathe your newborn, both before his umbilical cord stump falls off, and after!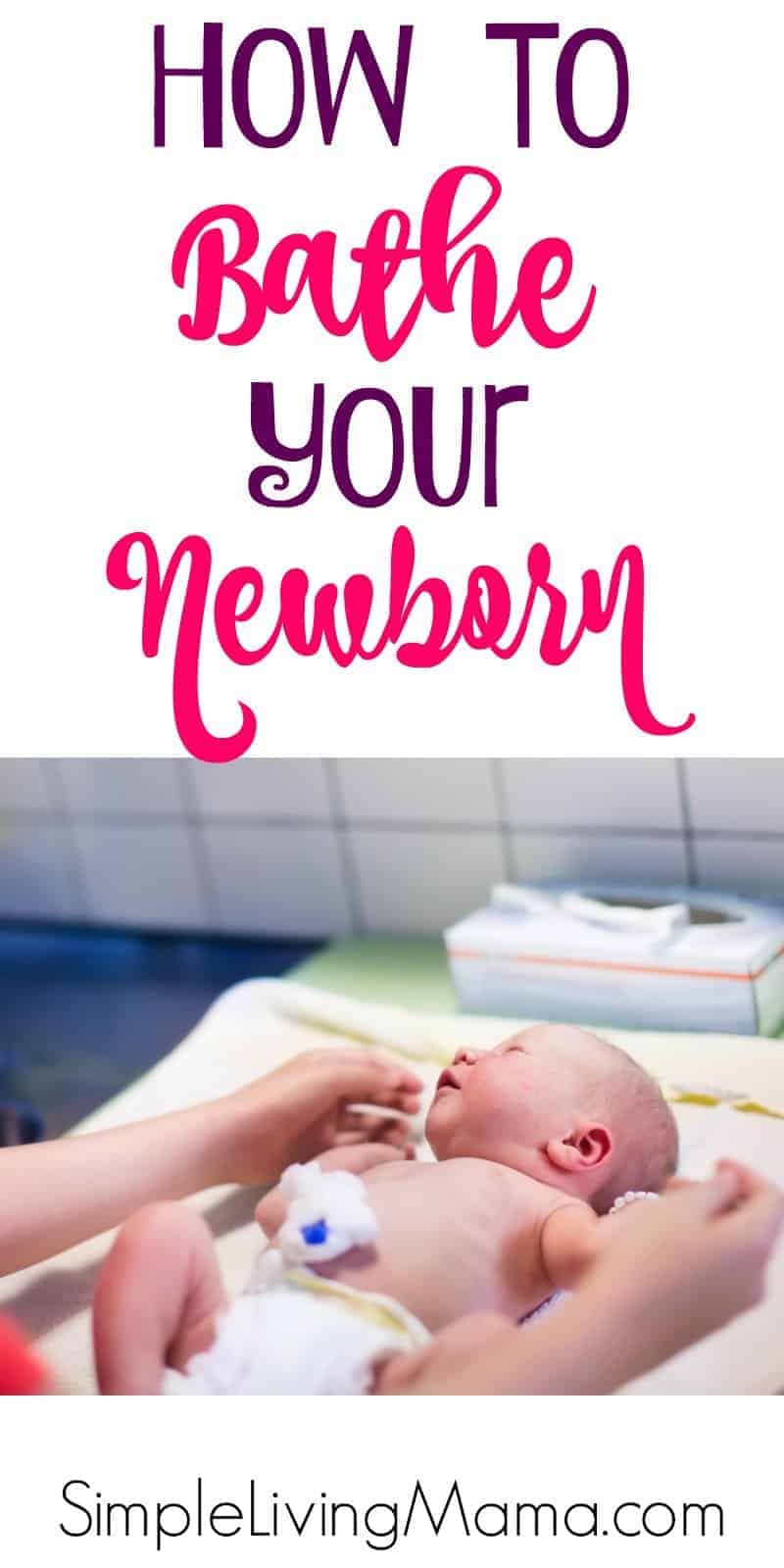 How To Bathe Your Newborn
Before your baby's umbilical stump falls off, you will need to give him sponge baths. You want to keep the stump dry so it will fall off. Most babies lose their umbilical stump by two weeks.
How To Give a Newborn a Sponge Bath
Gather your items. Here's what you'll need:
A bowl of warm water
A baby washcloth
Cotton balls
Hooded baby towel
Baby wash
Baby lotion
Undress your baby down to his diaper and wrap him in the hooded towel.
Start with his face. Use damp cotton balls to wipe from the corner of his inner eye, to the outer eye. Use a new cotton ball for each eye.
Wet the washcloth and put a bit of baby wash on it. Lather it up.
Wipe his body down with the wash cloth, washing his head last.
Keep areas of his body that aren't being cleaned covered with the towel.
Rinse out the washcloth with fresh water from the bowl, and use the wash cloth to remove any soap from the baby.
Wash baby's diaper area last, dry, and rediaper him.
Make sure your baby is dry and apply lotion.
Dress baby as usual.
How To Give a Newborn a Bath in a Baby Tub
Once the umbilical stump falls off, you can bathe your baby in a tub. I love using a baby bath tub because it provides a nice seat for the baby to sit up. Here's the one we use.

Make sure you have a clean diaper and baby's clothes set out where you plan to dress him. Also have any lotion close by. You'll need the same supplies as above, except you'll need the baby tub as opposed to a bowl of warm water.
Fill the baby's bath tub with warm water. A good way to test the temp is to feel the water with your inner wrist. 90 degrees is a good temp.
I like to bring the water level up to just over the baby's belly button.
Wash the baby's body with a wash cloth and baby soap, saving his head for last.
If baby has cradle cap, this cradle cap brush is amazing! I put a little baby soap on Eli's head and used the brush to lather it up. Almost all of his cradle cap was gone in one wash.
Make sure baby is rinsed very well.
Carefully remove him from the bath and wrap him in a hooded baby towel.
Dry him, diaper him, and lotion and dress him as usual.
Baby Bath Safety Guidelines
Always check the water temperature before you place the baby in the tub.
NEVER leave baby unattended in the tub or on a high counter. If you need to leave the bathing area for any reason, TAKE BABY WITH YOU!
Do not place your baby in his tub while it is filling. Wait until you turn off the water.
I love the special time when my baby is fresh out of the bath and I can put his lotion on him. Then I get him dressed and snuggle him close. There's nothing like fresh baby smell!
You'll Also Love:
5 Must-Have Feeding Essentials for Your New Baby
What to Pack in Baby's Diaper Bag for a Short Outing