If I can create a simple recipe that is not only delicious but also healthy, I'm winning in the mom department. One area that has seriously been lacking around here is the breakfast department. While I'm a big fan of easy oatmeal recipes, my kids aren't as fond of them. Cooking a hot breakfast every morning isn't really my thing, so if I can prep a great meal once that can be eaten through the week I'm all for it! Today I want to show you my veggie egg muffin recipe. My four year old said, "These are deeee-licious!"
Healthy Egg Muffins Made with Vegetables
I start making these egg muffins by deciding how many muffins I want to make. I like to guesstimate about one egg per muffin. For this particular recipe I started with about six eggs.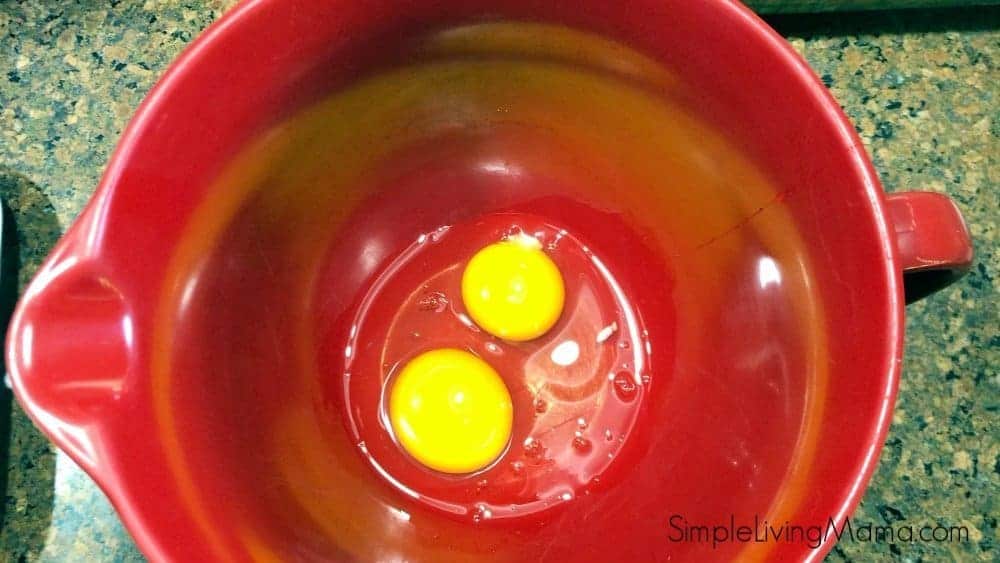 I cracked all of the eggs into the bowl, and then added some pink himalayan salt and pepper. I like to buy my pink salt crystals and then use a coffee grinder to make it fine and pinchable. Alternatively, you can just put it in a salt grinder. Pink himalayan salt has minerals that regular table salt does not.
I add about 1/4 cup milk and whisk the eggs until everything is incorporated.
Now we have the fun part! Adding the veggies. My kids will eat anything with cheese, so I added about 1/4 cup shredded cheddar, a handful of spinach that I rolled and sliced, and a handful of frozen peppers and onions.
Pour the mixture into the muffin tins. Fill them about 3/4 full. I got mine a little full and they just puffed up, so it was fine.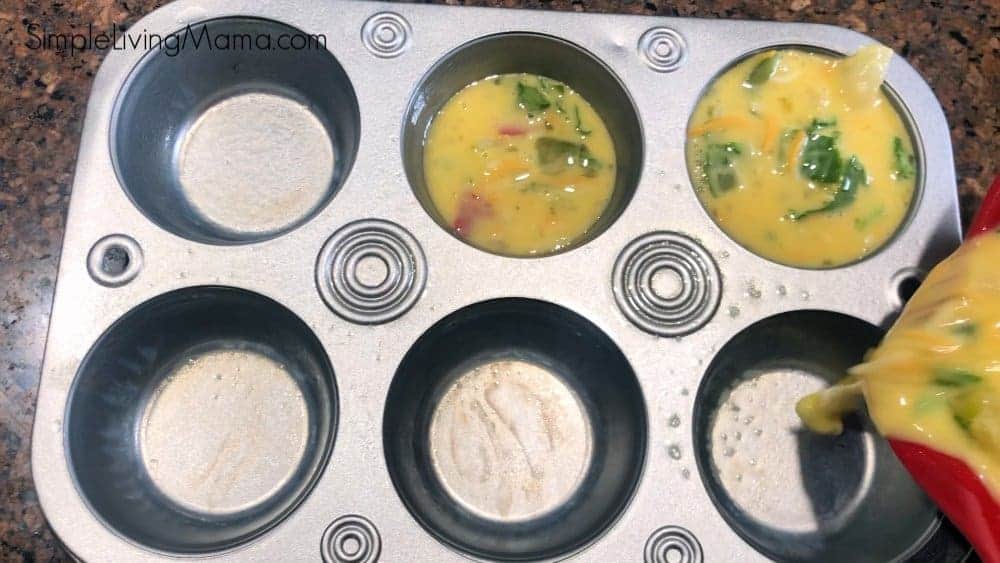 Bake at 375 degrees for 25 minutes, let cool, and then enjoy!
Can I freeze egg muffins?
Yes, you can make a big batch of these and freeze them for an easy and quick breakfast. Just let them cool completely and put them in a gallon size zip lock bag. Remove how ever many egg muffins you want to eat and reheat in the microwave. We like to eat these with salsa or hot sauce. So yummy!
Are eggs good for you?
Eggs have gotten a bad rep over the years. There have been claims that they are bad for your cholesterol levels. The truth is that eggs are full of nutrients. They are an inexpensive source of protein, full of vitamins and minerals, as well as healthy fats. Research has now found that the cholesterol found in food has less affect on blood cholesterol than the amount of saturated fat we consume. Eggs are a healthy food and extremely versatile.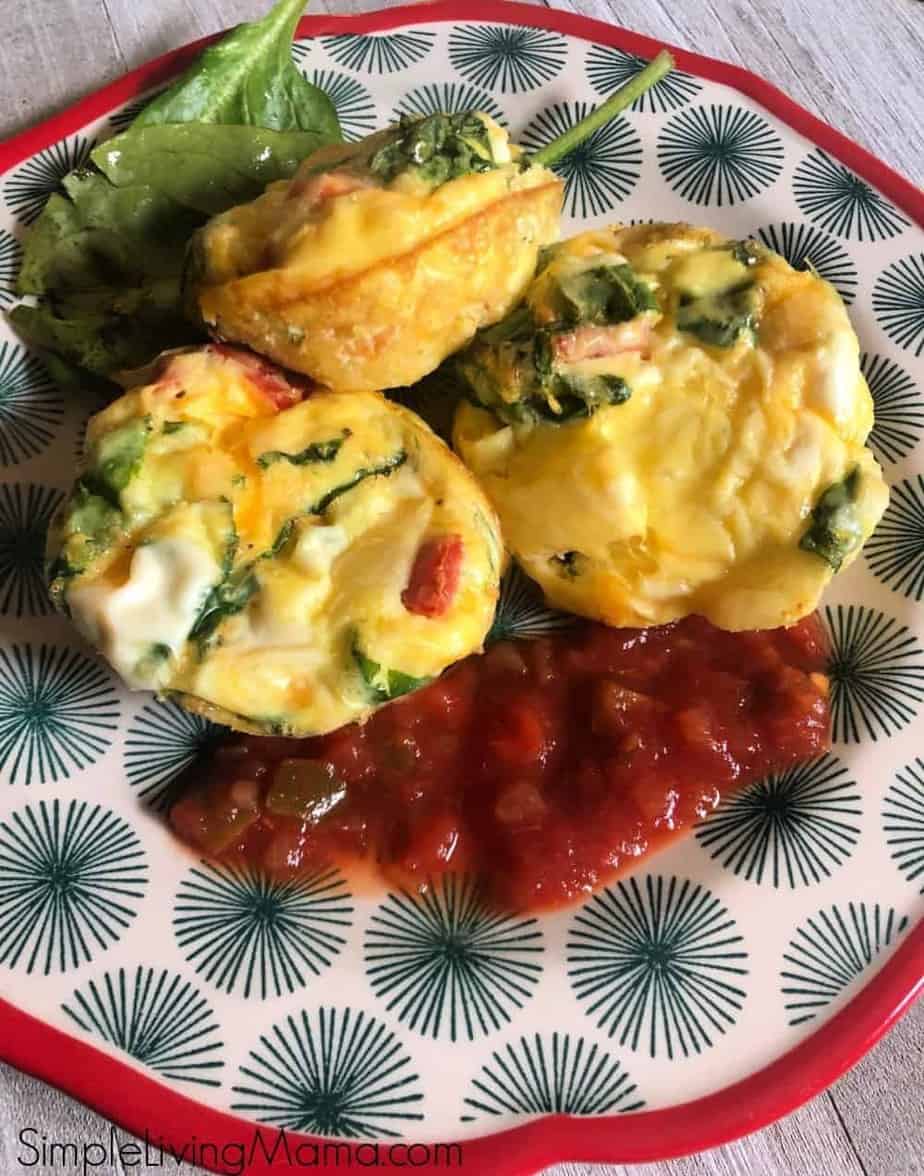 Other egg muffin variations
You can enjoy your egg muffins with all sorts of different add-ins! Here are some of our favorites!
Diced ham and cheddar
Mushrooms and feta cheese
Bacon bits and cheddar
Roasted red pepper and corn
Parmesan and sun dried tomato
Jalapeno, cheddar, and diced chicken
More Simple Breakfast Recipes
Easy Freezer Breakfast Sandwiches
Three Minute Chocolate Peanut Butter Oatmeal
Yield: 6 muffins
Veggie Egg Muffin Recipe - Healthy Breakfast Egg Cups
Easy and healthy veggie egg muffins make a simple and delicious breakfast!
Ingredients
6 eggs
1/4 cup milk
Dash salt and pepper
1/4 cup shredded cheddar
1/4 cup spinach, sliced
1/4 cup pepper and onion blend (fresh or frozen)
Instructions
Preheat oven to 375 degrees.
Whisk eggs, milk, and salt and pepper.
Stir in cheddar, spinach, and peppers and onions.
Spray a muffin tin with non-stick cooking spray.
Pour egg mixture into muffin tins, filling about 3/4 of the way full.
Bake for 25 minutes or until centers are cooked through.
Recommended Products
As an Amazon Associate and member of other affiliate programs, I earn from qualifying purchases.