Today I am thrilled to chat with you about one of my favorite topics! Living books! Particularly living books for preschool and kindergarten. Living books are no doubt a part of a Charlotte Mason preschool even though we know Charlotte Mason advocated more strongly for children under the age of six to spend most of their time outdoors and to sped time in habit training. I personally believe that good books are perfect for early childhood and I'll tell you why!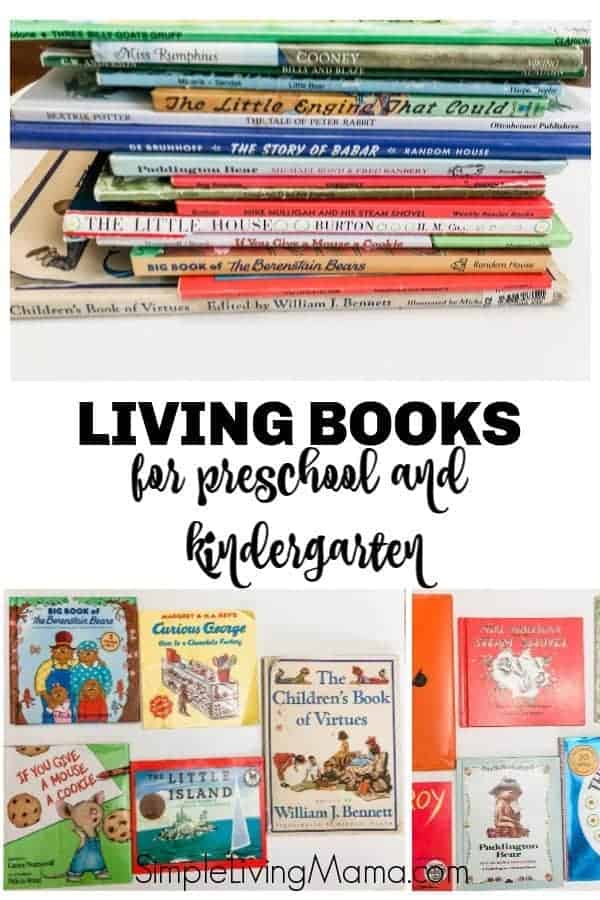 Benefits of Reading To Your Young Child
The main reason why I feel so strongly about reading to young children is CONNECTION. Stories connect us all. Some of my fondest memories from childhood include being read to. When I was a little girl I had this cardboard treasure chest full of Disney Little Mermaid books. Those were some of my most favorite books and something about my mom reading those to me every night made me want a pickle. So, I'd always eat a pickle while she read me the stories. Those are memories I will always have!
Besides connection, good, living books allow us to empathize with the main characters. We learn valuable character lessons and can often feel like we are transported to another time and place. Good books make us feel, and even young children have the ability to understand this.
What is a living book?
If you haven't heard the term, "living book," let me fill you in. A living book is any book that is written in a way that brings the subject to life. Living books are not like encyclopedias or textbooks. When was the last time you heard someone say, "I just read a wonderful passage in my textbook!"
Living books can be fiction or nonfiction and they are usually written in a narrative style. Living history books take us back to a time period and make us feel like we are there with the characters. We learn how life was through the eyes of the characters.
Even children's books can be living books. I think the most common theme in many children's living books is that they include valuable life lessons. Character is built upon excellent stories and ideas.
Best Preschool Books to Read Aloud
Now I want to share with you some of my favorite living books for preschoolers and kindergartners! This is definitely not an extensive list, but just some of my favorites!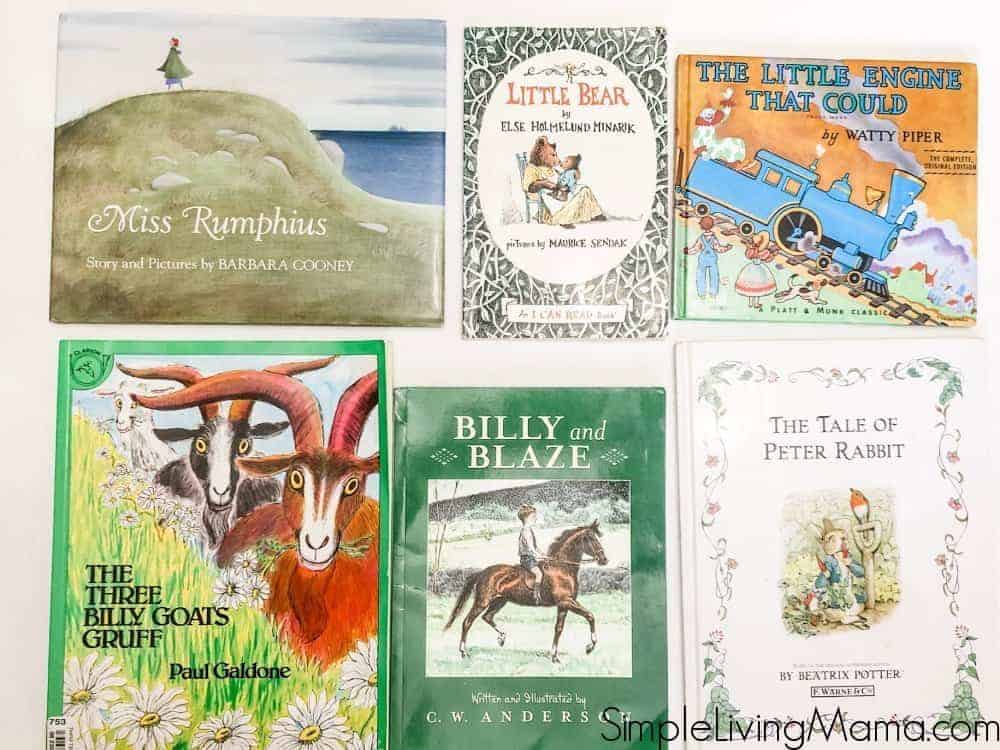 Miss Rumphius by Barabara Cooney – such a beautiful story that helps us see how we can make the world a better place. I wrote about Miss Rumphius book activities previously.
Little Bear – Another classic book. I watched this series on TV with my youngest brother several years ago and now I love sharing the stories with my kids. We made a moon crater craft to go with this book!
The Little Engine that Could – This is a favorite story about perseverance.
The Three Billy Goats Gruff – all folk tales are wonderful for so many reasons. My kids absolutely love this book and have loved our preschool lesson plans based on it!
Billy and Blaze – a favorite story about a boy and his horse.
Beatrix Potter – All of Beatrix Potter's tales are amazing. The language is sophisticated, the characters are lovable, and the stories are memorable!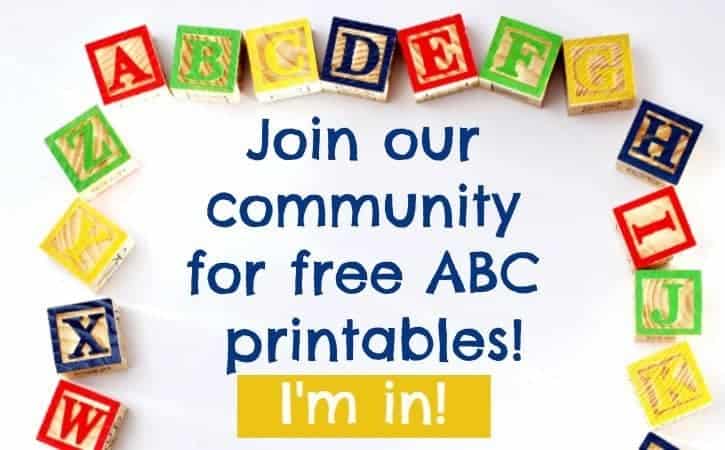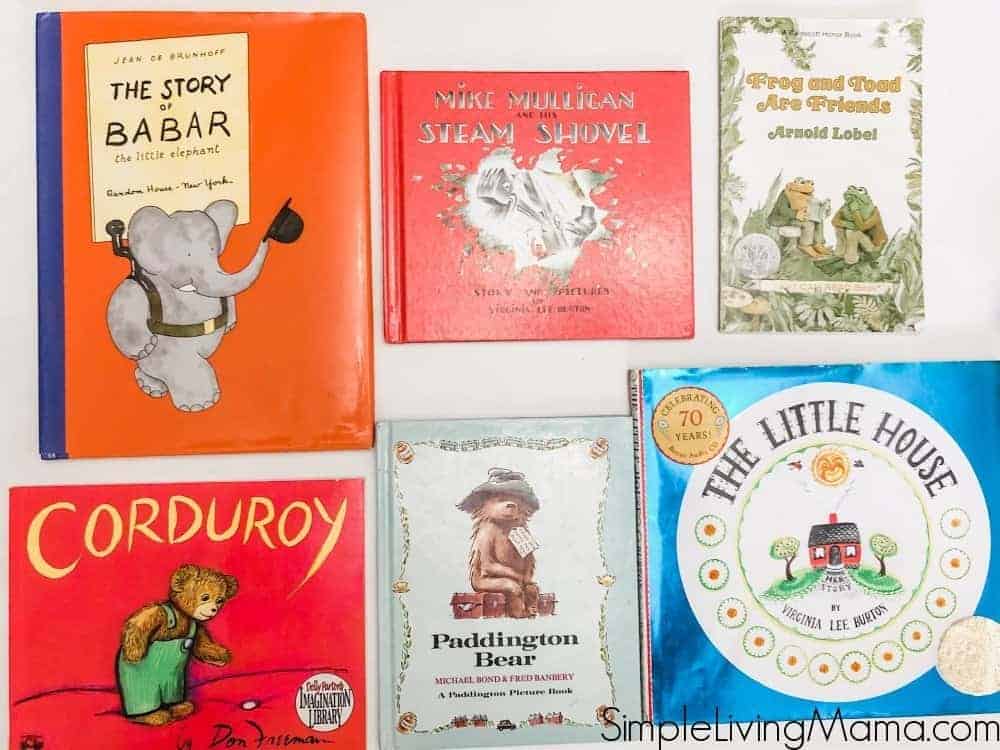 Babar – We have fallen in love with Babar.
Mike Mulligan and his Steam Shovel – Another great story about the power of perseverance.
Frog and Toad – These readers are excellent for early readers as well as fun stories for young children.
Corduroy – This is another lovable story.
Paddington Bear – Another favorite of my kids!
The Little House – It's amazing how a book can make you feel for a house!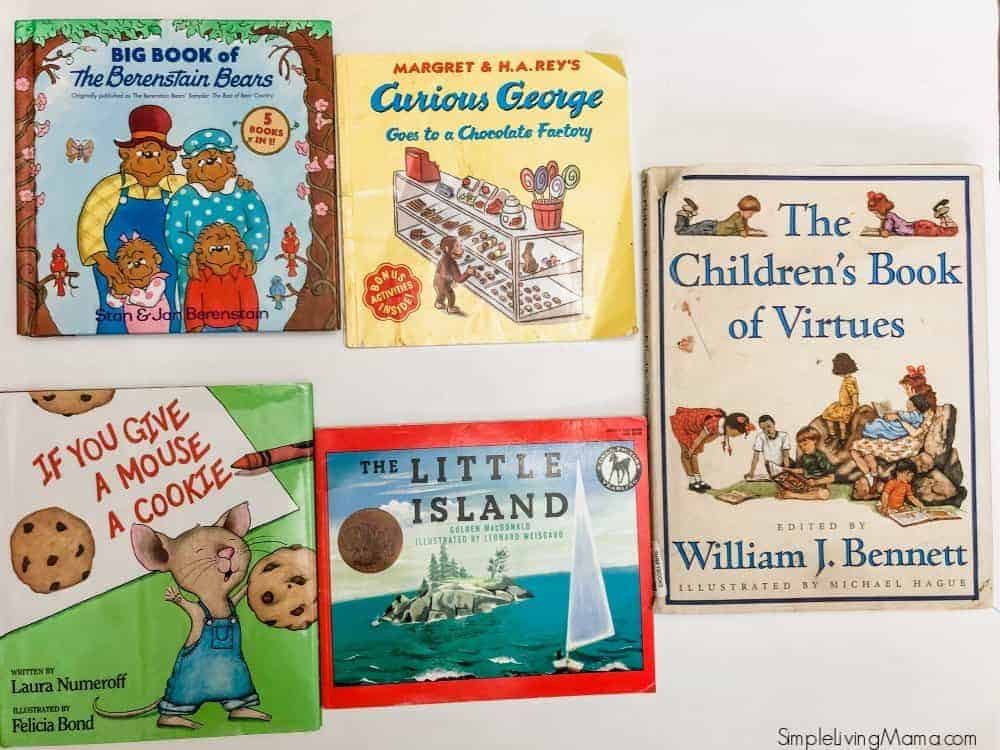 All of the Berenstain Bears are excellent books for young children.
My oldest child loved Curious George. We have many of these books.
If You Give a Mouse a Cookie is just a fun book! I created these lesson plans to go with it!
The Little Island is another you don't want to miss!
Finally, The Children's Book of Virtues is full of stories, poems, and prayers that are all wonderful character lessons!