Homeschool Supply List – Free Printable Homeschool Must Have Supplies
This post may contain affiliate links. Please see my disclosure and privacy policy for more information. As an Amazon associate I earn from qualifying purchases.
Every year during the summer we walk into our local Walmart only to be greeted by a giant display of school supply lists for the local schools. Of course, I pass them right by since we don't have to worry about public school lists, but sometimes I think it would be nice to have a homeschool supply list. New homeschoolers especially wonder what exactly they should purchase to have in their homes. Today, I am going to give you a homeschool supply list. This is perfect for the elementary years. Of course, look at your specific curriculum to add to this basic list!
Homeschool Supply List
Back to school sales are the perfect time to stock up on school supplies to keep on hand year round. I think one of the awesome things about homeschooling is you don't need to repurchase things year after year. My kids have used the same rulers and calculators for a few years now. I can keep our crayons in one big container and just add to it periodically. The two things we do go through rapidly are glue sticks and markers! The kids can't keep the lids on!
These are items that you usually only need to purchase once!
What do I need for homeschooling?
If you're asking yourself this question, you'll realize that once you have the legal side of your homeschool worked out, you will need to work out the homeschool supply list! Here's a look at my must-haves for the homeschool room!
Best Things to Have for Homeschool
Of course, there are things that need to be purchased on at least an annual basis. We enjoy stocking up at Walmart for these items!
Some curricula will likely require extra supplies, and most sciences will request that you purchase additional items for experiments, so be sure to check before you go shopping!
Want a free shopping list? This printable has been added to our Homemaker's Resource Library!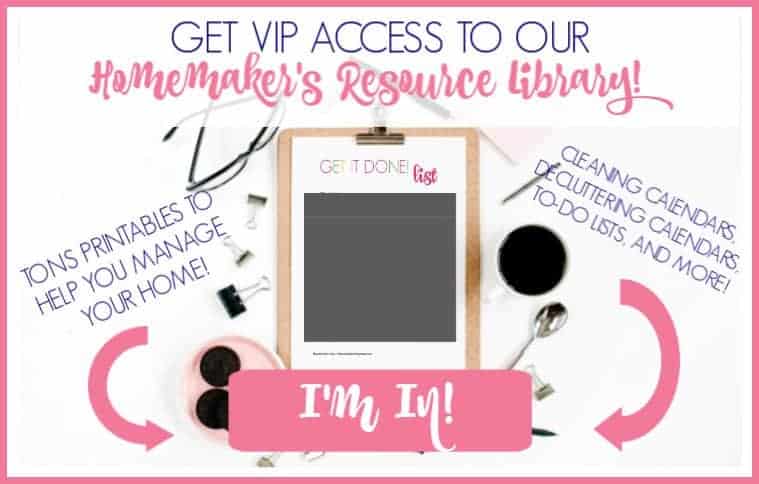 Check out our latest back to school shopping vlog!

More Homeschool Supply Lists
Homeschool Supplies at Dollar Tree and the Goodwill
There are lots of great school supply find at the Dollar Tree and Goodwill!
Stocking Up on Homeschool Supplies at Walmart
I always hit up the back to school sales at Walmart for things like crayons, paper, pencils, erasers, and even clothes and shoes!