We are living in historical times. Never have I fretted about going to the grocery store to pick up anything I needed. Never have I batted an eye about eating out. With the Pandemic of 2020 upon us, I think many of us are reaching for the things we have on hand and looking for creative ways to use them. We are eating from our pantry and freezer. I am getting more creative with our meals and using up what we have on hand before deciding another run to the grocery store is worth it. Today I'm going to share with you even more pantry meal ideas to help you get creative and eat well!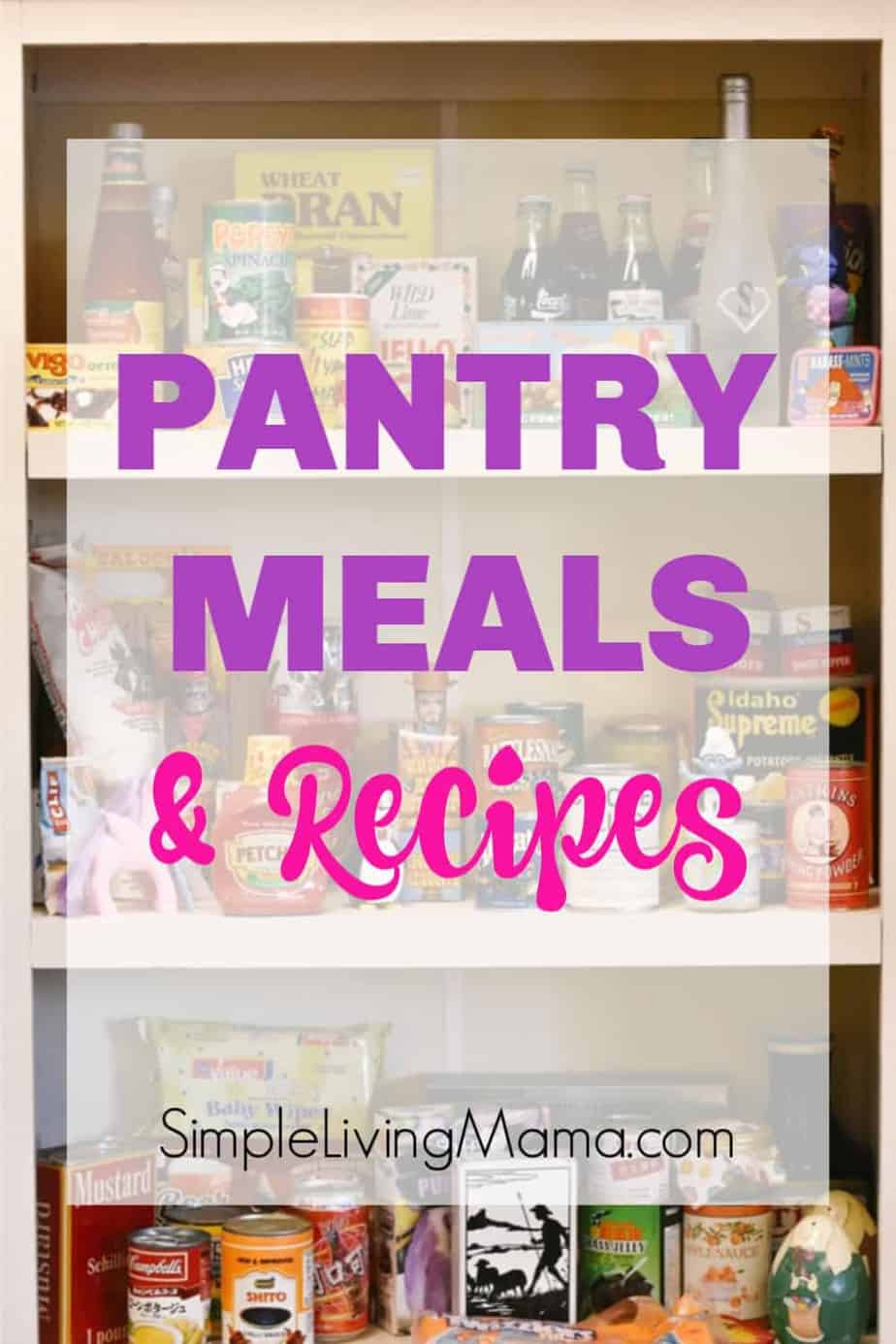 Pantry Meal Ideas
Beans and Rice with Sausage – This is probably the most popular recipe on my blog. I grew up eating this dish and now make it frequently for my family. It's one of my husband's favorites. I combine pinto beans with onions, seasonings, and sausage (a cheap meat that keeps well in the freezer) in the slow cooker. I serve over fresh rice with a side of cornbread.
Cornbread – Speaking of cornbread, this recipe is simple to pull together with ingredients you should keep on hand in your pantry. This is a staple for every soup recipe in our house!
Navy Bean and Ham Soup – This recipe is full of flavor! I combine ham, canned tomatoes, carrots, and seasonings to create a delicious and filling soup!
Homemade French Bread – French bread is easier to make than you think! Serve it alongside any pasta dish, or use it to dip into soups and stews!
Blueberry Oatmeal – If you're looking for an easy breakfast option, this oatmeal will work! I keep oats on hand at all times, and fill my freezer with frozen fruit. Any fruit will do, not just blueberries. Top with sliced almonds and honey from your pantry!
Easy Baked Chicken Drumsticks – Drumsticks are an economical meat to fill your freezer and feed your family. Coat with your favorite seasonings and bake in the oven for an easy, peasy main course!
The cheap pantry meals and recipes are staples you can keep in your back pocket to pull out when you just can't get to the grocery store.
Of course, in order to make the pantry meals work, you need a stocked pantry and freezer for the fresh meats. You'll definitely want to check out our list of 25 must-have pantry staples.
One of the easiest ways to stock your pantry is to buy extras here and there during every grocery trip. While this method won't help much if you're currently going through an emergency, this will help you in the future to be prepared.
Interested in keeping your home stocked for a month? Check out our eBook and printables Once a Month Grocery Shopping!