The Best Non Toxic Dish Soap – Safe Brands
This post may contain affiliate links. Please see my disclosure and privacy policy for more information. As an Amazon associate I earn from qualifying purchases.
If you're looking to reduce toxins in your home, one of the easiest switches you can make is your liquid dish soap. Unfortunately, many cleaning products and conventional dish soaps contain toxic chemicals that can be hazardous to your health over time. Finding a non-toxic dish soap is pretty easy these days as there are many options on the market. If you're ready to make the jump to non toxic living, here are a few of what I have found are the best natural dish soaps.
What harmful ingredients are in conventional dish soaps?
When looking at an ingredient label while picking out a dishwashing liquid, there are a few harsh chemicals you should stay away from.
Sodium Lauryl Sulfate and Sodium Laureth Sulfate – Also known as SLS. This chemical is a surfactant in many household cleaning products. It can strip the skin of its natural oils and cause skin irritation and allergic reactions in certain people.
Synthetic Fragrances – Cleaning companies aren't required to disclose all of the chemicals they use to create a fragrance, so when you get your lavender scented dishwashing soap and the ingredient list includes fragrance, that could be over 100 harmful chemicals that you have no idea what they are. Many of these fragrances cause skin irritation and allergic reactions.
Cocamidopropyl Betaine – This is yet another surfactant that can cause skin issues in susceptible people. It is also an eye irritant and is suspected of being an environmental toxin.
PEGs and Polyethylene Glycol – Derived from petroleum, polyethylene glycol may be contaminated with measurable amounts of ethylene oxide and 1,4-dioxane. Ethylene oxide is a known carcinogen and 1,4-dioxane is a possible carcinogen. Both are penetration enhancers and could possibly allow chemicals to absorb more easily through the skin.
Decyl Glucoside – Another surfactant that can cause skin irritation, allergies, and immunotoxicity.
DMDM Hydantoin – This is a formaldehyde releaser preservative found in cleaning and personal care products. This ingredient is yet another one of those harsh preservatives that can cause major skin irritation and allergic reactions.
*A word about using the Environmental Working Group to check products. I use their website to check on specific ingredients. I have found the "grades" they give to certain products inaccurate.
The Best Liquid Soaps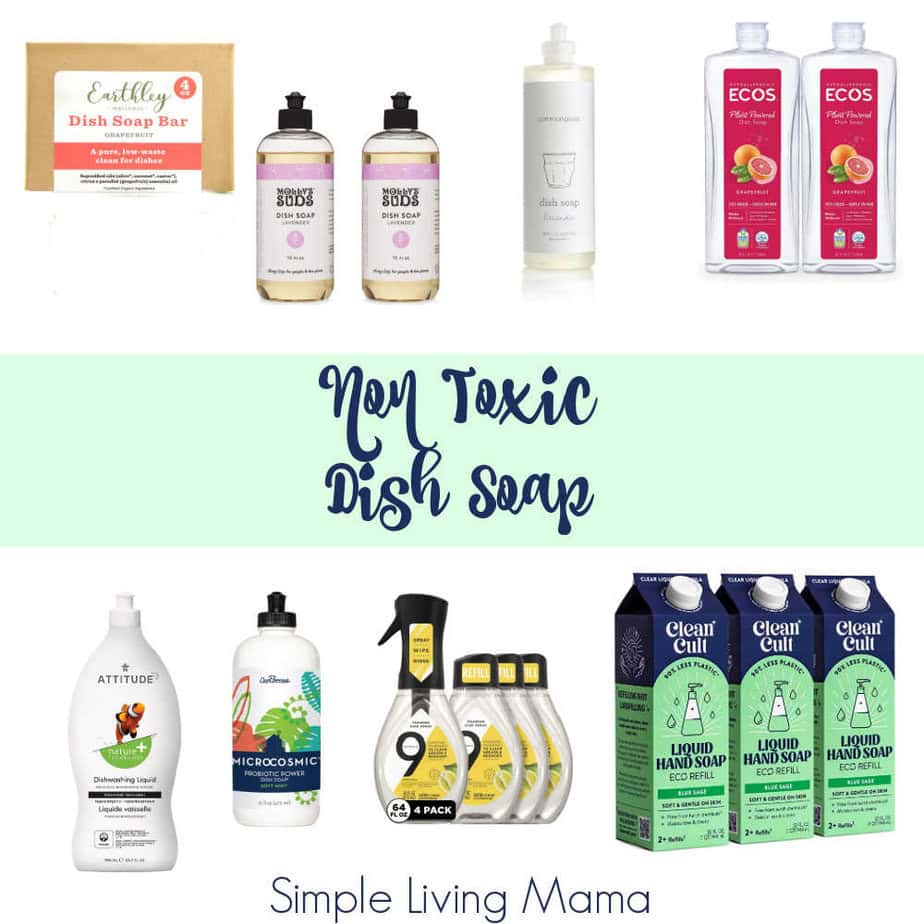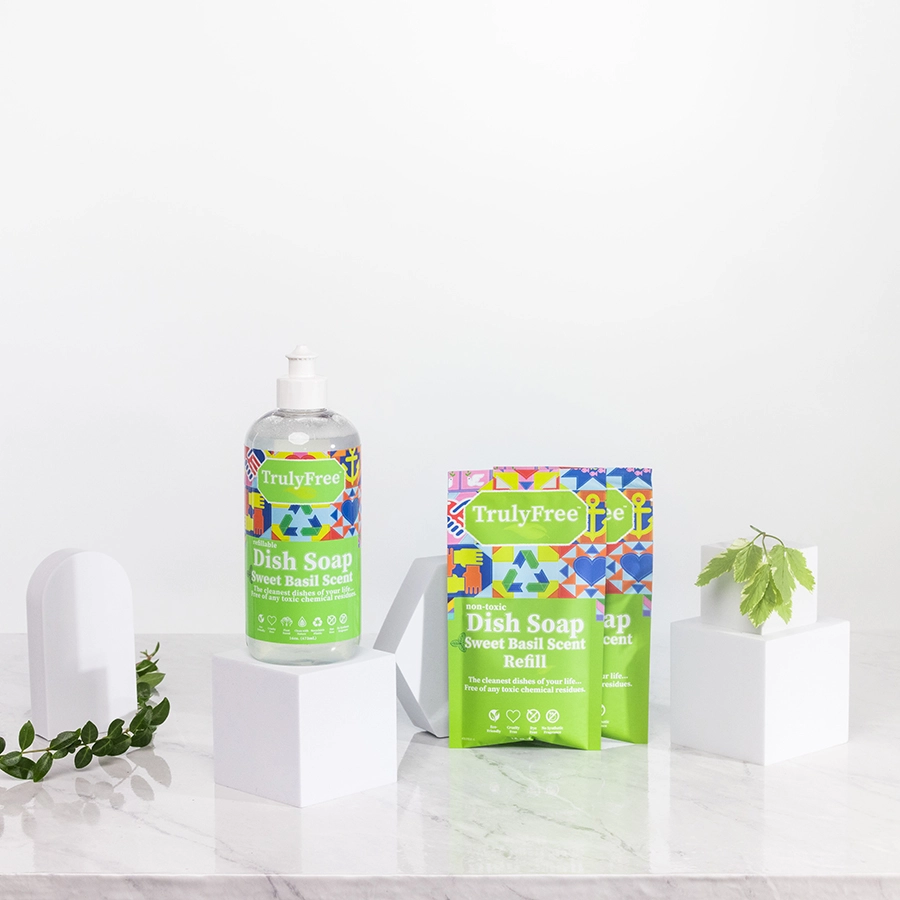 Truly Free Liquid Dish Soap – Made with simple and natural ingredients like sodium chloride (salt) and essential oils, you can be sure this dishwashing liquid is a good choice for your kitchen.
Molly's Suds Dish Soap – Molly's Suds is known for its safe plant-based ingredients. It has a mild pH and is safe for your skin, septic systems, and waterways.
9 Elements Natural Dish Soap – The interesting thing about this dish soap is it is made with only nine ingredients that are free of artificial preservatives, dyes, thickeners, and synthetic fragrances. This brand uses the power of vinegar to clean without leaving a vinegar smell.
Ecos Hypoallergenic Dish Soap – Are you looking for an earth friendly product that will give you clean dishes without skin irritation? ECOS is made without dyes, 1,4-dioxane, parabens, phosphates and 500+ other nasty ingredients. It is a great choice made with biodegradable ingredients that are safe for your skin and the aquatic life in the waterways.
Attitude Liquid Dish Detergent – This dish soap is only made with plant and mineral-derived ingredients like saponin, its cleansing foaming action is tough on grease and extra gentle on your hands. Hypoallergenic and free from artificial fragrances.
Aunt Fannie's Microcosmic Probiotic Power Dish Soap – The unique thing about this dish soap is that it includes a beauty-grade probiotic, making dish duty self-care. It cuts grease with no issues and is scented with essential oils.
Common Good Dish Soap – This biodegradable formula is Leaping Bunny certified and scented with essential oils. This is considered a best dish soap because it is free of synthetic fragrance, phthalates, optical brighteners, dye, chlorine bleach and ammonia. Our green dish soap is readily biodegradable, meaning it naturally breaks down quickly without leaving any toxins in the environment.
Plastic-Free Packaging and the Best Eco-Friendly Dish Soaps
Clean Cult Dish Soap – What I love about Clean Cult is that their packaging contains 90% less plastic. All of their dish soap refills come in paper-based packaging and are added to glass bottles. These natural products are free from phthalates, phosphates, petroleum based ingredients, dyes, SLS, & SLES.
Top Pick Dish Soap Bar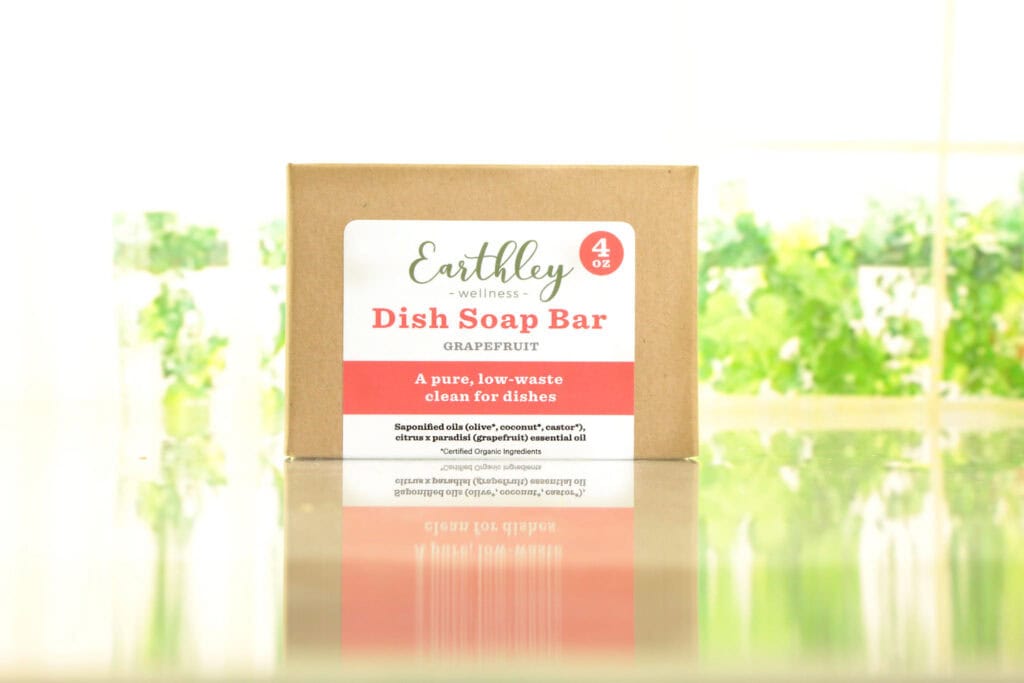 Earthley Dish Soap Bar – If you're really looking for natural soaps you may want to try a bar soap to tackle your dirty dishes. It may seem unusual at first, but it won't take long for you to get used to washing your dishes with a bar. Earthley's high standards and organic ingredients make it one of my favorite personal and home care brands. They also make a non-toxic dishwasher detergent.
More Non Toxic Living Posts