The Little Red Hen Printable Activities for Preschool
This post may contain affiliate links. Please see my disclosure and privacy policy for more information. As an Amazon associate I earn from qualifying purchases.
It's time for more preschool lesson plans based on books. I just love putting together these lesson plans and planning the activities for my kids! We probably all know the familiar story of the little red hen. Today I will be sharing with you the Little Red Hen printable activities for preschool and how I have put them together into a preschool lesson plan printable pack.
Little Red Hen Lesson Plan
The Little Red Hen story is a classic folk tale that has been told for generations. We particular adore this version by Paul Galdone. The fairy tale begins with a little red hen who has some wheat seeds. She asks the other animals around the farm to help her and they all refuse until it's time to eat the final product: the bread. Because she got no help, the little red hen refuses to share and rewards herself for all of her hard work.
All of our preschool lesson plans based on books are centered around a classic story. Each day begins with circle time. These days I am using a preschool morning time menu to work through our circle time.
We use these preschool monthly calendar pages to practice the date, days of the week, etc., we go over the alphabet with this ABC chart, and our menu also includes a poem or song from the lesson plan plus additional worksheets that work well with a dry erase marker such as the Little Red Hen writing practice included in the Little Red Hen lesson plan packet. You'll also find beginning sounds worksheets for the letters H and B.
I recommend using our Alphabet notebook for preschoolers, or using a language arts program for older children when following these lesson plans. You can read about how to teach your child to read, as well as our favorite phonics curriculum.
Each week we choose two focus letters from the story. For this lesson plan we are doing H is for Hen and B is for Bread. We have included handwriting pages and do-a-dot pages for these letters, which are always fun for young children.
Little Red Hen Fine Motor Skills Activities
The Little Red Hen lesson plans include several fine motor activities that also double as literacy or math skills. For instance, we have included a story sequencing worksheet that requires cutting and pasting, as well as a little red hen emergent reader for the child to put together that includes pages for the different characters in the story. You'll also find a cutting practice page that is a great way to practice those fine motor cutting skills.
To work on math skills, we have a Little Red Hen ten frame. You will need to add your own manipulatives for counting, but my daughter really enjoyed this activity. I think the ten frame activity could be done either in small groups or a large group, as well.
Little Red Hen Gross Motor Activities
We also include gross motor activities. Use popsicle sticks to create a farm animal movement game or little red hen puppets, play Simon Says with farm animals, and play a game of charades by guessing which farm animals your child is trying to act out!
Little Red Hen Crafts
Arts and crafts and sensory activities are always a lot of fun! We have included instructions for a basic little red hen sensory bin. To jazz it up you can add a stalk of wheat or two. You can use the included retelling printables and picture cards in your sensory bin. Simply print, laminate, and cut out.
We have two simple art activities in our lesson plans. You'll find instructions for wheat stalk fork painting (which is a fun and easy art project creating wheat stalks), as well as a cute little red hen paper plate craft. You can even turn it into a handprint craft by tracing your child's hand on a sheet of red construction paper and using that for the Little Red Hen's tail!
Little Red Hen Snacks
I always like to include a "real life" cooking activity that the parent and child can do together. I've included a very simple white bread recipe in the lesson plans, but you can always do a different bread recipe if you have allergies and need to use something else. It's always so much fun to make yummy bread with the kids!
Little Red Hen Theme
Of course, a preschool lesson plan would not be complete without a preschool book list! I've included some of our favorite chicken and farm theme books to go along with the Little Red Hen book in the lesson plans. You can also check out our favorites below.
To finish up the week, I always suggest trying to do an outing related to the story. In this case, you could take your child to a zoo with a little petting zoo or visit some friends with their own little red hens in their backyard. It's really up to you! There is an included farm animal notebooking page to document your child's favorite farm animal.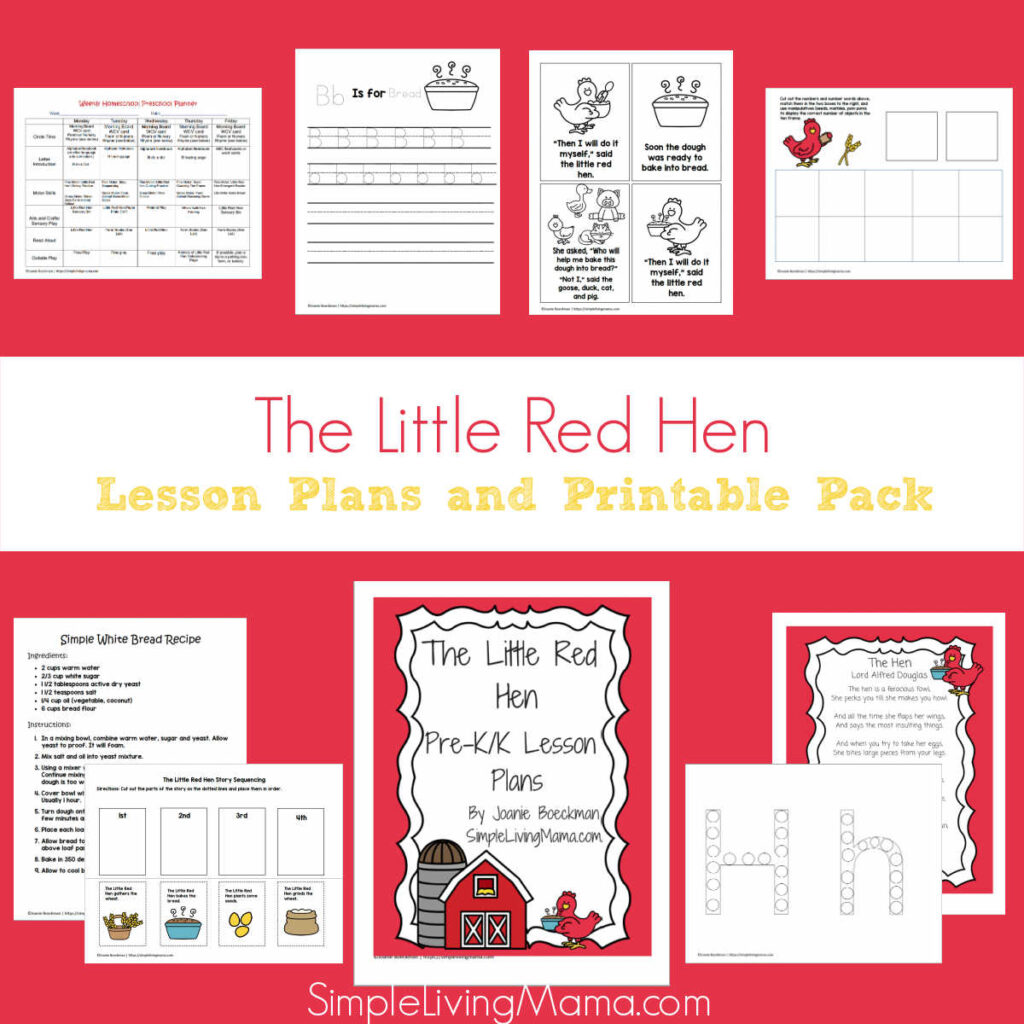 Different Versions of the Book
Need different versions of the Little Red Hen? Check out these books!
More Little Red Hen Activities
Are you looking for even more Little Red Hen activities? Check out some of these fun ones below!
Little Red Hen Shape Craft – Learn about shapes and make this cute craft from Fantastic Fun and Learning!
Sentence Building and Sight Words – Practice literacy skills with this fun Little Red Hen activity from Still Playing School.
Plant Wheat Grass – Here you'll find several Little Red Hen activities including how to plant wheat grass!
More Preschool Lesson Plans Based on Books
Here you'll find even more preschool lesson plans based on books to teach!
Dive into this classic folktale and have fun learning about goats!
My favorite fairy tale comes to life with these Goldilocks lesson plans.
A childhood favorite, these Brown Bear, Brown Bear lesson plans are a lot of fun!