Make a Master List of Meals – Monthly Meal Planning
This post may contain affiliate links. Please see my disclosure and privacy policy for more information. As an Amazon associate I earn from qualifying purchases.
So, you've decided that you want to try once a month grocery shopping! It is such a great way to save money and headache every month when it comes to feeding your family. I love that I have simplified grocery shopping, because honestly I really do not like doing it. I think it's because I have several little kids. The less I have to go to the store, the better! The first step in shopping once a month is making a master list of meals and monthly meal planning.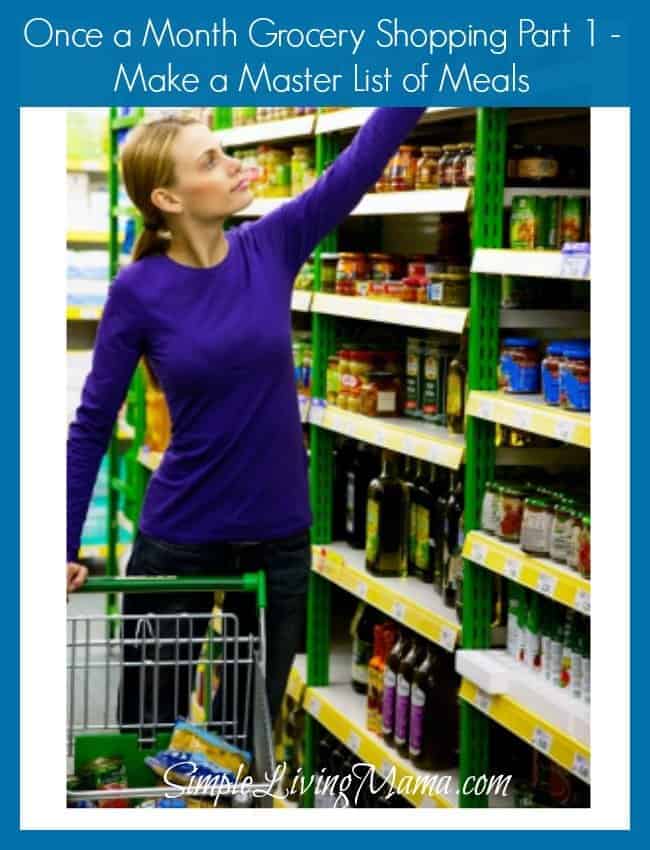 Make a Master List of Meals for Monthly Meal Planning
This is going to be a pretty simple tip, but you need to have a really good idea what your family's favorite meals are. What do you usually cook over the course of a month? Remember, you need to plan for all meals. Breakfast, lunch, dinner, and snacks. This will be your master list of meals that you can pull from when planning a monthly menu.
Sit down when you have a chance to really think. You can keep the list on your computer, or write it down in your home management binder. You need to have a nice rotation of meals.
This will look different for everyone, but I am going to give you some ideas of the meals we eat in our house.
Breakfast
I don't necessarily menu plan breakfast, but I like to have an array of choices available.
Bagels/cream cheese
Eggs/bacon/toast
Yogurt/granola
Pancakes w/syrup
Oatmeal/fruit
Cereal/fruit
Lunch
Tuna
Sandwich fixings
PB&J
Chicken nuggets
Salad greens
Veggie sticks
Chips
Egg salad
Dinner
Spaghetti with ground beef sauce
Pork chops, veggie, rolls
Taco soup
Chicken anything soup
Tacos, Mexican rice, refried beans
Chicken Enchiladas
Crispy salmon over salad
Chicken picatta
Steak, potatoes, salad
Sesame chicken
Split pea soup w/ham
Roast chicken w/veggies
Chili w/cornbread
Beef and broccoli
Roast with carrots and potatoes
Marinated chicken
Snacks
Goldfish crackers
Raisins
Fresh fruit
Fresh in-season veggies
Nuts
Apple sauce
String cheese sticks
Pudding
Jello
Baked Goods
Brownies
Cookies
Muffins
Rolls
French bread
White bread
This is definitely not everything we eat, but it is a good idea of what we do eat and gives me dinners to pull for my menu plan. Your list will likely look much different, and that's ok. Just start somewhere.
I have included a PDF with my master list of meals and links to recipes I use.
Ask everyone in your family what their favorite meals are. What snacks do your kids like to have? Don't forget about yourself. Everyone's master list of meals will look different, but this is an important item to keep on hand! Don't skip this step.
Next week I will show you how to make a master inventory of every ingredient you will need to feed your family throughout the month. This is the next step in preparing for once a month grocery shopping!
Want all of this information and the printables in one place? Get my eBook, The Ultimate Guide to Once-A-Month Grocery Shopping.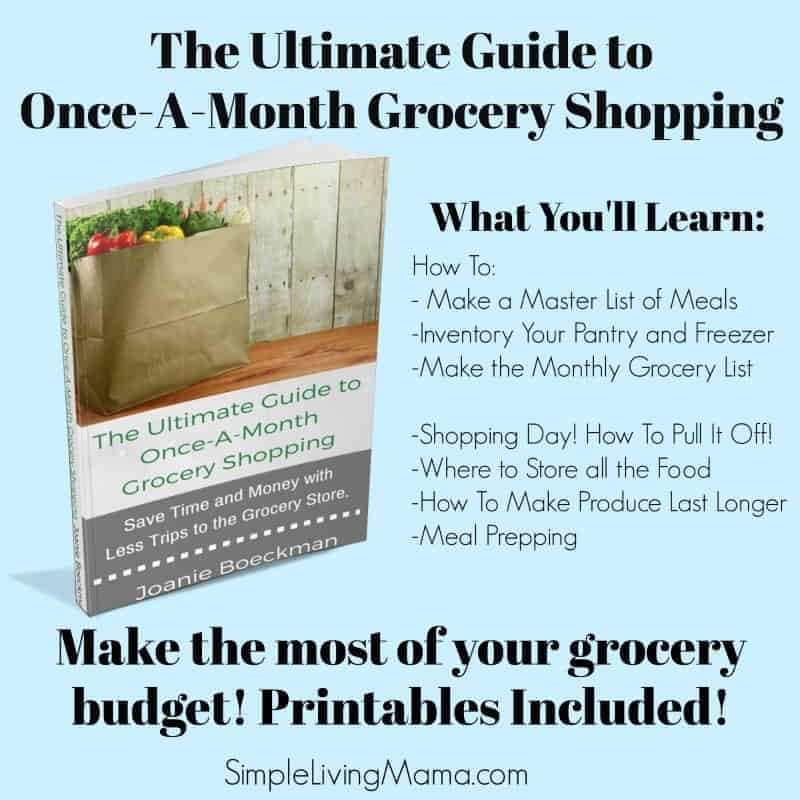 Photo Credit: Ambro / FreeDigitalPhotos.net